So today for I've got a Bluetooth speaker from AncordWorks but this speaker is rugged and waterproof and it's also an MP3 player via the micro SD slot, an auxiliary audio speaker, clock and it's an alarm clock. The speaker works very well overall, all of the functions worked just fine, but the audio could be better as it can get distorted at high volumes. Read on to learn more…
Specifications and Features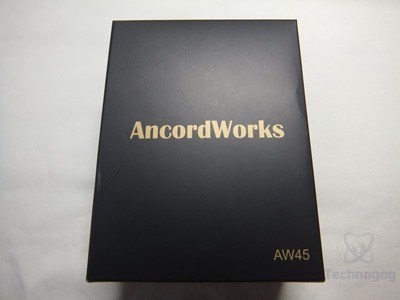 The speaker is about 4" x 4.25" without the handle and then it's about 2.25" thick. The front has a speaker grill and speaker of course behind that, below is the control panel with rubberized buttons for volume, mode, play/pause and power. These buttons are also used to set the clock and radio stations etc. The top of the speaker has a thick rubber handle to hold the speaker and carry it around with you.
On the bottom of the speaker you'll see the subwoofer along with thick rubber non-slip feet.
Barely noticeable around the subwoofer grill is the FM antenna that you can unwind if you need a better signal.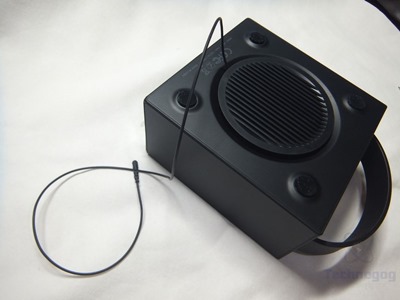 On the top, under the handle, is a rubber covered panel with a button on the far left side that's used for adjusting the LCD brightness and for setting the time. Under the rubber panel you'll find the micro SD slot, micro USB port and 3.5mm auxiliary port.
The front or bottom panel is the LCD screen and it's surrounded by a rubber border so you can stand it up. The LCD displays the time and radio station in bright red making it very easy to see in the light or dark.
There's a clock and there's an alarm and I set it and was very surprised by the sound, it's a mixture of nature, birds and soft music, it's just sort of odd, or surprising really. I'm not sure I'd want to wake up to that everyday, but I might get accustomed to it.
To test the Bluetooth I used it with my Windows 10 tablet and my Samsung Galaxy S6 Android phone. I could not get it to connect to the Windows tablet over Bluetooth no matter what I tried so I ended up using the auxiliary audio cable and that works fine, so I tested that without really meaning to.
The AW45 speaker connected over Bluetooth just fine to the phone with no issues, the controls for pause and play worked fine.
The sound is very good and clear but at loud volumes it can get very distorted especially with music that has heavy bass in it.
The clock seems to keep good time but I can't figure out how to change it so it displays 12 hour time, it only displays 24 hour or military time. This isn't a big issue for me as I understand it but I don't think most people will care for it.
Conclusion
The AncordWorks AW45 speaker is very well made, it's more than rugged enough to take with you wherever you go and I think that would include doing things like camping and hiking. The speaker is waterproof so you won't have to worry much, it seems very durable so you'll be fine packing it with your stuff and going outdoors or indoors.
The speaker does have clear sound except at high volumes and with heavy bass, then it gets distorted.
The clock and alarm work fine, except the alarm sound is a bit odd and may take some getting used to.
I don't know how to change the clock from 24 hour to 12 hour format, not that big of an issue to me but others won't like it.
Pros:
+Well made
+Multiple functions in one device
+Built-in antenna
+Rugged and waterproof
Cons:
-Sound can get very distorted at high volumes
-Can't change 12/24 hour time
| | |
| --- | --- |
| Grading | Scores Out of 10 |
| Overall | |
| Design / Aesthetic | |
| Value / Price | |
| Performance / Usage | |
Disclosure: This product was given to me for review by the company for review purposes only for free or at a discounted price.
To learn more about our review policy please visit this page HERE.