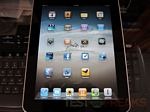 This weekend many witnessed the release of Apple's iPad; an event that could be equated to the premiere of a summer blockbuster movie. James Cameron's Avatar and Apple's iPad have more in common than most can imagine. There were lines of people, great expectations, and numerous detractors before seeing it firsthand; these descriptions can apply to either event. Whether the iPad is the financial and critical success as the Cameron movie remains to be seen. Today we will look at the great and not so good aspects of Apple's latest device.
When the iPad was first announced I wrote an article indicating my displeasure about several aspects of the device. In hindsight I was a little harsh in my criticisms although more than a few of them still hold true. This tablet still does not play Adobe Flash video, nor natively allow multitasking and lacks a built-in WebCam among a few complaints.
However, today I come to praise the iPad not bury it. As Kris my editor likes to frequently point out I am more of an Apple fan boy than not. I personally think of myself as someone who stands on the middle ground as I feel comfortable on both PCs and Macs. So today I will be giving my impressions of the iPad, so let's get started.

The Packaging:
Apple well known for their slick packaging and industrial design style for their products continue the trend with the iPad. It comes packaged in a white cardboard box with an actual size picture of the device on the cover. The Apple logo and words iPad are emblazed on the side of the box and on the back we find the iPad's storage capacity along with the model number and serial number.
Opening the box reveals the iPad sitting on top of an inlaid plastic box. A protective clear plastic film envelops the tablet. Beneath the iPad is a USB charging cable, 10 W AC adapter plug and a quick start pamphlet along with two white Apple stickers. The packaging is minimalistic and partially recyclable for those worried about the "Green" aspect.
External Appearance:
Describing the iPad as an iPhone or iPod Touch on steroids is fairly accurate as it is composed of a 9.7-inches multi-touch capacitive LED display with a 1024 x 768 resolution. Surrounding the periphery of the screen is a wide black bezel designed to provide a resting place for the user's fingers and preventing accidental interaction with the multi-touch display. Apple touts that the display has a 178° viewing angle which is a fairly accurate measurement as the screen is easily seen from most every angle imaginable. Of course those who have privacy concerns may not appreciate this wide viewability.
Another quick lesson about the iPad is that unless you put a protective film over your iPad you will quickly develop a large collection of fingerprint smudges that only an FBI investigator could love.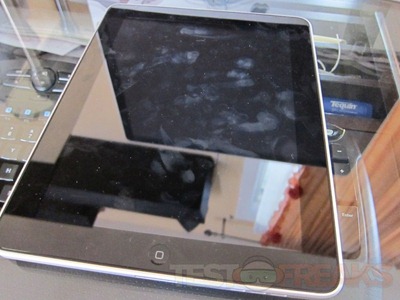 The sides and back of the iPad are housed in a unibody piece of aluminum giving the device its industrial design feel; as well as matching it up with the latest iMac and MacBook Pro body styles. While this design is pretty commonplace for Apple products it still gives the iPad a sexy appearance. The back of the iPad is spartan other than a silver Apple logo in the center, a small iPad logo and the storage capacity of the device. There is no camera found on the front or back of the device.
On the sides of the iPad we see a headphone jack and power switch on top, a volume control and screen position lock switch on the right-hand side and at the bottom an iPod style connector with one set of speakers to the right of it. This speaker does not emit stereo sound yet is ample enough to fill a small room when playing music or video. If I was a betting man, stereo speakers will be a new iPad feature with the second generation model. The iPad is capable of stereo playback via the headphone jack and through Bluetooth.
Scratches on the back of the aluminum body is definitely a concern something many of the first-generation iPhone users quickly discovered. You could always use steel wool to give it that brushed metal look in the future.
The iPad weighs in at 1.5 pounds and is 0.5 inches thick; surprisingly for such a small device it feels substantial in one's hands especially when compared to an e-book reader such as the Kindle or nook. It measures 9.56″ x 7.47″ in height and width. The back of the iPad is curved to keep the device safely nestled in one's hands. Obviously one of the biggest risks as such a large display is cracking one screen; happily I am able to report that the aluminum on the back does not feel slippery at all.
The Internals:
Apple built the iPad to run on a specially created CPU – the 1GHZ Apple A4 with an integrated graphics processor, audio, power management and storage. Additional components include an 802 11 A/B/G/N Wi-Fi antenna, an accelerometer, microphone, ambient light sensor, blue tooth 2.1 receiver and digital compass.
The 3G model coming out at the end of April there will be UMTS / HSDPA data along with an AGPS chip. The iPad comes in three memory capacities of 16 GB, 32 GB or 64 GB and can be bought as a WiFi only or 3G\Wi-Fi model. For today's review I'll be looking at the 32 GB Wi-Fi version.
The battery is a 25 Watt rechargeable lithium polymer battery and according to Apple will last for up to 10 hours while surfing the web on Wi-Fi, watching videos, listen to music. The 3G model battery life is listed at nine hours performing the same functions on the 3G data network. The battery is charged via the power adapter or using an aptly powered USB port. There have been reports on the web of underpowered USB ports on PCs not being able to juice up the iPad. The battery is non-removable which is therefore a strike against the iPad. One would assume that Apple would replace it for a few once it loses its charge storage capacity but I have yet to see mention of that option.
More about the inner components and workings can be found on the
Pressing the power button or home button turns on the iPad. To unlock it move the virtual screen slider at the bottom of the display from left to right. If you ever used an iPhone or an iPod Touch then you'll know how to start using the iPad. One immediate complaint I have is the large 9.7 inch screen is pretty barren other than this unlock slider. Hopefully the next OS update will allow the integration of some form of calendar, to dos or some other useful informational widget such as weather or stock info.
One thing I immediately noticed was the iPad was pre-charged to about 95% out of the box. That is great especially for the impatient types such as myself who don't want to wait around for my new toys to charge. Charging the iPad to full capacity from low battery levels requires 3-4 hours minimum.
To the right of this slider is a photo slideshow button that allows the iPad to become a picture frame when docked. This is a pretty novel feature and provides additional utility for the iPad in case it did not do enough already to suit your tastes.
Like the iPhone\iPod Touch the iPad's home screen has a dock on the bottom that can house up to six apps with the main window able to house 20 apps. Depending on the orientation of the iPad you'll have either four rows of five apps in the vertical position or five rows of four apps in the horizontal view. The built in accelerometer controls the horizontal or vertical viewing position. If you wish to lock the screen position to one style then flip the screen lock button on the side of the iPad. This is a welcome feature to anyone who has dealt with the iPhone's position sensitive accelerometer.
Navigating around the iPad should be familiar to anyone who has used the prior Apple capacitive touch devices. The settings app allows control wi-fi settings, notifications, screen brightness, picture frame options among others. Certain apps will also include settings under this section. Unlike its smaller brethren the iPad allows the home background wallpaper to be changed as well as on the login screen.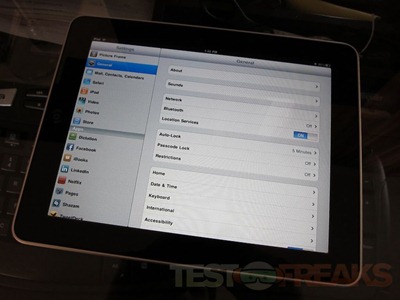 The included apps on the iPad are Calendar, Contacts, Notes, Maps, Video, YouTube, iTunes, App Store, Settings, Safari, Mail, Photos and iPod. One noted MIA is the Voice Recorder app although there is a free one on the App Store that does require a headset with a built in mic to use. Most of the Apps are designed to take advantage of the expanded real estate. On App built to take advantage of the iPad as an eReader is iBooks, which strangely is not preloaded on the device but is a free download.
iBooks creates a more life like book reading experience with the page flipping animation. Currently the book selection on the iBook Store is Spartan in comparison to the large catalog on Amazon. Surprisingly Apple allows Amazon into the iPad ecosystem with a Kindle App that is very similar to iBooks in look and feel minus the page turning animation. It is great to have an eReader along with the other capabilities of the iPad but long term reading on e-Ink based readers provides a better experience and provides longer battery life as well.
Web surfing occurs using Safari, which runs very fast depending on your wireless network connection. Unlike the iPhone version, this Safari is able to use a Bookmarks Toolbar allowing quick access to your most frequently viewed websites. From iTunes you can sync your Safari bookmarks and easily bring over all your favorite websites onto the Apple tablet. I would recommend you organize your Bookmarks on your desktop before syncing as organizing them on the iPad can be a bit tedious.
All is fine and dandy surfing on the iPad until you see this dreaded screen:
Flash Player Required to view. Numerous sites have adopted the HTML5 protocol but there are still many Flash based sites that will not operate on the iPad at this current time. The pro/con arguments for Flash on the iPad have been hashed many times on the web and I will not get into them, but this is definitely a drawback for many users.
Another issue I encountered on Safari was while using Facebook when I went to the See All Friends option the popup box with my friends listing was on screen but I was unable to scroll through the list. This fact indicates that the iPad is still a hybrid between a mobile style device and a desktop platform; some websites are best viewed through the mobile or light versions to access all of the sites features.
The built in WI-Fi antenna was able to easily pick up my Netgear's wireless N connection making the iPad very snappy running anything internet related.
Apple chose a LED backlit display, which looks fantastic. Unfortunately the fingerprint-resistant oleophobic coating may resist something but fingerprint smudges isn't one of them. I would highly recommend investing in a screen protector of some sort or keep a microfiber cloth on hand at ALL times.
The iPad is definitely heavier than expected especially after using a Kindle or nook. It is comfortable to hold with one or two hands and works well for typing when resting on a seated lap. Typing on a virtual keyboard is something that will take some getting used to especially for touch typists. Apple allows the use of Bluetooth keyboards and even makes a keyboard/dock, which may relieve those leery of the virtual keyboard.
Navigating the iPad was simple and familiar as it was based on the iPhone\iPad Touch interface. Tricks such as pinching or expanding one's fingers would decrease or increase the size of website pages or pictures. My children were able to easily manipulate the iPad to play games using the accelerometer or the touch screen without any difficulty.
The battery life is another pleasant surprise as I was able to use the iPad on a fairly constant basis for two days and still have over 30% charge available. Just be aware that some USB ports may not have enough "juice" to charge the iPad as discussed
Conclusion:
When I first heard of its announcement one of my chief complaints about the iPad was Apple's decision to use the iPhone OS. Instead of crippling the capability of the tablet; why not use a modified version of Snow Leopard? This thought was based on what most of the tech community were ingrained to think – tablet devices need to run desktop/laptop operating systems to maintain the most functionality.
The problem with this train of thought is the mouse keyboard paradigm doesn't translate well onto the tablet. Apple's decision to use the iPhone OS was based on its ability to work well on its smaller touch-based technology devices. This falls under the "if it's not broken don't fix it" train of thought; which I understood as soon as my 4 1/2-year-old daughter picked up the iPad and started using it without any hesitation or trouble.
The light bulb went on in my head; this is what Apple was thinking when they created the iPad. Make a device that is simple and intuitive to use. Although there will be great debate about what the iPad will be used for there is no denying the simplicity of its user interface.
So, what is the iPad all about? My friend Jason asked me when looking at my iPad-"what are you going to use it for"? At that moment I didn't have a solid answer. I do know that my 8 and 4 1/2-year-old daughters immediately took to the device and view it as a game pad/console. My mother who never shows any interest in anything technological actually asked me to sit her down and show her the features of the device and now she is planning on picking up a 3G model because she doesn't have Internet at home. The features that interest her most worthy ability to read books, magazines, view pictures and watch multimedia all from the hand held device from the folks at Cupertino.
Apparently the iPad is many different things to many different people and that may be why this device is "magical" as described by Steve Jobs himself. There are facets of the device closed-minded people will dismiss before ever holding the device.
Is the iPad a netbook replacement? That is hard to say if you use in the book for web surfing, responding to e-mails and very little else than the iPad can easily perform that job with greater speed and panache. The lack of Flash may be a sticking point to some, but if you ever used Flash on an Atom based netbook that is not a fun experience either.
If you use a net book for heavy-duty word processing than the iPad may not be exactly what you're looking for in a device. Apple does have a productivity suite of apps – iWorks (Pages, Numbers and Keynote) that can be purchase together or separately. With these apps you perform most business tasks at hand.
The keyboard and mouse input system still seems more conducive for using data entering types of apps/programs. Typing on a virtual keyboard may frustrate people who require tactile feedback; although Apple does address this by allowing the use of their Bluetooth keyboard or with the dock/keyboard accessory attached to the iPad. Still the lack of mouse makes editing large areas of text somewhat ponderous.
The expectations for the iPad was so great before its announcement that many people feel disappointed by the product released from the folks in Cupertino. I include myself in this group but after spending some hands-on time with the device I've changed my opinion. By no means is it a perfect device but it does scratch several technological itches with one handy device.
The iPad can be a gaming platform, a multimedia player, an e-book reader or a portable office suite. These are just a few of the possibilities for this device. The addition of innovative apps expands the possibilities of the iPad. With the right software you may see the iPad in medical offices, music performances, and other unique environments and locales. One of my friends who is a doctor is already using the iPad in his office to electronically submit prescriptions via the web.
Many people complain about Apple's closed ecosystem – you can't install apps unless purchased from iTunes, it does not play back avi, divx, ogg or flac files, etc. These are valid complaints about the iPhone, iPod Touch and now iPad. However you are not tied to buying everything from Apple, there are alternatives such buying books through Amazon and the Kindle App instead of using iBooks. If you wish to add music or movies you can rip them into the appropriate formats and import them onto the iPad through iTunes. This closed "garden" is a trade off for ease of use for most technologically disinclined types.
Will the iPad replace my laptop? The answer to that is most likely no but it will reduce my dependence upon carrying around a 15 inch MacBook Pro especially in my home. Now when I want to couch surf or check e-mails in bed I'll reach for my iPad. I know commutes and trips will be more enjoyable carrying my iPad instead of my laptop. The Wi-Fi version is ideal for travel as long as you have access to WiFi at either hotspots or where you end up staying. Of course if you want Internet on the go you can wait until the end of April and pick up the 3G model for $129 more.
Overall I am pretty impressed with the iPad as a total package, it is well constructed, works as advertised and can be many different devices all in one light weight portable tablet. If you are on the fence about getting one I would recommend you head down to your local Apple store or your friends house and play around with one of them.
Pros:
+Brilliant display
+Long battery life
+Great media player
+Well built, looks great
+Can be used as picture frame when docked
+Built in Wireless N Capability
+Huge selection of Apps (counting iPhone/iPod Touch ones)
Cons:
-Non-Removable battery
-Mono Speaker
-Fingerprint magnet
-No built in mic or camera
-Closed ecosystem
| | |
| --- | --- |
| Grades: | |
| Overall | |
| Design | |
| Performance | |
To learn more about our review policy please visit this page HERE.