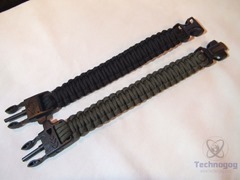 Camping, hiking, outdoors and scouting, yes I do that stuff, not as often as I did when I was younger but two of my three kids are into scouting so I have to get back into it as well now. My oldest can go by himself but my youngest must be accompanied by an adult so that's me which means camping and hiking and all that good outdoor stuff that comes with it. Survival bracelets have become very popular as of late, they're essentially paracord or parachute cord wrapped in a nice looking design and then worn like a bracelet but in an emergency they can be taken apart quickly and you'll have very strong cord for whatever you might need it for. One of the great things about paracord is that it's strong especially for it's size or thickness. A single strand of paracord can be a just a few millimeters thick or about an eighth of of an inch and yet hold hundreds of pounds in weight so you can see how it could be very useful in an emergency. Many companies seem to be making their own survival bracelets and I picked up a few on sale for me and my kids as I thought it was something that might be useful and I like to be prepared.
Up for review today I have a pair of survival paracord bracelets from a company called Attmu. I bought these on Amazon for about $10 for two of them, one green colored and one black colored but these are not just plain bracelets. The two bracelets also have a tiny knife or scraper built into the buckles along with a whistle and a magnesium bar for starting fires to keep you warm. For the price they are worth it I think, but they're not perfect. Read on to learn more…
Specifications and Features
Attmu Outdoor Survival Paracord Bracelet with Fire Starter Scraper Whistle Kits, Set of 2, 2 Colors
ATTMU Outdoor Survival Paracord Bracelet
* About the product, Set of 2
– Suitable for wrist sizes that measure between 7-9 inches.
– The stretch bracelet umbrella rope is about 3.5 meters to 4 meters long.
– The material is special designed,with great capability of corrosion resistant,aging-resistant and so on.
– Card buckle with high decibel survival whistle and a fire starter.
– Wild adventures, especially to explore the mysteries of predecessors had never been involved in, perhaps will face the test of "survival", at this point, an emergency life-saving equipment has become one of the essentials for adventurers. Ideal for camping, boating, hunting, hiking, and much more.
– It is no matter even to carry out daily, perhaps at a critical moment, it may be a big help, when necessary, apart as with a rope. In an emergency can make traps, hemostatic, strapping makeshift tent, wear a set of equipment to prevent loss and so on, can be used as emergency use!
– Our bracelets may still carry over 550 lb but have a true rated load of 350 lb the guaranteed rated load. Bracelets similar or inferior to these are commonly marketed as "Type III 550 spec".
– Bracelet can be completely disassembled in one minute.
* Include  2 sets, 2 colors: black and green army.
* Note
– Please note that caution is advised when wearing the survival bracelet, it will not slide off your wrist and can cause injuries if caught in any object.
– If caught in any object, it can cause injuries since the cord will not break nor slide of your wrist.
* About ATTMU
We promise offer good quality products to make sure your satisfaction. We make every effort to provide quality services. You could contact our customer service when there any questions. Not satisfied? 100% guaranteed return of goods.
Price: $10.59
The Review

The packaging is interesting, the bracelets come in a rather thick zipper locking style bag that you can reuse for something else when you go camping surely.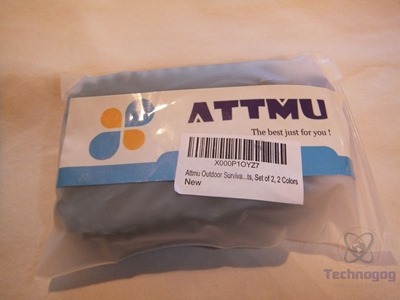 There are two in the package, one is military green and the other is plain black. The bracelets are made to fit wrist size of about 7-9 inches which is kind of small, though it might be fine for women and children. I'm a guy and I'm six foot tall but I'm kind of skinny so I can wear these bracelets but they are a bit snug on me. I can rotate the bracelet on my wrist with some force.
The paracord is braided just like others out there are but it does look nice and it's thick and stiff. They're so stiff that you can bend them into a position and they'll mostly stay they way you bent them.
The buckles are a heavy duty plastic but they're much more than just fasteners. On one buckle is a whistle on the side and a magnesium bar in the center between the locking clasps. On the other buckle side you'll find a very small combination knife and scraper which is serrated. The knife is stored right in the buckle very securely but I have to say it's not very sharp at all.
The whistle is handy addition and for me it worked fine with some practice. The whistle is just so small that your lips can cover the hole making it not work correctly, you just need to figure out where to place your mouth to get the whistle to work. The whistle can be very loud and shrill, it should easily attract attention if you happen to get lost to be used as a signal.
The scraper is just a small piece of metal with serrations on it and it's not much bigger than a dime really so if you have larger hands you might have trouble using it. The scraper is just not sharp at all, I forcibly ran it across the back of my hand and it just left a scratch mark and did not even come close to breaking the skin. You'll have a really hard time actually cutting anything with this blade for sure.
Since I got tow of these bracelets I decided to take one apart and check it out in a bit more detail. The paracord when stretched out is about 128 inches or about ten and half feet long. I was surprised there was that much in such a small bracelet honestly, I was expecting maybe five feet. When I took it apart it did fray a bit on the end but the great thing about paracord is that a little heat will melt it back together.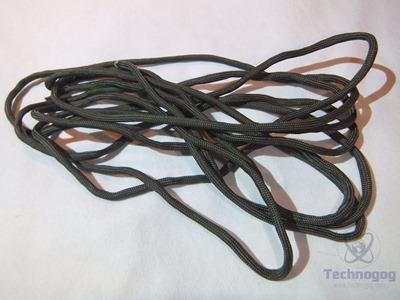 The next thing I did was try to get the magnesium bar from out of the buckle which proved to be a difficult task. I first tried just using a utility knife but that wasn't working so I got out my Dremel and that cut right through the plastic of the buckle to remove the bar. The bar is one and one fourth inches in total length but only three fourths of an inch is exposed from the buckle, the rest is inside holding it in place very securely.
The magnesium bar is painted black so if you want to actually use it you'll need to scrape the paint off first. I did use the included scraper to try and do this but it's extremely dull and really wasn't doing anything so I used my utility knife to scrape the paint off. Once I exposed the magnesium I tried to use the included scraper to create a spark, I tried over an over and it would not spark for me but I tried my utility knife and it sparked every time with nice large sparks that should easily help get a fire going if you have good kindling.
I do have a sharpening stone and I tried for a while to put an edge on the blade and succeeded somewhat. I could get it sharp enough to scrape the paint off and I did get sparks, but it took many, many tries to do it. The scraper isn't high quality metal but with time and patience you might be able to actually put a useful blade on it.
I should note that I actually bought three sets of these for a total of six and they all were the same so it just wasn't one with a dull blade.
Conclusion
These bracelets are small in size, I'm a guy and I can wear them but they are snug. As is I won't actually ever wear them, but I did attach it to my backpack strap so it's always there if needed while I'm out and about.
I was very much surprised by just how long the paracord was when I unraveled it, over ten feet from such a small bracelet is a good thing I would guess.
The scraper is just too small to get any real leverage to use it properly since it's so dull. You could sharpen it if you have the tools and the patience.
This is one of those things where I can't recommend it in the state it's in right now but for the price it's not bad, that is if you have the patience and skill to sharpen the blade to make it useful.
If you're an outdoor enthusiast or DIY type of person that chance are you'll have the tools and skill to make this a very useful product, but if you're not I'd stay away from it as the blade is worthless as is really.
Pros:
+Handy and useful
+Includes whistle, scraper and fire starter in buckles
+Inexpensive for set of two
Cons:
-Small size
-Must scrape paint from magnesium bar before use
-Scraper / knife is not sharp at all
-Need to sharpen scraper before it can be useful
-Could not get sparks with scraper
| | |
| --- | --- |
| Grading | Scores Out of 10 |
| Overall | |
| Design / Aesthetic | |
| Value / Price | |
| Performance / Usage | |
To learn more about our review policy please visit this page HERE.