Apple's AirPlay technology is gaining traction with the release of more devices taking advantage of the technology. When it was initially released AirPlay enabled speakers were expensive and hard to find. To help fill this void Audyssey's latest product is designed to bring hi quality AirPlay based audio into one's home or workspace.
Today we will be reviewing the Audyssey Audio Dock Air, which is designed to send digital audio from your computer, iPhone, iPod, or iPad wireless to this speaker system. While technically not a dock the Audyssey Audio Dock Air does include a 3.5 mm input on the back for hooking up a sound source via its headphone output jack if so desired.
Having used both the Sonos and Squeezebox setups I have become a big proponent of wireless music streaming. For this type of system to work properly you'll need a simple setup and a user-friendly interface that Audyssey provides. The Audio Dock Air in combination with AirPlay provides a quick and simple way to provide wireless music streaming within one's network.

The Audyssey Audio Dock Air arrives in a white cardboard package. The front of the box has an image of the Audio Dock Air, the AirPlay logo along with a description of its features in English and French. One side of the box has another picture of the Audio Dock Air being used by a young woman and on the back is another list of features, specifications and a product blurb in English and French. Finally on the other side of the package are four additional language descriptions for the product.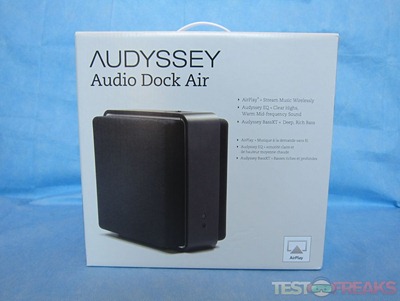 Opening the box we find the Audyssey Audio Dock Air wrapped in plastic and protected by two foam inserts. Also included are the power supply, 3.5 mm audio cable and quick start guide.
The Audio Dock Air is all black and measures 4.7" x 8.9" x 8.3" and weighs 5 lbs. On its sides are two separate sets of 0.75" tweeters, 3" woofers, and 4" passive bass radiators covered by black speaker covers.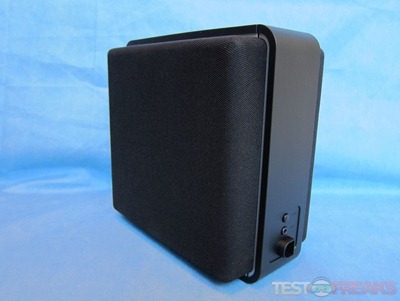 In between these two speaker sets is a black plastic area that houses the Audyssey Audio Dock Air's controls. Looking at the top we see a volume knob with two LED lights – one for Power and the other for AIrPlay connectivity.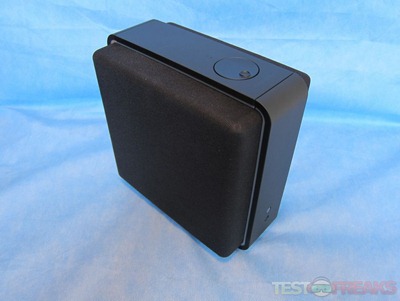 On the front is an infrared port and 0.5 mm headphone output jack.
The back of the Audyssey Audio Dock Air has the power input connector, a 3.5 mm line input and the wireless pairing button.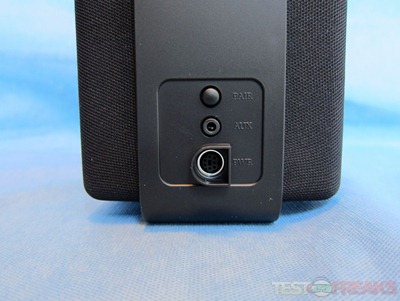 Underneath the Audio Dock Air are four rubber feet and a rubber covering for a USB connector that is probably for updating the device's firmware.
Specifications: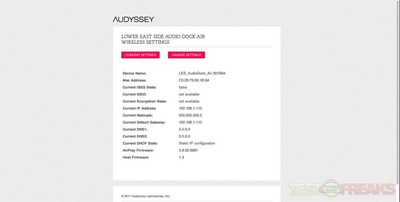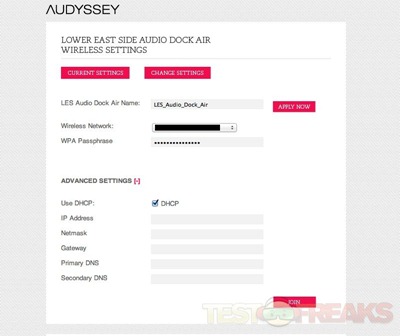 Now the Power LED will change from flashing green to solid green and the AirPlay LED will transform from slow flashing orange to solid green. Once the AirPlay LED is solid green you are ready to use the Audyssey Audio Dock Air on your Wi-Fi network. If you make an error during the setup process pressing and holding the "Pair" button will restart the process.
Using the Audyssey Audio Dock Air in conjunction with AirPlay is as simple as selecting the device after clicking on the AirPlay icon found on the lower right of most Apple devices and apps.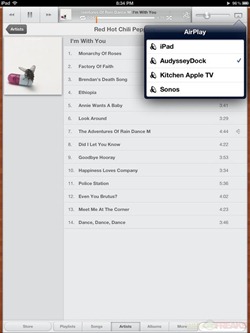 Since the Audyssey Audio Dock Air has speakers on each side it limits the possible placement of the unit in one's home or workspace. To maximize the sound quality you will want to place the Audyssey Audio Dock Air in an open area. A corner or crowded bookshelf will muffle the sound playback from one side of the Audio Dock Air.
For such a small package the Audyssey Audio Dock Air produces very deep bass with crisp mids and highs. Usually all-in-one speaker systems have some sound compromise but Audyssey avoids that with the Audio Dock Air. When comparing the Audio Dock Air with the

Conclusion:

Audyssey is a highly regarded well-known name in the field of audio. Last year at technogog we looked at their
Pros:
+Excellent sound
+Portable
+Set up relatively simple
+Works with up to four Audio Dock Airs to create multi-room system
Cons:
-Expensive
-Side speakers limits placement options
-Take care in carrying it
-iOS biased
-No power button
| | |
| --- | --- |
| Grades: |   |
| Overall | |
| Design | |
| Performance | |
To learn more about our review policy please visit this page HERE.