Up for review today I have some power for you in the form of the Avantree Juno portable power bank which has a 6800mAh capacity battery inside of it and can charge not only phone but tablets as well since it can output 2.1 amps on the USB port. The Juno has a built-in USB cables with both microUSB and standard USB connections on it so you don't have to carry a cable with you to charge the Juno, your devices or even for syncing. The Juno is small and portable and it seems nicely made and it has four LEDs on it to indicate battery capacity and charging. Read on to learn more..
Unboxing
The packaging for the Juno is just a plastic bag that zips shut, at least that's what they sent me.
The Juno is about the size of most smartphones I think at 127 x 67.8 x 21mm or about 5 x 2.7 x .8 inches and it weighs in at 190 grams or about 6.7oz. It's made out of plastic but it seems durable and nicely made overall.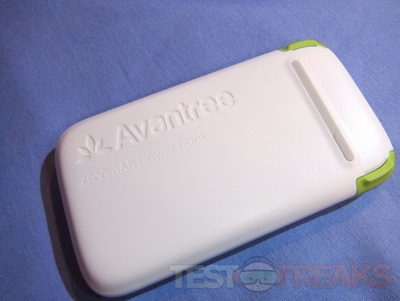 On the front is a gray stripe with a button on it that is used to check the battery status an to start charging. There are four LEDs each representing 25% charge to let you know how much battery capacity is remaining.
All around the side you'll see a green stripe which is actually a cable for charging your devices and the Juno.
On one end is a microUSB connection an the other has a standard USB connector.
On the sides of the Juno you'll see the micro and standard USB ports where the cable fits in.
The back has a small compartment for storing an Apple lightning connector which doesn't come with the Juno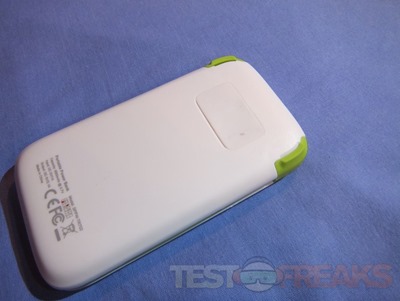 Specifications and Features
6800mAh Li-ploy. Detachable cable design. 2.1Amp output., Support: iPad, kindle fire, tablets, HTC, Samsung, Sony,etc
Avantree 6800mAh portable power bank JUNA with a detachable Micro USB sync charge cable. That's means you do not need to take another cable for charge and sync your smartphone, only one JUNO is enough. JUNO built-in Polymer Lithium battery and efficiency circuit design, can charge your devices anytime, anywhere!
Features
* Avantree JUNO portable power bank by designed with a detachable Micro USB sync charge cable.
* 2.1Amp output, support iPad, iPhone, Android tablet, smartphone,etc.
* Fast charge your devices as original charger.
* With multi-protection and clear battery status indicator.
* Adopt reliable Lithium Polymer battery to ensure safety. compact size, easy to carry.
* Built-in 4PCS green LED indicators for batter capacity.
* No worries on your battery anymore.
Specification
* Battery: Lithium Polymer.
* Capacity: 6800mAh@3.7V.
* Input: DC 5V/1A.
* Output: DC 5V/2.1A(max).
* Product weight: About 190g.
* Product size: 127*67.8*21mm.
Price: $43.99 (from Avantree site at time of review)
Price: $30.27 (from Amazon at time of review)
Testing and Usage
When the Juno arrived to me it was at 75% capacity but I charged it anyway to get it up to 100%, didn't take long, not even an hour. The LEDs blink and then turn solid once charging is finished. The LEDs will blink and turn solid filling the bar as it's charging.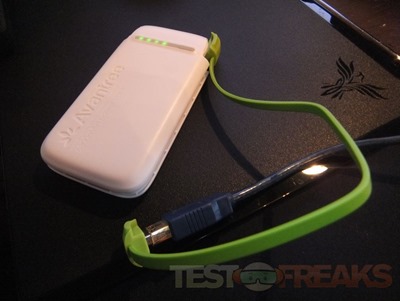 For testing I charged my HTC One Android phone first. To use the Juno you just need to plug in the USB cables and press the button to begin charging. Charging seemed just as fast as when I charged through the USB cable I have attached to my computer, not any slower and not really any faster that I could tell. The LEDs again will light up to indicate charging your device and then will go out as the battery in the Juno is discharged.
Avantree says you can charge tablets with the Juno, but it all depends if the tablet supports USB charging. I have three Android tablets and only one charges over USB and I used it with the Juno and it charged just fine.
The Juno works well I think, it's portable and easy to use.
One of the great things about the Juno is the integrated cable. The cable is right there for you stored in the Juno and you can just take it out to charge your devices and then put it away when you're all done. The cable fits very securely in the Juno so you won't have to worry about it falling out.
The cable is also used to charge the Juno itself but the cable can also be used as a sync cable with your computer so you won't have to carry an extra cable with you.
The small compartment on the back is for an Apple lightning adapter so you can take that with you as well and since it's in the compartment it won't get lost.
The price of the Juno falls into the middle range. I checked Amazon for similar capacity batteries and found many priced below and above the Juno.
Conclusion
The Avantree Juno is certainly a handy portable battery to have. The Juno not only will charge most all devices, but thanks to the integrated cable you won't need to carry a charge or sync cable with you.
Charging time it similar to having your devices plugged into your computer USB for charging, so there's no complaints there.
The build quality is nice, it looks nice an it seems well made. Yes it's not the smallest battery I've seen but it is small and light enough to be portable and just tossed in your bag.
As far as price for the Juno, it falls about the middle, there are many that are higher priced and many that are lower priced, but I didn't see any quite like the Juno with the integrated sync/charge cable.
Overall I like the Juno and there's really nothing wrong with it at all, it works as advertised.
Pros:
+Charging cable built-in
+Sync cable built-in
+Small and portable
Cons:
-Apple lightning connector optional
| | |
| --- | --- |
| Grades: | 9 out of 10 |
| Overall | |
| Design / Aesthetic | |
| Value / Price | |
| Performance / Usage | |
To learn more about our review policy please visit this page HERE.