Bluetooth is found everywhere it seems, in speakers, phones, tablets and our computers but there are a lot of things that still don't have Bluetooth. For example, my favorite set of earphones is the Future Sonics Atrio M5s and they're wired so I'm sort of stuck being attached to whatever audio source I'm using. There are ways to make them wireless and one of them is what I have for review today, the Avantree Saturn Bluetooth Music Adapter that allows you to use any wired headphones wirelessly. The Saturn though can do more than that, it actually has two modes, one for transmitting and one for receiving. The receiving option is for like my example, I can turn any set of headphones or even speakers into a wireless audio device to stream audio to. The transmitting option allows you to turn any non-Bluetooth device into a Bluetooth one. I've tested both modes and it certainly exceeded my expectations and worked perfectly in both modes.  So read on to learn more abut a very useful little gadget…
Unboxing
As usual we start with the box, it has plenty of specs and information on it.
Inside the box you'll find the user manual, the Saturn itself and three zip style bags.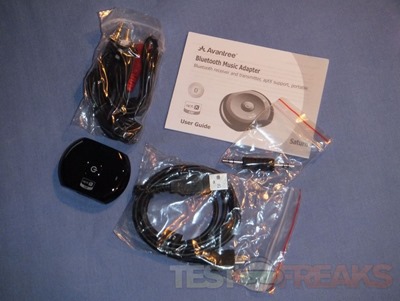 Included in the bags you'll find a 3.5mm double ended audio cable along with a short doubled end 3.5mm audio jack. Included also is an RCA style audio cable with a 3.5mm female connection on it. The last thing in the bags is the microUSB cable, which is very long.
The Avantree Saturn is a very small device at 50mm(L)x37mm(W)X13mm(H). On the top of it you'll find a power button which is actually a multifunction button and there's a small LED off to the side of it. Yes it's plastic, but most things are these days, but it feels well made.
The bottom just has the ID label and a rubber pad.
On one side of the Saturn you'll find the microUSB port and the 3.5mm audio jack.
On the other side of the Saturn is a sliding switch with TX and RX labels, this is for setting the Saturn into either TX for transmitting or RX for receiving modes.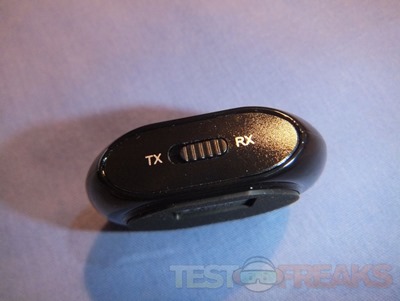 Specifications and Features
Avantree Saturn Bluetooth Music Adapter
Avantree Saturn is both a receiver and transmitter for Bluetooth devices allowing you to play music from or to non-Bluetooth devices.
Transform the way you listen to your music
The Avantree Saturn is both a Bluetooth receiver and transmitter allowing you to connect Bluetooth music devices to non-Bluetooth speakers or vise-versa. This means you can use your old-school CD player with your latest Bluetooth speakers and because Avantree have used the latest 'aptX' decoder the music is HD quality.
Simply switch between transmitter and receiver
The Avantree makes it easy to switch between transmitter and receiver with a simple switch on the side. This makes it effortless when switching between multiple devices during your busy day.
Versatile in design and functionality
The Avantree Saturn looks great with a slim circular design that is extremely lightweight for unobtrusive use for around the house or even at the gym. With 10 meters of wireless connectivity your free to move about whilst enjoying your favorite music tunes. It also comes with a rechargeable battery that will last between 9-10 hours depending whether your transmitting or receiving music.
Open a new world of listening
The Avantree Saturns can also be paired together as long as you set one to receive and the other to transmit. This opens up endless ways of listening to your music for instance why not connect your TV to your favorite speakers wire free!
Specifications:
Bluetooth profile supported: apt-X, A2DP and AVRCP
Operation Range: Class 2, 10 meters
TX mode working time: 10 hours
RX mode working time: 9 hours
Standby time: up to 400 hours
Battery: 270mAH rechargeable LI-polymer battery
Product weight: 48.5g
Size: 50mm(L)x37mm(W)X13mm(H)
$45.99
Usage and Testing
To start using the Saturn you'll need to charge it, once charged the internal battery should provide up to 10 hours of use. Battery life will depend on whether you're using for receiving or transmitting. You charge the Saturn with a regular microUSB cable, you can use the included one or your own. The specs say up to 10 hours for transmitting and up to 9 hours for receiving, which is basically more than a day of usage I would think for most people.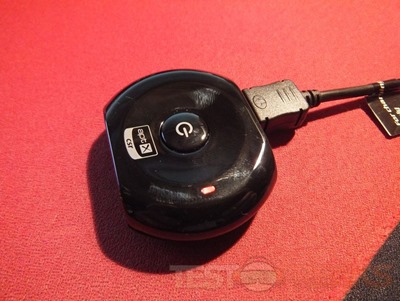 The first thing I tried was the transmitting feature and auto connect. I used it with my ZuneHD and for that I had the choice of the small audio adapter or the cable, I thought the small adapter would be fine and it worked. It connects just like a pair of headphones really.
The most interesting thing about the Saturn is the auto-connect feature, you don't have to pair it like you would on a phone. I used it with the SoundWave II Bluetooth speaker. To pair them you put them both in pairing mode and they'll find each other. I wasn't sure  it was going to work as the SoundWave II can require a passcode, but I'm happy to report it connected just fine and I was playing the music from my ZuneHD wirelessly through the SoundWave II speaker.
The Saturn is both a transmitter and receiver so in essence it can turn any regular wired set of headphones into a wireless set and this alone is a great feature I think. I used the Saturn with my Future Sonics Atrio M5s, and you just plug your headphones in and make sure the switch on the Saturn is set to receive.
I then used the Saturn in receiving mode with my HTC One. Pairing was just like any other device, I put the Saturn into pairing mode and searched for it on my HTC One then connected, no issues at all.
So now I have my favorite set of earphones that are wireless, what could be better right?
Sound quality depends on the earbuds or headphones or speakers you use with the Saturn.
The range on the Avantree Saturn is amazing really. My little office is in the front of my house, corner of the living room basically and when I was using the Saturn with my headphones I thought I'd try the range and see how far I could get. I walked all around downstairs, room to room, and had no problems with the signal. I then went upstairs and all the way to the back of the house and I still had a signal, no drop outs or interruptions at all in the music. I'd say the Saturn has excellent range for sure.
Conclusion
The Avantree Saturn is a device that pulls double duty, it can transmit or receive audio wirelessly over Bluetooth.
The Saturn can instantly turn any set or regular wired headphones or even speakers into a wireless Bluetooth device to receive audio.
The Saturn can also turn any non-Bluetooth device into a wireless audio source to send audio to something like a Bluetooth enable speaker.
The battery can last you all day or more on a single charge which in itself is very good.
The price is about $45 and for what it can do I think it's well worth it. The Saturn can certainly be a very useful device.
Pros:
+Small and compact
+Excellent range
+Simple to use
+Good battery life
Cons:
-None really
| | |
| --- | --- |
| Grades: | 10 out of 10 |
| Overall | |
| Design / Aesthetic | |
| Value / Price | |
| Performance / Usage | |
To learn more about our review policy please visit this page HERE.