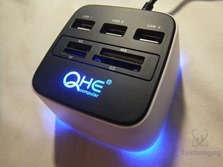 Today I've got a review of product I really wanted to like, well one that I wanted to work correctly and it didn't sadly. It's a USB hub and card reader in one for your desk and it's very nice looking and well made but it has a small issue with reading micro SD card for some reason and that's the main reason I really wanted this. Read on to learn more..
Specifications and Features
On the top you'll find three USB ports along with card slots below them, it can read the most popular formats of cards.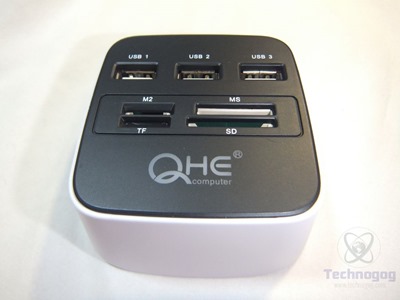 On the back is a mini style USB port to connect the reader/hub to your computer with the included cable.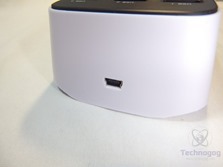 On the bottom is a rubber base, almost the entire base is rubber so it won't move around on your desk, it will stay where you put it.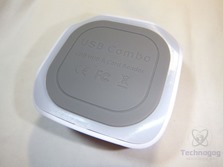 When powered on you'll see several blue colored LEDs in the bottom and the top and it makes for a very nice appearance.
I've been using it for a few weeks now and I do like it a lot but sadly it has a problem with micro SD cards. I've got lots of gadgets that use them and having a reader right there on my desk would be a great help to me but most that I tried, and I tried at least seven of them of varying speeds and capacities, didn't work correctly in the reader. It would see the cards and then they would disappear or it would see the cards and I could start transferring and then the card would disappear and the transfer wouldn't complete. A couple of the micro SD cards weren't seen at all by the reader but worked fine in my other reader. I had no issues at all using regular SD cards though, I could transfer to and from and it worked fine. The same thing with USB flash drives, they worked fine, no problems there either. I was curious so I plugged in two USB drives and an SD card and all were accessible which is nice that you can access them all at the same time.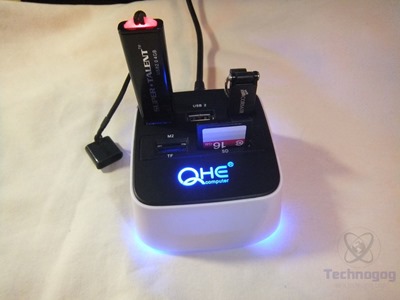 I have a multiple card reader in my computer in the 3.5" slot but the computer case is a bit away from me and there's a door on it as well, having one on the desk like this would have been a much nicer solution for me.
Conclusion
This is one of those products that I like but I don't like because it doesn't work as it should. It's something that I wanted to work and something that I could really have used often. Yes the USB ports and other card slots work fine, but considering that the majority of mobile devices today use micro SD cards, a lot that doesn't work correctly is a big problem I think.
There's an issue with the micro SD slot and reading the cards, I tried numerous cards and I had the same issue with all of them so it wasn't just a single card. I even tried a few different USB cables and that wasn't the problem either.
Pros:
+Well made and looks great
+Can access several devices plugged in at once
+Three USB ports and several card slots
Cons:
-Spotty connection with micro SD cards
| | |
| --- | --- |
| Grading | Scores Out of 10 |
| Overall | |
| Design / Aesthetic | |
| Value / Price | |
| Performance / Usage | |
To learn more about our review policy please visit this page HERE.