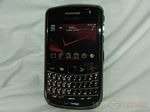 I've been reviewing for quite a while and I've reviewed a lot of phones, but in all my time I've never had the chance to handle a BlackBerry phone for whatever reason, not sure why, but I finally have one!
Verizon has sent me over the BlackBerry Bold 9650 Smartphone for review today, and for me it's treat, it's my first BlackBerry ever, popped my berry as it were! Seriously though the Bold 9650 is a world phone, so inside you'll also find a sim card, something which you don't find on many Verizon phones, but in this case it's necessary. Included with the phone you'll find a power adapter with tips for several parts of the world and a nice carrying case, along with a wired headset. The phone itself is interesting to use, and as a first time user I feel it's decent, it's  a phone for business people, so it doesn't exactly feel friendly for the average person., but then again it's not meant to be a phone for the average person is it?

As sort of usual let's start off with the video unboxing:
This a world phone so it comes with a charger with several different adapter tips so you'll be ready to travel across the world and still have power.
Included also is a wired headset with foam pads, a USB cable and a nice carrying case.
Here's the phone in the case, it fits nice and tight: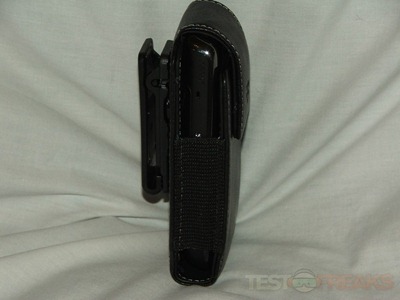 And here's the Bold itself, it feels nicely made, it's heavier than it looks though. It's thin and kind of small actually for a smart phone, but that's not a bad thing as some people don't like big and bulky phones. This is probably the first smart phone that I've encountered is not a touch screen, it's a bit odd for me.
Below the screen are four main keys and the optical trackpad in the center, below that is the keyboard.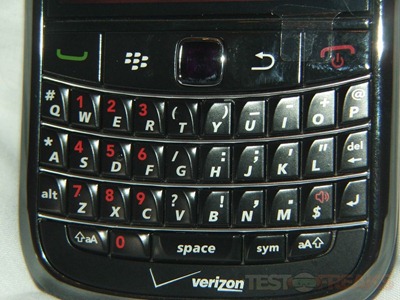 Here's the back of the phone, ignore the number stuck there, but on the back you'll find the 3.2mp camera and flash. The back has a texture to it with the BB logo there as well.
The back comes off easily with a slide button on the cover, under it you'll find the battery, 2gb microSD card and the sim card.
There aren't many buttons on the Bold, the right side has camera and volume buttons along with USB and audio ports. The left only has a button that comes programmed for voice dialing.
There are two other buttons on the top of the phone as well that you could easily miss they are ringer and lock.
Specifications:
BlackBerry Bold 9650 smartphone
Full Retail Price: $509.99
Price with 2yr contract: $249.99
Online Discount: -100.00
Your Price: $149.99
Forge ahead with the BlackBerry®Bold™9650 smartphone and tackle your challenges head–on. With features like Wi–Fi®, 3G technology, a 3.2—MP camera with video recording, VZ Navigator®Global, Visual Voice Mail, V CAST Music w/Rhapsody, V CAST Videos, V CAST Song ID, VZW Tones Deluxe, Mobile Broadb and Connectand optical trackpad. Plus, enjoy multimedia support for your videos, pictures and music. What ever drives your life is always within reach —chat with friends, email colleagues, share pictures and listen to your favorite tunes. The BlackBerry Bold also works with popular apps like Facebook®and Flickr™and even lets you talk and surf at the same time with simultaneous voice and data over Wi–Fi. Take chances and embrace your adventurous side with the BlackBerry Bold.
Specs:
-Network Support: Dual–band 800/1900 MHz CDMA/EVDO Rev. A networks; Quad–Band: 850/900/1800/1900 MHz GSM/GPRS/EDGE networks Single–Band: 2100 MHz UMTS/HSPA networks
-SIM Card: pre–installed in BlackBerry Bold
-Memory:512MB Flash Memory, 512MB RAM
-BlackBerry 5.0 Desktop Software Integrated Email, Phone, SMS, Browser, Calendar, Address Book, and additional organizer applications
-Full QWERTY Keyboard w/Trackpad navigation
-2GB microSD card pre–installed (support up to 16GB)
-3.2 MP Camera w/Flash, auto–focus and Video Capture
-Integrated speaker and microphone, Hands–free headset capable
-Media Player – videos, music, games and more…
-Bluetooth (v2.1) Profile support: HSP, HFP, SPP, DUN, A2DP (for Stereo sound), AVRCP; does not support all OBEX profiles
-Wi–Fi capable (802.11 b/g)
* Dimensions: 4.40″ (H) x 2.44″ (W) x 0.55″ (D)
* Weight: 4.8 oz.
* Standard Lithium Cell: 1400 mAh
* Usage: Up to 300 minutes of talk time OR
* Standby: Up to 312 hours
* SAR Information: 1.43 W/kg at ear; 0.53 W/kg on body

As I mentioned already this is not a touch screen phone, that took some getting used to. It's understandable with limited phones, but I feel that smart phones should have a touch screen on them. Navigation is done with the optical track ball or pad. On the main screen you'll find the regular status information, on the bottoms are a few short cuts.
Pressing the BlackBerry logo button brings up the main menu with all of the shortcuts for virtually everything the phone can do. These things include Messages, SMS/MMS, Contacts, Calendar, Browser, VZ Navigator, Visual Voice Mail, Phone, Media, V Cast Videos, City ID, VCAST Music Rhapsody, Bing, V Cast Song ID, Maps, Clock, Camera, BlackBerry App World, Application Center, VZW Tones Deluxe, Help, Search, BlackBerry Answers, Instant messaging, Applications, Games, Downloads, Setup, Sounds, Manage Connections, Options, Power Off. Yes, there's a whole lot of stuff there and you'll notice there's quite a bit of Verizon junk on there which is surprising as a lot of the other Verizon phones I've looked at didn't seem to have all this junk.
Here's the options expanded, no pretty icons here though:
You'll find several applications on the Bold including Flickr, Facebook, Twitter, MySpace, Memopad, Tasks, Calculator, Word to Go, Sheet to Go, Slideshow to Go, Files, Voice Dialing, password Keeper and Saved messages.
The phone does come with a few games and they're not bad to pass some time.
The keys on this phone are small, and take a whole lot of time to get accustomed to, they're really small I made a lot of mistakes while typing. When using it the keypad does light up, which is nice.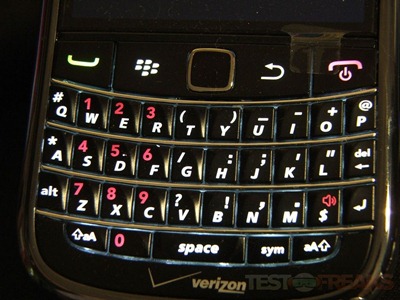 You make calls using the buttons of course, and calls work fine, no problems there at all. Call quality is very clear, with no issues there. I had no problem with the signal either, everywhere I took the phone I had a signal.
Battery life is great, I easily got the rated times and that was even with playing around a bit with games and taking pictures and browsing the web. That's no saying much though really as talk time is rated for 300 minutes or about 5 hours, so if you use it a lot expect to charge it everyday.
The media player works fine, videos are ok, they'll do. The screen looks very nice, but it's small, the colors are clear and movement is smooth.
Browsing on the Bold is fine, no problems there, the network seems fast and web pages render well. When browsing the web a little cursor appears on the screen, which is interesting, it's controlled by the track pad just like you would with your mouse.
The 3.2mp camera is better than I expected but still not that good. It does though have a macro mode which they call Close-Up, you can select between Normal and Close-Up for shooting.
There are a few options, but not many really, what surprised me was one for Image Stabilization.
The camera doesn't exactly like bright light at all. This is taken on a bright sunny day:
Here is zoomed in at two different angles. See how it really gets light in the second picture, and the first picture is rather blurry and pixellated.
Here's indoors on normal settings without flash and with and zoomed and not. The last picture specifically is with the flash, kind of yellow…
Here's some pictures taken in Close-Up mode, the last two use the flash:
The close up pictures are actually very nice, but the far away ones aren't that great, usually it's the opposite of that. Zooming in to maximum does make things rather blurry and pixellated.
Conclusion:
For my first time using a BlackBerry I can say I'm impressed overall, it's a great phone for business use I'm sure, but not one for personal use. If you're someone who travels a lot and need to have an office in your pocket then yes, this would be the phone for you. The extras that come with it like the power adapter with tips for other countries and the carrying case are all a nice touch really, the case itself is very nicely made and holds and protects the phone very well.
It has great call quality and fast web browsing, and the phone itself is fast too. No matter what I did I found the Bold to be quick and responsive.
Pros:
+Fast and fairly easy to use
+Nice extras included
+Lots of features
+Great business phone
+Decent close up pictures
+Well made phone
Cons:
-Battery life is a bit low with heavy usage
-Keys are cramped
-No touch screen
-Screen is small
| | |
| --- | --- |
| Grades: | |
| Overall | |
| Design | |
| Performance | |
To learn more about our review policy please visit this page HERE.