Blackfire makes several different flashlights that are much more than just a light and I've reviewed the regular Clamplight a little bit ago, but today I have another one from Blackfire called the Clamplight Mini and it's just what it sounds like a tiny Clamplight. This little flashlight features an LED that never needs replaced and has a battery life of about 55 hours. The Clamplight Mini is not only a light but it's clamp, the clamp is built in so you can clip or clamp the light to any surface or you could even use it as a clamp to hold things together. Read on to learn more…
Specifications and Features
It clamps. It pivots. It floats.
From Blackfire, the leader in innovation in flashlights comes Clamplight MINI. Clamplight MINI clamps securely allowing hands free usage and its' compact size allows it to fit almost anywhere. Clamps to caps, backpacks, laptops, clipboards, tool boxes, brackets, and sun visors. Compact size allows it to fit in pockets, glove compartments and tackle boxes. Clamplight MINI, like no other flashlight in the world.
Bright White LED
LED's never need replacing.
Includes 3x LR44/AG13 Batteries.
Battery Life – 55 hours
Engineered with High Performance Plastics to be lightweight yet tough.
Double axis pivot adjusts to infinite angles – delivers brilliant white light where you need it.
Stainless steel springs and pins for added durability.
Comes in 4 bold colors.
CLAMPLIGHT products are the only flashlights that have a clamp integrated into their body allowing for versatility and portability. The unique design and mechanisms found in CLAMPLIGHT are covered by 7,850,329, 8,025,420, 8,348,454, Canadian Patent 2,691,533 and numerous other patents applied for or in process in multiple countries around the world.
Price: $7.99 (from Amazon at time of review)
The Review
There is no real packaging for the Clamplight Mini, it comes with a hang style cardboard card attached to it and that's it, which is fine by me.
It comes shipped with a sticker over the over the switch to prevent the light coming on during shipping. The Clamplight Mini that I got for review is the same green and dark gray as the original Clamplight but you can get other color combinations. The main body is always the dark gray, only the ring and switch are different colors. Besides the green you can also pick from orange, black and blue. The light is about four inches long or about 10cm so it's not large at all. It's made of plastic of course so it's very lightweight and durable.
The Blackfire logo is right there on the head of the light above the switch. The switch is nice and large making it very easy to use.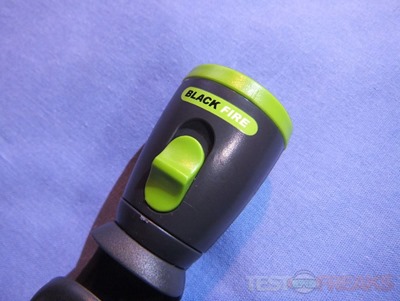 Here's a side view of the Mini where you can see the clamp and the pivot point for the head of the light.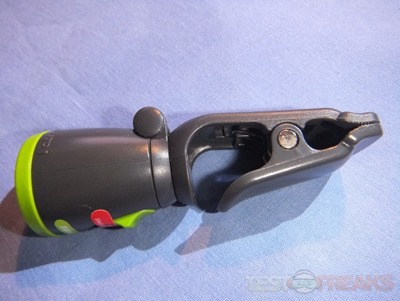 The clamp itself does have a rather strong spring on it so it will be secure wherever you clamp it to or clamp with it.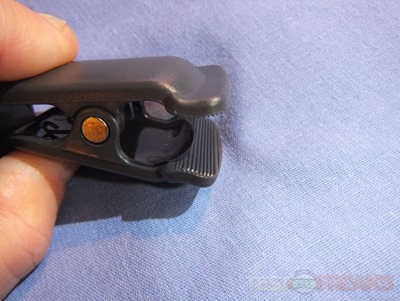 Here's the bottom view, the pivot pin has notches in it so when you bend the flashlight head it sort of locks into place.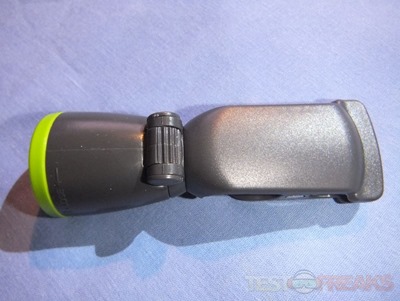 Here it is bent and it can bend all the way back on itself. In the last picture below you can see a small piece of metal, this interlocks with the pivot to lock it into place so it stay aimed at where you need it to. The head section can pivot up and down while the bottom section can rotate left and right.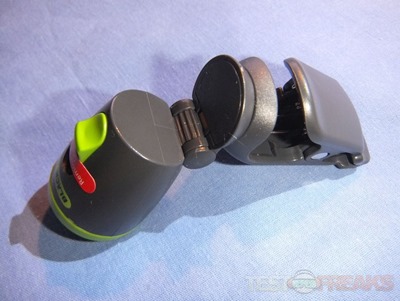 Here's the top view, or the LED light, it's located down in the center with a reflective surface all around it. The lens is recessed slightly into the ring so if you drop it you shouldn't damage the lens.
It's a bit hard to see but on the edge near the green ring are directional arrows so you can take the top off to replace the batteries. When you remove the top you'll find three tiny button cell style batteries which are LR44 or AG13, and these three little batteries should last 55 hours. At the top on the head of the light you'll also notice a rubber ring to keep any water out.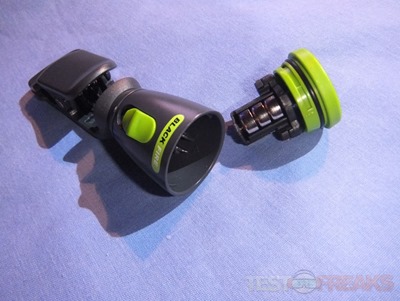 Here it is turned on, I can't really show you just how bright it is but I can tell you don't look directly into the beam as it will hurt your eyes, so yes it's very bright. It is a fixed focus beam which is sort of in the middle between spot and flood so it's versatile.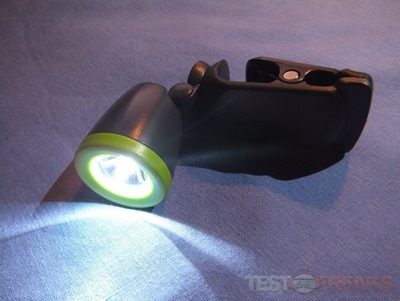 For comparison here's the full sized Clamplight (that I still happily use today) with the Clamplight Mini: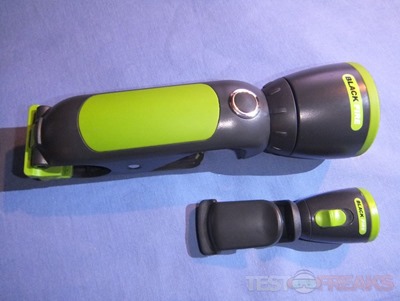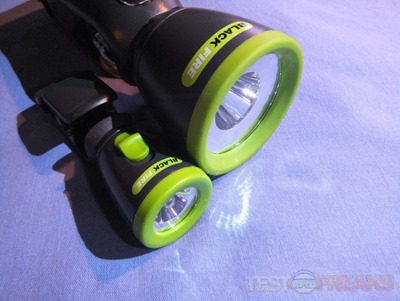 I like the Clamplight Mini a lot but there is one small complaint and that's the batteries it uses, they're the small button cell style and they're not inexpensive. Yes you can find them online cheaply but in most brick and mortar stores they can be expensive. For example my local Radio Shack has them at $6 each or 3 for $13 for their Enercell brand, which considering the light only costs about $8, that's what I consider expensive to replace the batteries. Now if you go to Amazon you can actually get a 10 pack of Maxell brand for $2.11 shipped, which is very worthwhile.
Conclusion
For me flashlights are indispensible and honestly I can't seem to have enough of them in all shapes and sizes and styles and I use all of them at one time or another. I use them for all sorts of things, building a computer to be able to see in the tight spaces, drop something on the floor and I grab a flashlight to find it, light always helps to find things. There's just a plethora of uses for a flashlight, especially one like the Clamplight Mini, it's just an extremely versatile product that I think anyone would be happy with purchasing.
The Clamplight Mini has an LED bulb that should last forever, and I do mean forever as it never needs replacing.
The Mini is a solidly made flashlight that should survive most of what you can throw at it or on it, anything you're doing the Mini will come in handy.
The Clamplight Mini is more than a flashlight though, it's clamp so you can use it to even hold things together. I've used it myself when I was gluing a couple small pieces of wood together, so it's not only a flashlight, it can be a valuable tool for your toolbox. I'm a dad and Father's Day is right around the corner and I think this would make a great gift for dads, I know I would have loved to have received one.
The only small issue with the Clamplight Mini is that batteries, they're not exactly inexpensive, but that depends where you look. I personally would have rather seen it be rechargeable or use a more standard style battery.
The Clamplight Mini is one of those products that is just extremely useful and it has many, many uses, too numerous to list really. I know it has earned a place right near my desk so it's always handy when I need a light.
Pros:
+Small and portable
+Very bright
+Seems durable
+Simple to use
+Multiple uses
+Doubles as clamp
Cons:
-Uses tiny button cell batteries
| | |
| --- | --- |
| Grades: | 9 out of 10 |
| Overall | |
| Design / Aesthetic | |
| Value / Price | |
| Performance / Usage | |
To learn more about our review policy please visit this page HERE.