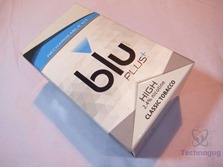 Yes I'm a smoker, it's really the only vice I have left and I've tried to quit but it just doesn't seem to work. I'm not going to make excuses, I enjoy it. There are alternatives and I'm always looking for one like electronic cigarettes or eCigs as they're called. Today for review I have the Blu eCig Plus+ Starter Kit which includes everything you need to try electronic cigarettes. The kit is nice, I'm impressed with it, I've reviewed a few of them and this is one of the nicest if not the nicest really. Read on to learn more..

Specifications and Features
Launched at the end of 2014, the new PLUS+ starter kit by blu cigs uses reformulated smoke juice which offers better flavor consistency, richer and fuller vapor for a more satisfying experience.
This new, ultra modern e-cigarette kit uses blu Tank cartridge refills which attach to a new-style battery which is the latest in lithium ion technology (the same type as used in cell phones and laptops). This battery is more efficient and much more powerful that that used in the original blu rechargeable starter kit (lasting up to two times longer between charges).
The blu PLUS+ pack acts as a convenient carrier for your blu ecigs. It has been designed in a sleek, slim form – perfect for carrying in a pocket or a purse. The pack itself has slots to carry three spare Tanks, two fully-assembled blu e-cigarettes. It also has a battery charge slot at the base so you can charge your spare battery while on the go (pack will fully charge a battery in only around 30 minutes) and can charge a battery around six times before it will need a recharge of its own.
Price: $41.99
The Review
Let's start with a video unboxing:
The packaging is a nice looking with lots of information on it. When you open the box you're greeted with a plastic tray that holds everything, user guide and and a documentation.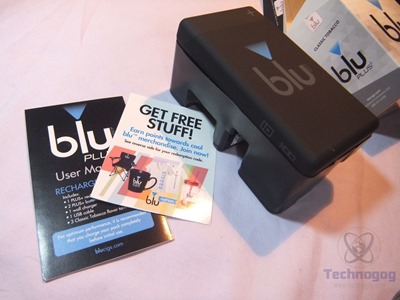 When you get everything unpacked you'll find three tanks or cartridges, a UBS AC adapter, microUSB cable, two batteries and the pack that is a carrying case and charger in one.
The battery does have a blue LED in the end, when you inhale the LED will light up a bright blue.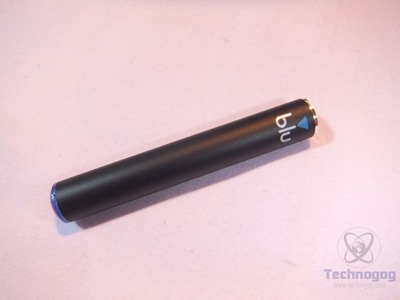 The cartridges or what they call Tanks comes with a rubber cover over the battery connection end and a peel off sticker over the hole or mouth piece.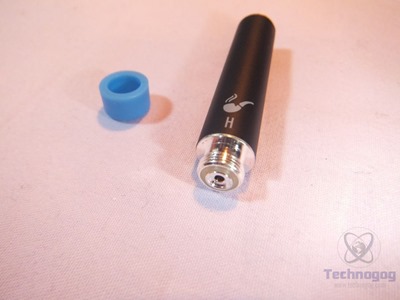 You can charge the battery pack with the included USB cable so you can then charge the batteries.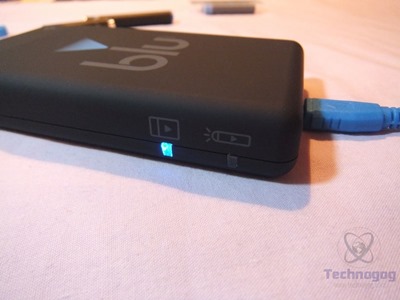 You charge the batteries inside of the pack and the LED will light up to indicate it's charging. There are two LED indicators on the side, one that looks like a pack will blink blue the number of times it can be used again to recharge the batteries. The other one is to indicate charging obviously. The pack will let you carry the batteries and the cartridges with you. The pack itself is nicely made, it seems durable as it is a rather thick plastic.
The one thing I very much like about the Blu eCigs is that they're small, other eCigs I've had have been huge, the Blu isn't much larger than a regular cigarette.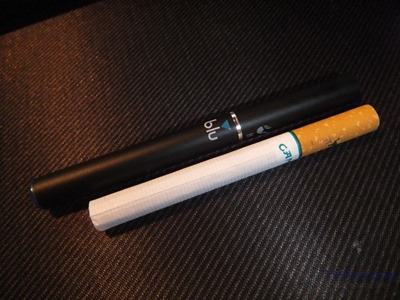 I normally smoke menthol but they sent regular flavor which isn't bad.
For testing I smoked them as you would and I have to say it's rather smooth, it's not harsh at all and it provides a lot of vapor.
The batteries do seem to last a long time, but you'll be carrying the pack with you so you won't have to worry much about running out of a charge.
Conclusion
I've purchased and received for review many types and brands of eCigs and the Blu kit is one of the nicest I've ever seen really.
I like the fact that everything can be taken with you, batteries, cartridges and the charger all in one small package.
Yes presentation is important but the experience is more important I think. Blu eCigs are not harsh at all, they're very smooth and have an easy draw to them, it's really just like a real cigarette.
If you're looking to get started with eCigs then I can easily recommend the Blu eCig Plus+ Starter Kit to get your started.
Pros:
+Cigarette like draw
+Lots of of vapor
+Not harsh
+Portable battery and pack to carry extra cartridges
+USB chargeable
+Small and cigarette like
Cons:
-None really
| | |
| --- | --- |
| Grading | Scores Out of 10 |
| Overall | |
| Design / Aesthetic | |
| Value / Price | |
| Performance / Usage | |
Disclosure: This product was given to us for review by the company for review purposes only, and is not considered by us as payment for the review.
To learn more about our review policy please visit this page HERE.