I've got another quick review for you today of a product that I've found to be very useful in my day to day activities. The product is the Style-iT 2-in-1 Stylus and it's from Bracketron. The 2-in-1 part is that it's a stylus and it's a pen so you've got both handy whenever you need it. it's a great little product that works well and that's well made. So read on…

So we'll start with the box as usual, it's a small one of course and you can see the stylus through the clear front.
I got black in color, but you can get white, blue, green, orange or pink if you'd like. When you pick it up the first thing you'll notice is the weight of it, it's metal and rather heavy. It's not so heavy that it's not usable, but you know it's in your hand or pocket. It just looks and feels very well made. The black end is the stylus part, it feels like a soft rubber ball.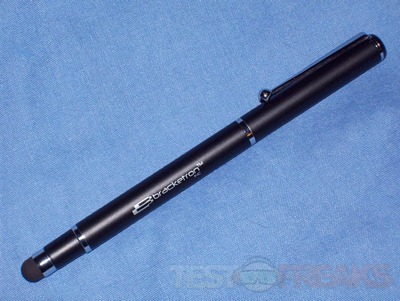 The top cap is removable and you can put it over the stylus end while you're using the pen. I should mention that the cap is tough to get off and on, that's not a complaint, that's good thing as it won't just happen to fall off.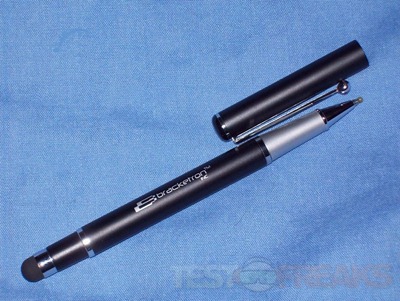 Here's a couple closer shots of the stylus end for you:
Specifications: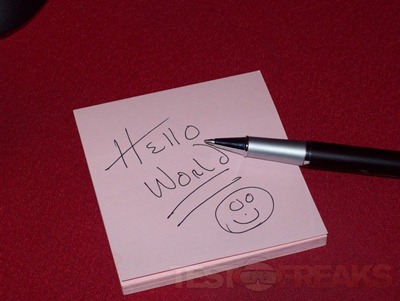 As a stylus I used it with my Samsung Captivate phone, and it worked perfectly. A stylus like this though isn't really for a phone I would think but I tried it anyway to see.
I also used it with my HTC Surround and it worked very well with that too.
I then used it with a my Le Pan TC970 Android tablet, which I absolutely love by the way, and for the most part it worked well. It didn't work as well as using it with the Captivate, but it worked.
Every once in a while it would skip and not do what I wanted it to do, but for the most part it worked fine with my tablet.
I also tried it with my Pandigital Novel 7" tablet/e-book reader. The novel doesn't have a capacitive screen, but it's extremely responsive and the stylus worked very well with it with very little pressure applied.
So it works well with most devices from my experience.
Conclusion:
The  Bracketron Style-iT 2-in-1 Stylus is a handy and very useful little gadget. I for one like it very much, and it will travelling in my bag with my tablet from now on. If you're looking for, or have a need for a stylus I think you should get his one, I'm pretty sure you won't be sorry you did.
I don't use a stylus often, but there are times I do like when writing notes. That's one thing I like about tablet, I can actually write notes and using your finger works, but the stylus works much better for that.
Pros:
+Very nicely made
+Writes great
+Works great on most devices
+Simple and easy to use
Cons:
-Doesn't work perfectly with all devices
-No cover for tip
| | |
| --- | --- |
| Grades: |   |
| Overall | |
| Design | |
| Performance | |
To learn more about our review policy please visit this page HERE.