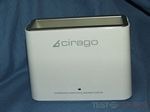 It's been a bit since I've taken a look at any USB 3.0 related products hasn't it?  I think the last thing was an enclosure, and while enclosures are nice I much prefer docks, they're just so much more useful and so much more easier to use. Today for review I've got a product from our friends over at  Cirago, it's the CDD2000 USB 3.0 hard drive docking station. This dock from Cirago is well made, and looks good, and it works well. The price is lower than many others out there so if you're made the jump to USB 3.0 then you might want to read more..

The Cirago CDD2000 comes in a small box with specs and pictures on it, inside you'll find it packaged fairly well.
Once you unpack everything you'll find the dock, USB 3.0 cable, documentation and power supply.
The dock itself is white in color with the Cirago logo on it in silver. At the bottom is a single LED. It feels sturdy and well made.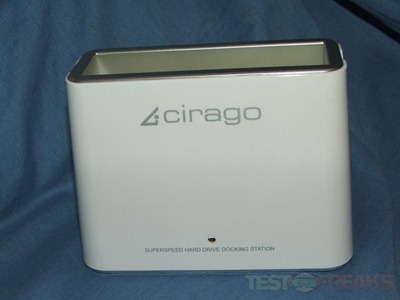 Inside is the SATA port: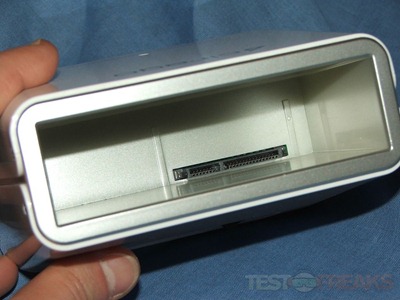 On the back side you'll find the USB 3.0 connection, power switch and power connector.
On the bottom there are rubber non-slip feet.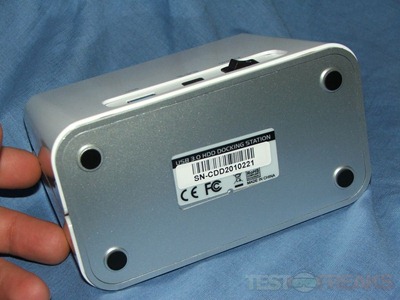 The Cirago dock seems well made, it's plastic yes, but it feel sturdy enough.
I'm not too fond of the white color though as white is kind of synonymous with Apple products anymore.. but white is a nice change from black.
Specifications:
Hard Drive Docking Station USB 3.0
Model: CDD2000
Features:
* SuperSpeed USB 3.0 Backwards compatible with USB 2.0 and 1.1
* High Performance Transfers up to 5 Gbps
* Plug and Play, hot-swappable
* Supports 2.5" and 3.5" SATA I/II hard drives
* LED Power Indicator
Description:
Interface: 1x USB 3.0 port (USB 3.0 cable included), 1x SATA I/II 2.5" or 3.5"
Power : 12V, AC/DC adapter included
Warranty: 1 year
Dimension: 5.1 x 3.6 x 3 in
Price: $46.00 (from Amazon at time of review)

Here's a 3.5" drive in the dock: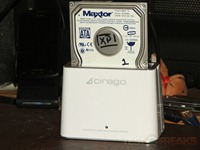 I did not use the above drive for my testing though, I just realized that all of my new 3.5" drives are in use..
The dock itself is easy to use, just plug your drive in there and then turn it on and you're ready to go.
One thing I did notice is that the power cord is a bit short, not that short but it's shorter than other hard drive docks I have, if it was maybe either to ten inches longer it would be perfect.
I did use these two new drives for the testing. One is a Seagate 7200.4 7200RPM 500gb drive and the other is the OCZ Solid 2 60 gb SSD.
The green LED comes on when you're using the Cirago dock.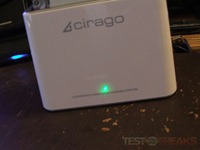 For my testing with USB 3.0 I have a USB 3.0 PCIE board in my computer as I don't have native USB 3.0 support. It's actually a regular PCIE slot or X4 slot, and not the mini-PCIE version so it offers faster speeds. Specifically it's the ASUS U3S6 card.
For testing I used both USB2.0 and USB3.0 on the SSD, but only USB3.0 on the HDD.
I used both ATTO and HDTune for the tests.
Here's ATTO with the SSD comparing USB2.0 and USB3.0:
As you can see there's a very large difference between them. I reviewed the Solid 2 not long ago and the results for the write speed using USB 3.0 were close to that of the speed while using the SATA connection
Here's the SSD tested using HDTune:
Similar results here.. but as you can see there's quite a large difference between USB 2.0 and USB 3.0.
and finally here's testing on the HDD:
I included the HDD in here as just an example, the real test was the SSD as it's really the only thing that can push the limits of USB3.0 and it really doesn't either.
Conclusion:
USB 3.0 products are finally coming down in price due to the fact that more of them are out there, which is a good thing for all of us consumers. There was a time, just months ago, that a dock like this would run close to $100, but this Cirago dock is only $46 and that's not too bad really.
The Cirago CDD2000 USB 3.0 hard drive dock is a very useful product for those that have a lot of drives floating around. Having a dock makes life much easier than using an external enclosure just pop it in and you're ready to go, no installing, no screws etc, it just works. If you don't have many drives floating around this can be useful to you as well since it's always ready to transfer your data. The dock itself is nicely made, and it looks nice as well.
USB 3.0 isn't exactly in widespread use right now, but it's getting there with more and more motherboard and system supporting it. it's nice to see companies like Cirago making quality products for those of us who are early adopters, and they're ready when more system are USB 3.0 capable.
Pros:
+Simple and easy to use
+Looks great
+Well made
+Decent speeds
Cons:
-White color only
-Power cable could be longer
| | |
| --- | --- |
| Grades: | |
| Overall | |
| Design | |
| Performance | |
To learn more about our review policy please visit this page HERE.