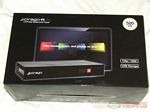 I've taken a look at a few media players here on technogog and most are fairly decent and honestly they're all pretty similar at least in the interfaces. Today for review I've got another one from Cirago called the CiragoTV Pro CTP1000. It's a media player with HDMI, Component and Composite outputs so you can use it with any TV and it includes a 500gig hard drive for you storage. The CTP1000 also has a memory card reader and a USB port so you can read directly from memory cards, USB flash drives or USB hard drives so you can expand the storage or quickly view things without transferring them to the main hard drive. One thing about this product though is that it's UBS only for transfers, there's no networking with this unit, is that a good thing or a bad thing? Read on..

We'll start off with the video unboxing for you:
Then we've got still pictures.
Cirago included all cables needed to get the CiragoTV Pro CTP1000 set up with no hassles.  In addition to the cables you've got the power supply, manual and remote with batteries.
The remote is small and arranged well, the buttons are nice and big  or should I say tall.
The player itself is black in color with just the red power button on the front and the Cirago logo there as well. It kind of reminds me of a cable box really..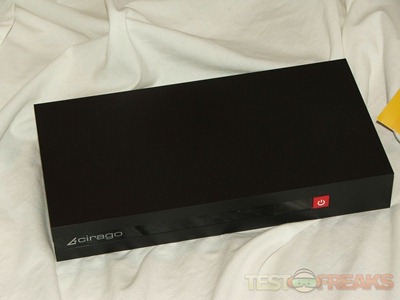 On the bottom you'll find ventilation and rubber feet.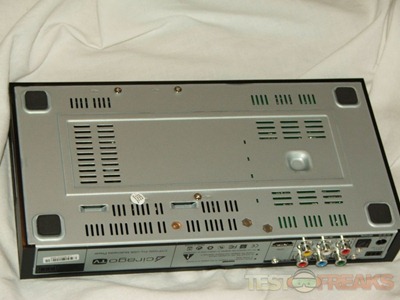 There's nothing on the left side of the player but on the right you'll find a regular USB port for external storage devices and one for the transfers along with the memory card reader.
On the back is where all of the connections are for Component, Composite and HDMI along with power and optical audio.
Specifications:
The CiragoTV Pro CTP1000 Series is two products in one – a USB storage device and a media player. Backup and store all your data – files, photos, music and videos – through the high-speed USB 2.0 interface. Then simply attach the CiragoTV Pro to your HDTV and play your stored movies, music and photos. The built-in card reader and USB port lets you easily access your digital media from your flash drives, memory cards, digital cameras or external hard drives. All functions are easily accessible from the remote control.
* Play high-quality HD video from the internal hard drive, connected USB storage or memory cards
* Reliable storage solution for USB 2.0 interface
* High performance transfers (up to 480Mbps, USB 2.0)
* View photos and slideshows with background music
* Card reader (MemoryStick/MemoryStick Pro, SD/MMC) for easy access to media
* Multi-language user interface
* Includes remote control
Description:
Interface: 1x USB 2.0 (device), 1x USB 2.0 (host)
Memory Card Support: MemoryStick/MemoryStick Pro, SD/MMC
Power: 5V, AC/DC adapter included
Video Output: HDMI 1.1 up to 1080i (upscaling), AV out, YPbPr (component)
Audio Output: AV out, SPDIF (optical)
Supported video formats: MPEG1 (dat, mpg), MPEG2 (vob, mpg), MPEG4 (avi, divx, xvid)
Supported audio formats: MP3, WMA
Supported image formats: JPEG, JPG
Warranty: 1 year
Dimension: 10 x 6 x 1.8 in (unit) / 12 x 7.1 x 5.9 in (Retail box)
Price: $99.99 (at Amazon at time of review)

Let me start with this USB only for transfers issue. I've taken a look at several media players and right now I use the Patriot Box Office as my main media player which has networking built-in. For a couple years I was using the older Mvix 4000U media player and it did not have networking functionality but it worked fine for what I needed. What I hated about it though was the fact that any time I wanted to add something to it I had to unhook it and drag it over to my computer to transfer the files, needless to say it didn't happen often. In this day and age when everything is networked I have to ask why you wouldn't include it or at least have the option for it like some media player do with a USB dongle. As far as I can see from the Cirago site there isn't any way to add network functionality to the CTP1000.
Anyway, rant aside about the non-networking issue, let's get into functionality.
First the CTP1000 is limited as to what formats it will play, some Mpegs and some Avi files would play and some wouldn't, like I couldn't play AVCHD files, in fact the box couldn't even see them. Some Divx files played fine and some didn't, there would be no audio on some, but they played fine on my computer. So there's a problem there somewhere, or the box is just very limited as to what it can play, and if it is it's not going to be very attractive to people who want a multimedia player.
The remote works fine, no issues there, the range seems good.
If you've read my other Cirago Media player reviews then the interface here will look very familiar, it's the same basically.
When you turn it on you're greeted with five options for Photos, Music, Videos, Files and Setup.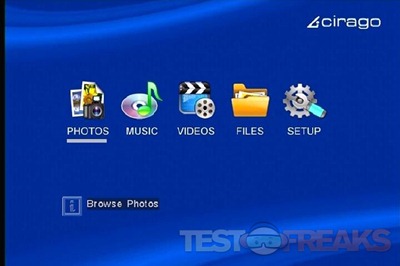 Photos is for viewing photos as one might expect, you can view them individually or let them play as a slide show with the ability to change transitions.
The Music tab is just a basic music player, it will play WMA and MP3 files but not my music from iTunes…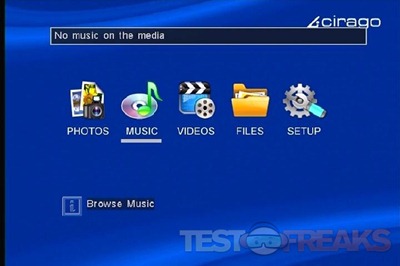 The next tab is Videos, here you'll only see two files, but I had more on there, they just didn't show up.
The next tab is Files where you can view everything on the media in one place, uncategorized essentially. Again here, I had other files on there but they just didn't show up. When you view items from the Files tab you'll also get a preview, if it's a video the video will actually play in the bottom right corner.
Under the Setup tab you'll find all of the options for changing the settings for General, Video, Audio, and Photos.
Using the player to watch movies is fine, it does upscale for you and it it looks decent.
All in all it's not a bad media player but it's limited in functionality.
Conclusion:
Overall the CiragoTV Pro CTP1000 media player is not a bad product but it's very limited in its functionality and that's its downfall really. There's no networking or even a way to add it, I could forgive the lack of built-in networking if there was at least an option to add it, but there isn't.
The CiragoTV Pro is limited as to what types of media it will play as well, here again that's not a good thing either. Yes you can play the most basic formats and that might fine for average users, but by limited the formats you're also limiting your customer base.
If you're looking for a very basic media player, then yes this isn't a bad choice, it does work for the most basic media functions, but that's about it only the basic formats are covered here with this product. That's what it's supposed to be though, just a basic media player.
Pros:
+Easy to use
+Nicely made
+Multiple connection options for video out
+Can play from UBS devices and memory cards
+Good picture quality
Cons:
-Limited video formats
-No networking
-USB only transfers
| | |
| --- | --- |
| Grades: | |
| Overall | |
| Design | |
| Performance | |
This product was given to technogog for review by the company for review purposes only, and is not considered by us as payment for the review, we do not, and never will, accept payment from companies to review their products. To learn more about our review policy please visit this page HERE.