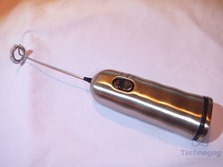 Coffee, don't talk to me until I've had my coffee in the morning. I set my alarm in the morning to go off before I really need to so I can have my coffee before I have to deal with anyone else. Gadgets are great, but since I do have an extensive background in cooking I like kitchen gadgets too. Technology doesn't have to be about tablets, and computers and phones, it's pervasive in most everything in our lives, technology affects everything really and just makes life easier most of the time. Today for review I've got a little kitchen gadget kit from a company called Classique. The main component of this kit is a milk frother but they also include a handy coffee spoon. The frother is battery operated and has two speeds and it has just numerous uses around the kitchen besides making froth or foam for your latte. It's a great gadget that's very easy to use and just very handy to have in your kitchen. Read on to learn more…
Specifications and Features
Classique Electric Milk Frother and Whisk with Coffee Spoon/Clip
-Beater comes with complimentary stainless steel coffee measuring spoon/scoop with handy bag clip
-Wand-style, handheld beater features dual speed 15,000 RPM motor – Ideal for lattes & cappuccinos
-Features rust-proof, stainless steel construction – Always retains its sleek, stylish appearance
-Whip up gourmet sauces, powdered drinks, almond & soy milk, cream, eggs & coffee – Save money!
-Use the electric beater motor or use it manually to make your favorite drinks the way you like them
Whip up your favorite coffee drinks and save money too! See images above. This sleek electric beater features a dual speed, 15,000 RPM electric motor, so it's ideal for lattes, cappuccinos, eggs, cream and milk. It features solid stainless steel construction so it's easy to clean and won't rust. Use the motor or use it manually. Perfect for whipping up eggs, cream sauces, almond or soy milk just the way you like them. Comes with a complimentary stainless steel coffee scoop/measuring spoon that has a handy clip you can use to attach it to your coffee bag. Runs on 2-AA batteries (not included).
Price: $22.93 (from Amazon at time of review)
The Review
Let's start with a video unboxing:
The packaging is just plain black boxes with a label on it, nothing special at all, but that's fine with me really. Fancy packaging is nice and all, but it adds to the cost really, a plain box keep the end costs down realistically.
There's two products here in this kit, so it's kind of two mini reviews for you.
The coffee spoon is stainless steel and rather heavy, it does feel very well made. The spoon has a spring loaded clip with teeth in it so you can clip it right to your coffee bag to keep it closed and to keep it handy and ready to use. The spring is very strong, I put my finger in it actually and it did hurt so it will hold your bag of coffee closed well.
The frother or electric whisk comes wrapped in a plastic bag and bubble wrap for protection.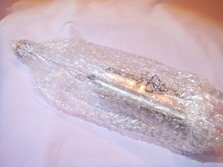 The beater is rather heavy even without the batteries in it. The motor inside is two speeds, high and low and it's controlled with a simple slide switch on the handle that also shuts it off of course. It just feel very well made and heavy duty, it's made of stainless steel so it won't rust and it's easy to clean. The end or whisk part is basically a coiled spring, it's simple but very effective at adding air to liquids.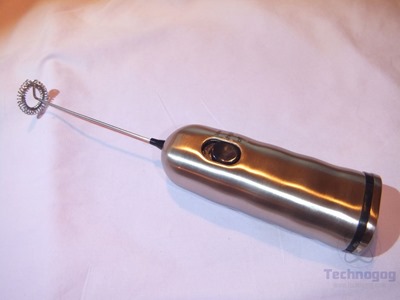 The frother uses two AA batteries that go into the back end of it. The battery cover is very tight and a bit hard to get off, but that's a good thing in my opinion as it will stay securely closed.
To use it as a frother or to make whipped cream you need to use whole milk or heavy cream really. You can use 2% milk as I have but it's not as good as whole milk, it's the fat content that makes it fluffier and more of a whipped consistency. 2% milk does work though, you just have to be careful with the whipping and how much you use. You should be able to triple the volume of the milk you started with easily so the key is not to use too much as it won't whip correctly. it will take trial and error to get the amount right, it's just better to make smaller batches than try and make larger ones. This frother is more for small batches of whipped cream basically.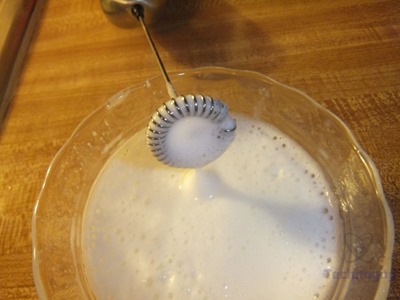 I should also note that it's not very loud at all, just a loud hum really, much, much lower than my hand mixer is for sure. My hand mixer does have a whisk attachment on it, but I think I'd rather use this instead when I can.
The great thing about this is you can make instant whip cream, a little sugar and a little vanilla in the milk and you've got tasty whip cream ready to serve and eat. My youngest son loves it, he asks me all the time to make him some. I even tried it with flavored oils, like I made raspberry and strawberry flavored whip cream and it was really tasty.
It's great for kids as well to get them to drink milk, whip chocolate milk for them and it's very similar to a chocolate milkshake really and they love it.
You don't have to use it just for frothing and whip cream, you can use it for most anything that you'd use a whip for really.
Conclusion
I love the Classique milk frother, it just has so many uses that they would be too numerous to list honestly. It's a gadget that I didn't know I needed in my kitchen but it's one that I've come to rely on and use often.
The great thing about this is that my kids like it. Getting your kids to drink milk can be a chore, but just whip some up and they'll ask for seconds.
The frother is very well made and heavy duty construction, but it's stainless steel so it won't rust and it's easy to clean and hopefully will last a long time.
The coffee spoon is a nice bonus, it's handy and well made too, and it works fine.
It's a great product that can actually be fun to use as I found myself experimenting in the kitchen to see what I could make with it. Get it, you'll like it.
Pros:
+Well made
+Works great
+Fun to use
Cons:
-None really
| | |
| --- | --- |
| Grading | Scores Out of 10 |
| Overall | |
| Design / Aesthetic | |
| Value / Price | |
| Performance / Usage | |

Disclosure: This product was given to us for review by the company for review purposes only, and is not considered by us as payment for the review.
To learn more about our review policy please visit this page HERE.