Today for review I've got another entry into the Home and Kitchen category and yes it's another French press. I'll never tire of reviewing French presses as I love them really, I love my coffee in the morning and since the first time I used a press I've never gone back to a drip coffee maker. Today for review I've got one from a company called CP and it's a metal and glass style press that works very well. Read on to learn more….
Specifications and Features
CoffeeCoffee CP French Coffee Press 8 Cup (1 liter, 34 oz), Chrome
What kind of coffee press won the hearts of all coffee lovers? The most reliable & durable coffee press in the market:
1) The best heat resistant borosilicate glass–your coffee press will work much longer for you.
2) The unique double screens system—no more grounds in your coffee.
3) Solid packing–no broken gifts to your family members and friends.
What is the worst coffee drinking experience? Coffee grounds in mouth! That is introduces the innovated and unique double screens system which is the only one in coffee press market. By adding the second screen, the primary screen will touch the glass wall more tightly and evenly. At the same time, the second screen will filter the tiny grounds which pass through the primary screen. No more grounds in your coffee by using coffee press. You will love it after using it. Your loved ones will appreciate it and think of you happily every time when they enjoy the coffee from your gifts, coffee press. 2 pieces bonus stainless steel screens(over $25 value)—free!!
-Makes the best tasting coffee-brews 1 liter, 34oz. total carafe is made of durable and heat-resistant borosilicate glass
-Far more superior than other French presses in removing "all" grounds from your coffee giving you an amazingly smooth cup of coffee
-Perfect gift for all coffee and tea lovers
Price: $42.50 (from Amazon at time of review)
The Review
Let's start with a video unboxing and then move on:
The press comes in a nice looking box with brewing instruction printed on the side. Inside you'll find the press packaged well with styrofoam on the top and bottom and it's wrapped in bubble wrap to further protect it and there's a layer of thin foam inside of the press too. The specs say you're supposed to get two extra filter screens with this press, sadly I didn't get those.
The press is attractive looking for sure with a metal frame around a glass carafe with a plastic handle. All in all it seems sturdy and well made.
One of the things I like about this press is that the glass carafe can be removed from the metal frame for easy cleaning. I've come across other with similar designs but you can't remove the carafe which I don't care for at all.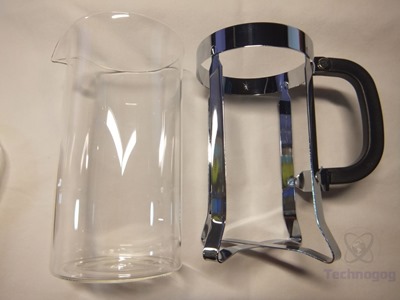 The plunger part easily comes apart into five pieces including two filter screens which make sure you don't get grounds in your coffee. I've used coffee presses with single and dual screens and I much prefer dual screens as they really do seem to work much better at filtering the coffee.
So for testing I made coffee. When you use a coffee press you can follow the instructions or if you've owned a press before you can use your own brewing system like I do. I've owned and reviewed several French presses and I've come up with my own way which is similar to the instructions but it just works better for me.
To me a true test of a French press is not just the coffee flavor but if there are any grounds in it when I pour and drink it and I'm happy to report that I found no grounds in my coffee.
Conclusion
Ok so where do I begin, pros or cons?
Well the press makes great coffee with no grounds in it which is a very good thing. This press is easy to use and easy to clean thanks to the fact that you can fully take it apart. The press seems well made overall, no real complaints there about the quality of the press itself.
The price is this press is a bit expensive when compared to others on the market, actually it's a lot more expensive than other glass and metal French presses. I have another that is virtually the same as this one and it only cost $19.97 while this one for review today has a price tag of $42.50 and it was missing the extra screens.
Pros:
+No grounds in coffee
+Easy to use
+Dual filters
+Easy to clean
Cons:
-Expensive when compared to others
+Missing extra filters that were supposed to come with it
| | |
| --- | --- |
| Grading | Scores Out of 10 |
| Overall | |
| Design / Aesthetic | |
| Value / Price | |
| Performance / Usage | |
Disclosure: This product was given to me for review by the company for review purposes only for free or at a discounted price.
To learn more about our review policy please visit this page HERE.