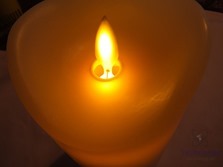 Candles are great, I like them, but LEDs are cool too so how about and LED light that looks just like a candle? Today for review I've got the Comenzar flickering flamess led candle which looks very real and it's even made of wax. This candle even comes with a remote control and the ability to adjust the brightness and a built-in timer. Great little product, read on to learn more..

Specifications and Features
Comenzar Flickering Flamess Candles, Flameless Candles with Remote Timer of 2,4,6,8 Hours,3.5*7″ Battery Operated Candles for Christmas & New Year Gift.
-Smart control:With One Remote Control, You Could Control All Our Comenzar Candles of Different Sizes, & Our Candle Sets of 3
-10 Key Remote Timer-For easy & Convenient operation.Out Led Candles Lets you choose among 2/4/6/8 hours Timers as well as Static Flickering -Light options and Brightness Levels.THE TIMER WILL CYCLE EVERY 24 HOURS
-Energy saving -Our flickering flameless candles Can Simply Switch on the Remote Control by Clicking . Click it off when no longer needed.
-Battery Operated-This flameless candle is operated by 3 x AAA battery with Flickering effect .
-Safe To Use Around Children and Pets – Led candles without real fire.Never worry about fire-related accidents again!
How to illuminating the Candle
Move the OFF-ON switch on the bottom to ON. The candle will illuminate until you manually move the switch to OFF.
ON-OFF button:Illuminating the Candle On=Off(Note:Before you use the Remote Control, switch the ON-OFF button to ON at the bottom of the LED candles)
TIMER:set On/Off Automatic Time feature, set to 2Hours/4Hours/6Hours/8Hours
*For example, s et 2H at 19:00, it will automatically shutdown at 21:00. Will be automatically open at 19:00 next day, at 21:00 then automatically shut down. It will cycle every 24 hours.
Mode:Candle-Non-Moving Flame;Light-Moving Flame
Brightness Control: Left button to lower the brightness Right button to increase brightness.
Price: $19.99 (from Amazon at time of review)
The Review
Let's start with an unboxing and sort of a mini review actually and then move on:
The packaging is very nice looking and the candle is protected by plenty of styrofoam on the top and bottom.
Once you unpack the box you'll find the candle wrapped in a plastic film for protection, user guide and remote control. The remote has ten button for power on/off, timer buttons for 2,4,6 or 8 hour increments, two modes for candle and light and then two dimmer buttons, plus and minus for more or less.
The candle is about seven inches tall at the tallest part and about three inches across. and it's actually made of wax, or at least the outside layer is so it does look and feel like areal candle. In the center is the white 'flame' which does move when powered on and lights up like real fire.
On the bottom of the candle is the battery compartment and the main power switch. The candle uses three AAA batteries for power which they do not include for you.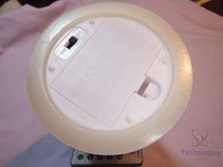 When powered on the candle does look real especially in the dark as then you really can't tell the difference honestly. There are two modes, candle mode where the LED inside flickers just like a real candle but the flame doesn't more. The second mode is light where the flame moves but the LED is steady on.
Conclusion
I like candles but having kids and pets means they're not the safest things to have around burning so something like this LED candle can give me some of what a real candle can.
The light looks nice and it really does look real in the dark, but there's no scent like a real candle has.
I burn candle for the scent, and this doesn't have that.
For what it is it's fine, it does as advertised, and if you want that candle look without the flame then this is great product overall.
I also have a 10% discount promotion code at Amazon: 44CA-5UEDNH-385H4A
http://www.amazon.com/dp/B015R3BK1/
Pros:
+Looks like real candle in dark
+Feels like real candle
+Remote control with numerous functions
Cons:
-No scent like a real candle
| | |
| --- | --- |
| Grading | Scores Out of 10 |
| Overall | |
| Design / Aesthetic | |
| Value / Price | |
| Performance / Usage | |

Disclosure: This product was given to us for review by the company for review purposes only, and is not considered by us as payment for the review.
To learn more about our review policy please visit this page HERE.