Today for review I've got a camera from Compro called the IP55 and it features a megapixel sensor for high quality images. The camera can be used as your own security system to monitor your home, or business. The IP55 is very easy to setup and use, in just a few minutes you'll be up and running with no problems. The included software is very useful, it even includes a monitoring system and it's own DDNS as well so you don't have to do much to get things setup for monitoring and remote viewing. Read on to check it out…

We'll start with the video unboxing: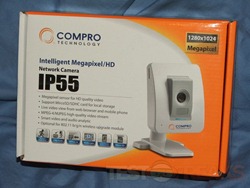 Inside the box you'll find the instructions, Ethernet cable, mounting screws, power supply and software/driver disc.
The camera white and gray in color and comes on a swivel mount stand.
Below the lens is a microphone and speaker along with an LED to indicate power.
On the side is a microSD slot for capturing still images.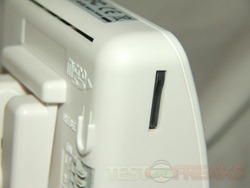 On the back you'll find a USB port for the optional wireless adapter.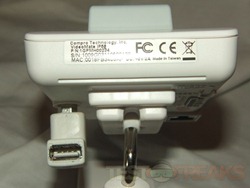 On the back you'll see audio ports, and ethernet port, reset button and I/O ports for an alarm system add-on.
Specifications:
IP55 Intelligent Megapixel/HD Network Camera
Compro IP55 camera series offers best-in-class high quality megapixel HD image yet affordable surveillance solution, ideal for securing locations such as home, small business, hotel, shop, or restaurant.
Key Features:
* Small and smart functional design
* 10x digital zoom
* Dual MJPEG and MPEG-4 video streams
* Megapixel / HD resolution
* Two-way audio with built in microphone and speaker
* MicroSD/SDHC support
* Mobile connectivity: Support real-time MJPEG video mode mobile connection in iPhone, iPad, Android, BlackBerry, Windows Mobile and PDAs. And support 3GPP mobile phone monitoring.
* Exclusive Multiple Channels Management in IE
* Upgradeable Wifi USB module to 802.11 b/g/n wireless LAN
* Intelligent video analytic features
* Support Active Bandwidth Management to get better video quality
* Network Bandwidth Detection to help users better define appropriate video bit-rate for applications.
* Hotmail and Gmail SSL webmail notification support
* Support video recording to local (MicroSD/SDHC) and remote (NAS/NFS) storage.
* Support live video watch in FireFox, Safari, Google Chrome web browsers. (with VLC Plug-in installed)
* Camera profile import and export, it's easy to install multiple cameras
Specs:
Camera
Image Sensor: 1/4″ CMOS Megapixel sensor
Lens:
* Focal Length: 4.5 mm
* Max Aperture Ratio: F2.0
* Fixed iris
Angle of View: 46° horizontal
Zoom: 10x digital zoom
Focusing Range: 0.5m ~ INF
Min Illumination: Color Mode: 1.0 lux
Shutter Time: 1/5 ~ 1/16000 sec
Video:
Video Compression:
* Motion JPEG
* MPEG-4 Part 2
Resolutions: 160×120, 320 x 240, 640 x 480, 1280 x 1024
Maximum Frame Rate:
* Up to 30 frames at 640 x 480
* Up to15 frames at 1280 x 1024
Video Streaming: Dual MJPEG and MPEG-4 video streams
Image Setting:
* Adjustable image size and quality
* AGC, AWB, AES
* Configurable brightness, saturation and sharpness
Audio:
Audio Communication: Two-way audio with built-in MIC (S/N ratio 58 dB, 50-10000hz ) and speaker (660mv)
Audio Compression: G.711 PCM 64Kbit/sec
Audio Input / Output: MIC input / Audio out
Networking:
Security: User ID / Password Protection
Supported Protocols: DDNS (iDDNS) / PPPoE / HTTP Server / DHCP Client /NTP Client /DNS Client / FTP Client / SMTP Client / ARP / ICMP/IPV4/ UDP / TCP/IP
Mobile Phone:
MJEPG Mode: Viewing of camera image via phone browsers
3GPP Mode: Viewing of camera image via 3G phones (3GPP Streaming)

Installation is simple really, just plug it into a power outlet and hook up an ethernet cable to it.  When you put in the CD you're greeted with the installation process and even a video.
After a few seconds you'll see a live view of the camera and its IP address.
Then set the password and adjust a few more settings and you're done, installation took about 5 minutes total.
For some reason I couldn't get the camera to work with FireFox, but it's supposed to, so I used Internet Explorer, it worked fine. The problem with FireFox was something to do with the VLC plugin and I didn't feel like messing around with it. I don't use IE for browsing, but it will work for what the needs of the camera.
The browser main interface has a live view and controls at the left and side.
To get into the settings you just press Setup and you're greeted with many options for Video, Camera, Audio, Users, Network, Event Setup, Recording Setup, Recording History, Date and Multi-Camera. With the Compro IP55 camera you can run two streams, one for the main browser view and the second for 3G or mobile mode. To use the second stream you'll have to enable it, with both streams you can adjust settings for Codecs, Resolutions, Frame rates and Quality. The second stream only allows for lower resolution since it's to mobile phones and over the internet.
Under camera settings you can adjust Video properties, White Balance, Exposure Controls and some other basic functions.
The next settings are fairly minimal and self-explanatory.
If you didn't notice, across the top are a few other options for LiveView, Setup, Event Timer, and Maintenance. LiveView is what is the browser live camera view, Setup is everything we just saw above. The Event Viewer is just that, to view what happened.
The last is Maintenance which gives you information, a Log, Firmware updates etc and Contact info for Compro.
The camera is easy to use, but for supposedly being HD I'm surprised by the performance or lack thereof really. You can set the camera to 15FPS or 30FPS and few others in between. You can even adjust it to save bandwidth which is basically running at 15FPS all of the time.
Here's two sample videos spliced together with a pause between them. The first video is highest resolution at 1280×1024 but 15FPS , the second video is 30FPS but at 640×480 as that's the maximum for 30FPS. I don't see any difference at all between them honestly. The camera does record audio and video, I had Netflix running in the background so that the audio you hear and it's fairly clear actually.
The video is fairly clear, but movements can be blurred a bit. I also noticed there is a slight delay between the movements and the movements on the screen. You can zoom in as well if you wish to, but it's digital zoom so it's not the greatest.
The thing to take a quick look at is the ComproView or the security system basically. The software is stand alone and is a program by itself, not running in a browser. It's secured by a password so no one can access it without the id and password. You can actually hook up many cameras for a complete security system solution.
Conclusion:
The Compro IP55 Camera is decent really, it's got plenty of settings to make all of the adjustment to fine tune everything to your own specifications and likings.
The setup couldn't be simpler really, in just a few minutes you'll be up and running.
The included software is very worthwhile and it works great. Viewing through browser or using the included security monitoring system is all done with ease. Compro even included DDNS software to have you up and running with remote viewing from a laptop or even your phone quick and simple.
The audio quality is actually very good, but the video quality isn't the greatest when it comes to movements. Moving things can be blurry at times, but still things look very good.
Overall I think it's a decent choice for an IP camera with plenty of options and useful software included.
Pros:
+Very simple to setup
+Software is easy to use
+Many settings can be adjusted
+Can be viewed via cell phone or notebook while away
+Includes full security system solution
Cons:
-Video quality can be blurred with movements
| | |
| --- | --- |
| Grades: | |
| Overall | |
| Design | |
| Performance | |
To learn more about our review policy please visit this page HERE.