Ok, we're back with another Wii game review, this time it's Cookie's Counting Carnival! I posted the review of the Elmo game, and I have to say my son likes Cookie's game much better, but he still like Elmo too. Cookie's Counting Carnival is all about counting, but thrown in are things like patterns and shapes as well. The Wii remote is held sideways to play and my son thinks the game is just great, and I think your kids will too.

The game comes in a larger than usual box because it comes with a Wii remote cover that looks like Cookie Monster.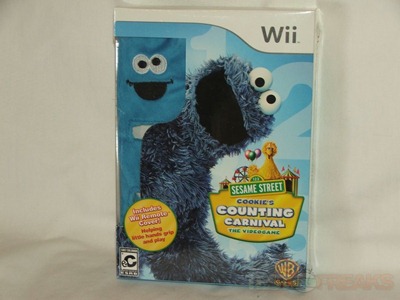 Here's my Wii remotes in both the Cookie Monster and Elmo covers. The covers are a very nice soft material with rubber beads on the back for a good grip.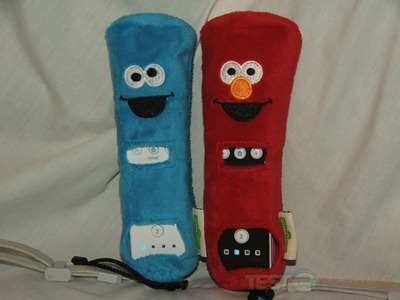 And here's my son with them, he likes them quite a bit: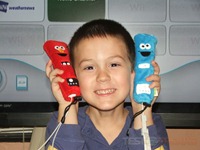 Specifications:
Cookie's Counting Carnival
Math is fun at the Counting Carnival!
Learn about numbers and counting while playing exciting games with Cookie Monster and Big Bird!
Features:
-Cookie's Counting Carnival encourages mathematical skills that include number identification, counting, shapes, and pattern recognition through fun and exciting mini-games.
-Journey through the game in the many areas of the carnival such as The Grandstand, Rides, Petting Zoo, Concession Stand and the Arcade.
-Easy to follow audio-visual directions that preschoolers can master on their own.
-Use the second Wii Remote to drop-in and assist your child when needed.
-Game difficulty adapts to your child's level.
-Customize up to four profiles, set functions including difficulty level and game limits, and review the games and educational content your child has played on the Parent's Page.
-Wii and Nintendo DS versions include Gameplay Helpers to simplify gameplay for your preschooler.
* The Wii gameplay helper is a soft and fuzzy character cover with special grips that slips over the Wii Remote, minimizing unnecessary buttons and making it easier and more fun to hold and play with.

To play you use the remote sideways as it shows you before the title screen. When you're playing you tilt the remote left and right and you can jerk the remote upwards to select or your child can jump to do the same thing and make the games a little more fun.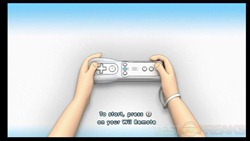 It's Cookie Monster!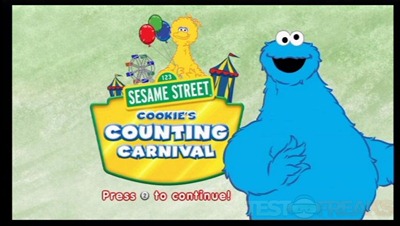 The game has two parts, the story of Visit the Carnival and then Games where you can play all of the games in the carnival individually.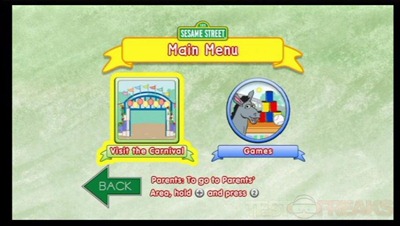 It's not just Cookie Monster, Big Bird makes quite a few appearances along with a few other minor characters to help you along with the games.
It's all about counting and numbers and it's a carnival so you'll find carnival themed games to play. Mixed in is also matching, pairs, patterns and even shapes.
As I said you can follow along visiting the Carnival in sort of a story mode, or you can go and play all of the games individually.  The games mode is great for kids I think, I let my son play though the Carnival mode and he liked most of it, some more than other and some less. The games mode allows him to go and play only the ones he likes the best.
The control seems responsive enough, my son didn't have many problems with it except with the jerking the controller up part, it took him a while to figure it out and get it to work correctly.
The graphics are cartoonish  and look pretty good really. The sound is fine, it matches what;'s going on.  I did notice that the voices don't quite match the mouth movements, but it's a kids games and my son didn't notice it.
Here's my 5 year old son Vincent to tell you more about Cookie's Counting Carnival:
Conclusion:
As my son says, it's very fun game, he gives it his seal of approval.
The game is great for young kids, it's colorful and just a lot of fun I think. The games are fairly easy, but some do require a bit of thinking which helps young children think about what they have to do.
Pros:
+Excellent kids game
+Includes very nice cover
+My son loves it
Cons:
-Remote not quite responsive as I think it should be
| | |
| --- | --- |
| Grades: | |
| Overall | |
| Design | |
| Performance | |
To learn more about our review policy please visit this page HERE.