Approximately 2 years ago I had the opportunity to review MacSpeech Dictate a speech recognition software designed to make text input on OS X as simple as speaking. Since that time I have used MacSpeech Dictate on a fairly regular basis for numerous reviews and articles. Although I found the software quite helpful there were still some glitches and annoyances that required more use of the keyboard than I would have preferred.
The Dictate program was originally created by MacSpeech who licensed the speech recognition technology from Nuance the company known for the Dragon Naturally Speaking technology that was used in the PC world. Recently Nuance purchased MacSpeech and has now released the latest version of the software – Dragon Dictate for Mac 2.5.
This new version of Dictate is designed to work with Lion – Apple's newest OS X iteration. Instead of rewriting the software nuance incorporated most of the elements found in older versions of Dictate. As an incentive to upgrade, Dictate has a host of new features that both old users and new customers can appreciate.
Some of these new features include new audio input options such as using an iPhone, iPad or iPod Touch running IOS 4.2 as a wireless microphone via Wi-Fi, enhanced hardware, software support including Microsoft Office 2011, and the inclusion of time-saving Voice Commands such as "Post to Facebook", "Post to Twitter" or "Post that to Facebook or Twitter." In addition Nuance had improved formatting controls, user interface and usability enhancements within Dragon Dictate.
Dragon Dictate for Mac 2.5 arrives in a green cardboard package with the Dragon Dictate logo found on the front. On the back of the box is a description of the product and some of its features. Inside the package we find an Application and Data disc, a Plantronics headset with a USB dongle and a Quick Start Guide.
For prior users of MacSpeech Dictate the included Plantronics headset will be quite familiar as it is the same model in the new version. This is not a bad thing as I found the Plantronics headset to be comfortable even when worn for long durations. The headset has an adjustable microphone, which can be positioned, on either the right or left side of the users head.
A QuickStart Guide shows how to get started and provides a list of some of the basic commands needed to navigate OS X using Dragon Dictate 2.5. The back of this guide offers some Mac Quick Tips as well.
Specifications:

The initial setup process for Dragon Dictate requires microphone and voice training which entails the user reading a dozen or so paragraphs to allow the software to recognize the user's voice. Once this is accomplished you can start using the software or provide more vocabulary training by reading additional paragraphs.
Dragon Dictate runs in the background allowing it to interface with most every OS X application. Most users will primarily use Dictate with Apple Mail, Microsoft Office, Skype, iChat and most Web browsers.
Those who have used MacSpeech Dictate in the past will find the user interface practically the same with Dragon Dictate 2.5. The difference between the older versions and this latest one are the new features and improved speech recognition.
Dragon Dictate opens in Dictation mode with a Notepad window where the user can start dictating right away.
A free-floating widget allows the user to toggle the microphone, view incoming text and toggle modes in Dragon Dictate.
Simply activate the microphone by toggling this widget to verbally interface with Dragon Dictate. Any program that accepts text input should work with this software.
Besides Dictation other input methods include Command, Spelling and Number modes. Command comes in six varieties – Global, Mode Based, Window Based, Key, Generated and Application Based. Don't worry about memorizing all the commands; simply say "Show Available Commands" to get a list of commands for the active application.
Spelling mode allows the user to spell words unknown to the Dragon Dictate dictionary, while Numbers mode is designed for numeric and database type input.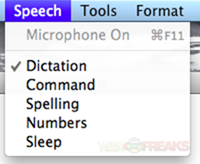 The key to using Dragon Dictate is to speak clearly and naturally; speed is not an issue if you don't mumble. Speaking in full sentences using your "natural" voice will yield the best results. For those initially starting with Dragon Dictate you will become quite familiar with the phrases Scratch Word or Scratch That as these commands help delete errors.
Compared to earlier versions the accuracy of Dragon Dictate 2.5 is significantly better.
Besides errors made by the user the software requires plenty of training to optimize its efficacy. Nuance includes tools such as vocabulary editor, voice training an vocabulary training to help improve the software's accuracy.
One of the drawbacks in prior versions of Dictate was the need for having a microphone nearby. Although Dragon includes the well-designed Plantronics headset, it is not always readily available thus making Dictate not really functional as the built in Mac microphone is not recommended for transcription.
To remedy this issue Dragon has released a free iOS app called Dragon Remote Microphone. This app allows the one to use their mobile Apple device as a wireless microphone. It is compatible with both the latest Mac and PC versions of Dragon's transcription software.
The main requirements for using the Dragon Remote Microphone are that both the computer and iOS device be on the same wireless network. Before using this app you'll need to modify a previous Dragon profile or create a new one.
To test this app I use my iPhone 4 as the remote microphone. Transcription was slightly delayed between verbalization and transcription, which was mildly perceptible as compared to the wired microphone.
Dragon Remote Microphone is rather Spartan in appearance as the main screen lists the active profile and has a button for toggling the microphone on and off. On the bottom left corner is an information icon that calls up a help screen. The lower right-hand side has the settings button which allows a user to automatically find your Mac running Dragon Dictate or to manually enter an IP address for that machine allowing the app to connect wirelessly.
Another exciting new feature with Dragon Dictate 2.5 is the addition the social network integration including Facebook and twitter. For instance if I wanted to post "check out the latest Dragon Dictate review on test freaks" I would say that phrase and then say "tweet that". The same thing can be done for Facebook.
In the past when using Dictate you needed to either click on the microphone icon or issue the command "go to sleep" to auto sleep the microphone. With this latest version the microphone goes to sleep after 1 min. of inactivity or a user set time increment between 30 seconds to 5 minutes or never if you prefer via the software preference panel.
In terms of functionality the best improvement made by Dragon in this version of Dictate is its seamless integration into Microsoft Word 2011. In the past trying to make edits using the keyboard and mouse would severely mess up Dictates ability to enter verbal text properly.
Conclusion:

Dragon Dictate 2.5 is a vast improvement over its MacSpeech predecessors. The voice-recognition is leaps and bounds more accurate in this latest version. Although it still struggles with certain words I found the experience to be much smoother with Dragon Dictate 2.5.
The key to accurate voice transcription is to speak clearly and to enunciate. My prior Dictate version would occasionally pickup ambient noise and enter "the", "and" or other phantom words into my documents; while this version does not seem to have this issue. The main caveat to using Dragon Dictate is operating in a semi-quiet environment. Background noise can and will affect the efficacy of the program.
If you spend long days on the keyboard or are loath to type then Dragon Dictate 2.5 is a godsend. Since most people speak faster than they type this program will improve one's productivity. If you are already a Dictate user you may want to consider upgrading based on the new features found in Dragon Dictate 2.5. If you were pondering whether to start using speech recognition software then Dragon Dictate 2.5 is definitely the way to go for the Mac user.
Pros:
+Improves on earlier versions
+Accurate speech recognition
+Twitter and Facebook functionality
+Allows iOS devices to work as wireless microphone
+Compatible with OS X Lion and Word 2011
Cons:
-Still expensive
| | |
| --- | --- |
| Grades: |   |
| Overall | |
| Design | |
| Performance | |
To learn more about our review policy please visit this page HERE.