It's important to  keep the drivers in your system updated to make sure everything runs as it should. You've got many drivers in your computer that help keep things working correctly, but as technology progresses these drivers will need updated to keep up. Most people think it's fairly easy to update your drivers, just download the new ones and apply them, but that's not the best way to do things as the old drivers always leave something behind. Many times you'll uninstall your drivers and think they're gone but they're really not, traces are left on your computer and in the registry that could cause potential problems for your system. Another issue with installing drivers is having things go bad, a bad driver installation can cause many issues including poor system performance and stability. Fixing bad driver installation can be a daunting task, especially for those not very computer savvy.  Today for review I've got an inexpensive and easy solution that can not only fix problems with drivers but can help you do a truly clean install when new updates are available. The program is called Driver Cleaner and with just a few clicks you can fix most any issues related to your video card drivers and a few others as well. The program works by wiping all traces of the drivers from your computer, this can help with upgrades insuring no compatibility issues come up with the previous driver version, but it can also be used to fix a bad driver installation as well. So read on to learn more…

Driver Cleaner is a downloadable program so there's no box or anything like that. For the price of $9.99 you actually get two programs, the main one, Driver Cleaner and Driver Version Check which does what it sounds like, it checks which versions of drivers you have and lets you know if a new one is available.
Right now I'm using Windows Vista Ultimate X64 on this computer I'm writing this review on and that's the one I used Driver Cleaner with.
The first thing I did was run Driver Version Check and I ran into a small issue with it it reports that I'm running 32bit drivers which I know I'm not, and it says the newest versions is actually an older version.
There is a drop down box that lists the 64bit version of the drivers but it won't let me select it..
So this little program doesn't quite work for me, but it's not  a big deal to me personally. I've actually never used the program except for this review, I know what drivers I've got running and I pay attention to when they need updated.
Specifications:
Drivercleaner.net  has been built from the ground up to be a simple program to use. You don't need any registry knowledge. All you do is purchase the application, instruct it to remove the drivers you need – it really is that simple.
A bad driver installation can not only make your games run poorly it can also cause start up, stability and performance issues. Driver Cleaner will help stop this from ever happening. By wiping all traces of previous drivers that may have been installed on your system, Driver Cleaner will ensure that no conflicts or driver issues will occur, keeping the system clean.
By wiping all traces of previous drivers that may have been installed on your system, Driver Cleaner will ensure that no conflicts or driver issues will occur, keeping the system clean. Use Driver Cleaner every time you upgrade/change hardware or simply wish to install the latest or different driver.  This will ensure your hardware runs at it's optimal performance.
Supported Driver include:
ATI, Nvidia, Intel, Logitech, Razer, Maxtor, Hauppauge!, Microsoft, Realtek, S3 Graphics, Creative Graphics, Killer, VIA , PhysX by Ageia and many more.
Price: $9.99

So it's time to upgrade my ATI drivers for my 4870 video card. The first thing you need to do is uninstall your old drivers which is fairly simple just use the ATI uninstall program.
Before we get into the actual Driver Cleaner program I took some screen shots of the interface for you.
When you first start up the program you're greeted with the Driver Cleaner log and then a warning to make sure you follow the instructions or something bad might happen.
After you click 'OK' you'll be taken to the main interface that's empty until you start selecting things. There are two drop down menus at the top with limited options.
Under Help you'll find the instruction guide to help you get things started.
To use Driver Cleaner you'll need to select what you want to clean from the drop down box, you can select multiple drivers as well so you can get it all done at once. Then you'll hit scan and when it's done scanning you'll hit the Clean button.
Well let's jump back to the beginning where I uninstalled my drivers, after the uninstall is complete, reboot your system and go into Safe Mode to actually run Driver Cleaner.
At this point I've already showed you how to select your drivers, I did that while in Safe Mode and then hit scan. The process took about two minutes to complete, then you'll be able to select what you want cleaned.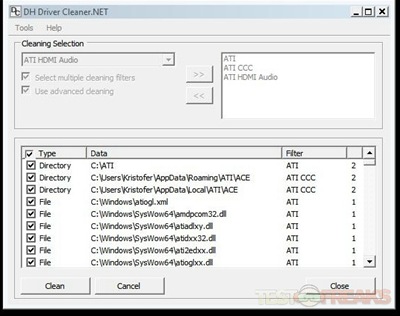 The next step would be to hit the Clean button and let Driver Cleaner do its job.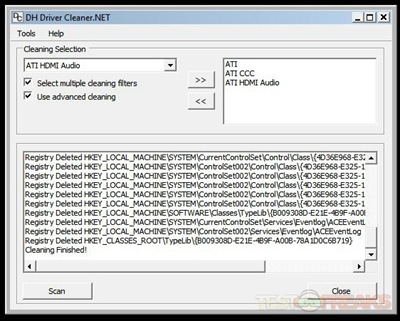 And that's it you're done.
The only thing left to do is reboot your computer and install your new drivers. I don't think you need screen shots for that though, everyone can handle installing the drivers I would hope.
Conclusion:
I've been using Driver Cleaner for quite a while now and  I think it really does help with keeping your system nice an tidy. In a few steps that take about 10 minutes total, uninstalling, cleaning and reinstalling, you'll have a nice fresh install of your drivers and not have to worry about any possible issues that could come up. Driver Cleaner isn't just for updates it can be used to fix a bad driver installation as well which makes it a useful tool to easily fix driver problems so you won't have to do it manually which could involve delving into the registry of your computer..
Yes I ran into a problem with the Driver Version Check program but I had no issues with the main program which is the important one we're concerned with.
Pros:
+Simple to use
+Inexpensive
+Works well
Cons:
-For me it shows wrong driver versions in the check program
| | |
| --- | --- |
| Grades: | |
| Overall | |
| Design | |
| Performance | |
This product was given to technogog for review by the company for review purposes only, and is not considered by us as payment for the review, we do not, and never will, accept payment from companies to review their products. To learn more about our review policy please visit this page HERE.