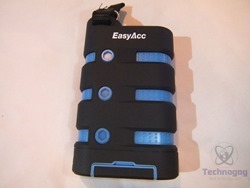 I like rugged outdoor style stuff, not because I go and do outdoor type stuff all the time but because they're more resilient and more rugged and less apt to break easily. Something like a portable battery is nice have to take with you but most of them aren't made for outdoor and all-weather use but the one I have for review today is from a company called EasyAcc. The battery is called the Power Bank PB9000TP with the 9000 standing for the battery capacity which is a large 9000mAh which should be more than enough to charge a single device numerous times or many devices once. The battery is rugged and durable and it's dust and waterproof meaning you can take it with you camping, hiking or whatever outdoor activity and not worry about the weather but still have power when you need it. Read on the learn more…
Unboxing
Let's start with a video unboxing and then continue on from there:
Once you get everything unpacked you'll find the user guide, battery, compass, carabineer and two microUSB cables, one long and one short.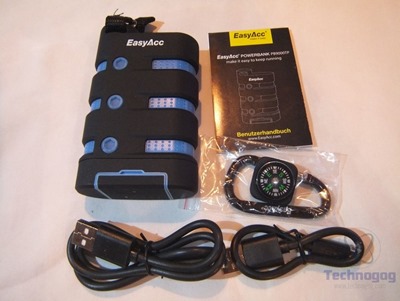 The EasyAcc 9000mAh battery looks and feels very well made and rugged. It has a rubberized exterior that protects it from drops and the weather. It is small making it portable but it feels much heavier than it looks as they have crammed a rather large capacity battery inside of a small space. The size is 101 x 64x 27 mm or 3.98 x 2.52 x 1.06 inches and it weighs in at 223 g or about 7.87 ounces.
On the top you'll find the specs and the nylon strap.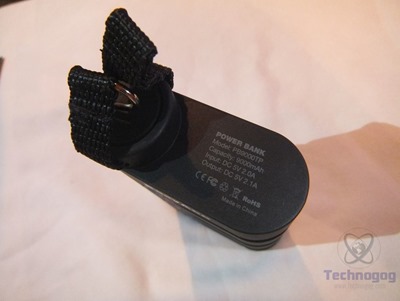 On the side is a small button to turn it on and to check the battery levels.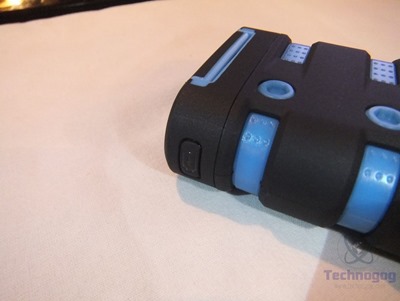 The bottom or end of the battery is where you'll find the USB ports and LED light behind a very hard to open door. The door creates a very good seal to keep the weather out surely. When you open the door you'll find the inside of the door rubberized with shapes that fit into the ports and LED to keep dust, dirt and water out. You'll find the microUSB port for charging the battery and a standard USB port for charging your stuff and a single white LED to be used as a flashlight. The USB port can output up to 2.1amp so it should be able to charge any phone and most tablets and other USB chargeable devices.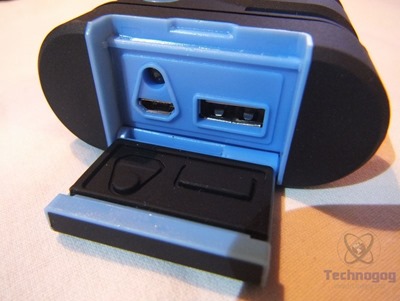 Specifications and Features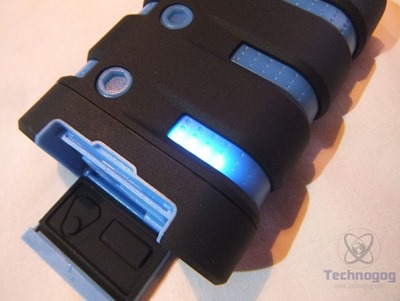 The addition of the LED light is welcome, I personally think all of these portable batteries should have one, not just those like the EasyAcc that are made for outdoors. The addition of a light just makes them that much more useful. The LED is more than bright enough to be used to find things in the dark like if you were in your tent looking through your bag or even just trying to find your keys in your purse.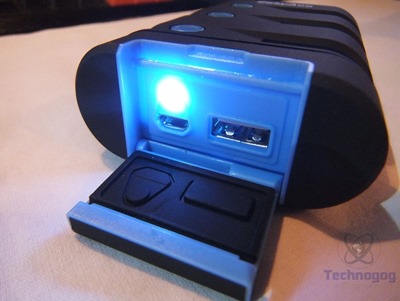 The included strap is made of nylon and it's sturdy, I would trust it to hold the battery in place with no worries. The included compass is a nice touch and it just slides onto the strap and the carabineer goes through the loop on the end and holds everything together. The EasyAcc battery can then just be hung right off of your bag with the carabineer so it won't take up any space inside.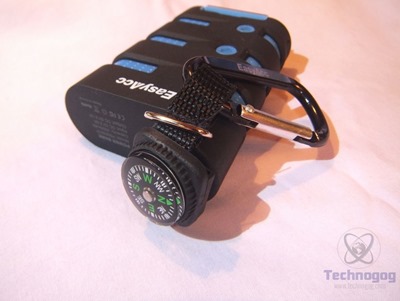 For testing I charged things like my HTC One M7 Android phone, Dragon Touch i8 Windows tablet and my PS Vita.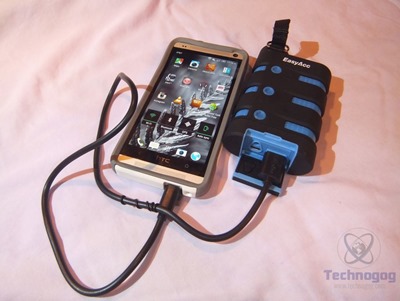 One of the things I've found with many of these portable chargers is they cannot charge the PS Vita for whatever reason, but the EasyAcc can which is a very good thing of course.
The EasyAcc also charged my Windows tablet just fine so it should be able to charge USB chargeable tablets as well with no problems.
It also charged my HTC One with no issues.
The included microUSB cable was used for both the Windows tablet and the HTC One but the PS Vita uses a special cable so I had to use that one obviously.
All of the devices charged fine, just like if they were plugged into my computer, no faster, no slower, fine for me and fine for most people I would think.
Yes it only has one USB port so you can only charge one device at a time, but its large capacity will allow you to charge several devices surely. I also think the EasyAcc battery, in most situations, won't be used to charged more than one device anyway. It's made for outdoor use, camping, hiking etc so you most likely will only be taking a cellphone with you so it's fine with one USB port I would think.
Conclusion
The EasyAcc PB9000TP battery is one of those things that is I think a must-have gadget if you're an avid outdoors type person. It has a nice large capacity yes but more importantly it's weatherproof and rugged so no matter the weather you'll have power when you need it most.
The included compass is a nice bonus as you never know what might happen and it fits in with the theme of the outdoor rugged battery.
The battery itself is very well made and the rubberized sealing door will most certainly keep everything out and protect the power ports.
The addition of the LED light makes it just that much more useful I think, it's always nice to have an extra light on hand just in case.

Pros:
+Rugged
+Weatherproof
+Built-in flashlight
Cons:
-Can be very hard to get open
| | |
| --- | --- |
| Grading | Scores Out of 10 |
| Overall | |
| Design / Aesthetic | |
| Value / Price | |
| Performance / Usage | |
Disclosure: This product was given to us for review by the company for review purposes only, and is not considered by us as payment for the review.
To learn more about our review policy please visit this page HERE.