What can you get for $10 these days? Not much really, but if you check over at Wireless Ground you can get a Bluetooth headset for $9.95! is it worth it? Well maybe it is, that is if you're looking for a throwaway type headset and not too worried about sound quality and comfort. The product is the ECO Sound Engineering V268 Wireless Bluetooth Headset. I've never heard of Eco Sound before until now, and at $10 I wasn't expecting much, but for the price it's not that bad.
Specifications:
ECO Sound Engineering V268 Wireless Bluetooth Headset
Excellent Sound & Smart Design
When you go looking for a Bluetooth Headset solution you are looking for a complete kit, including ear hook, charger, and fully featured headset–Eco has answered the call. The new Eco V268 is a tiny, featherweight unit with excellent call clarity and numerous functions. Looking at the body you will first notice the multi-function button for easy call answer, reject, end, redial, and voice dialing with enabled phones. At the back of the headset are two buttons, one for decreasing volume, another for adding volume. The headsets bright LED responds to your input, giving you an indication of what mode it is in.
When you purchase the Eco V268 all necessities are included, an easy to read manual, comfortable ear hook for prolonged use, and an AC charger.
Special Features:
* Easy to use
* Excellent Sound
* Smart Design
* Bluetooth v2.0
* Operating Range: Up to 10 Meters
* Charging Time: Approximately 2 hours
* Talk Time: Up to 4.5 hours
* Standby Time: Up to 100 hours
* Dimensions (mm): L 33 x W 16 x H 9.5
* Lightweight only 6.4g
* 3.7v Li-polymer Battery
* Optional Ear Hook
* Includes AC Charger
Regular: $29.95
Sale Price: $9.95

This is a short review so I'm doing it a bit different if you didn't notice.
The Eco Sound V268 come sin a small blue box with a window that shows the headset. Inside you'll find another plastic box.
When you unpack everything you'll find the headset, earloop, charger and brief instruction manual.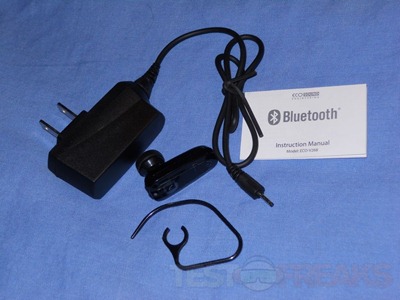 The headset is tiny and it weighs only 6.4 grams.  There's a charging port on the side, volume buttons on the top and a multifunction button on the front side.
To give you an idea of size here's the V268 with my Jawbone 2 and Jabra BT530: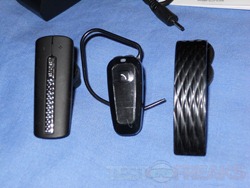 The earloop is supposed to be optional, but I found that it isn't. Personally I don't like earloops at all and I found that I had to use it with the V268. I couldn't get the earbud to fit into my ear and stay there, I even pushed so hard that it hurt and it still wouldn't stay so I had to use the earloop.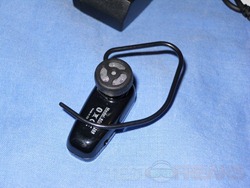 So I used the V268 with my Samsung Galaxy S Captivate and the first thing I found was that the instructions were a bit wrong. It says to hold the button for about six seconds, the LED will blink blue, and then it will be ready to pair but that just turns it on really. To pair it you've got to hold it for double that amount of time at least and the LED will stay solid blue, then it will be ready to pair.
Range is decent at 10 meters or about 32 feet. Battery life is also very good considering how small it is. You should get at least 4 hours of talk time and maybe a little more with standby time of about 100 hours.
So I paired it with my phone and used it as I would any other bluetooth headset. One thing I noticed is that every once in a while I would hear static while using the headset to talk. The volume is decent once you turn it up, and call quality is ok, about what you would expect from a very inexpensive headset.
I'm partial to not using an earloop and with the V268 you must, or at least I had to as it just wouldn't stay in my ear without it. The earloop is soft plastic and it's fairly comfortable I think, but the earbud is too big for my ear and it's not really comfortable.
Conclusion:
For $10 you can't really expect Jawbone or Jabra quality right? if you're looking for a very inexpensive bluetooth headset that you can not worry about losing then this might be what you want. Toss it in a bag or in your car as a spare headset and you won't have to worry about forgetting one.
The Eco Sound V268 isn't the greatest and it isn't the worst I've had the experience to use, but it's not something I would want to use all of the time.
It's my personal preferences that get in the way of me enjoying this headset I think, I don't like earloops and you have to use one with the V268. I also found it not to be the most comfortable thing to wear for long periods, but again that could just be me.
For $10 it's worth it, but not much more really. Taking the price into account I can't be too hard on it, it's not that bad for the price.
Pros:
+Very small and lightweight
+Inexpensive
+Long range and good battery life
Cons:
-I heard static at times
-Not comfortable for me personally
-I had to use the earloop
| | |
| --- | --- |
| Grades: | |
| Overall | |
| Design | |
| Performance | |
To learn more about our review policy please visit this page HERE.