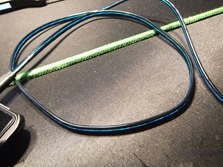 I've got a quick review of a micro USB cable today, yes it's a micro USB cable but this one is special as it has EL wire inside of it that acts as a visual charging indicator to let you easily see your device charging. The cable supports quick charging and can support up to 2.4amps of power so you can charge pretty much any device. Read on to learn more…

Specifications and Features
EL-AURORA USB to Micro USB Cable 3ft, Visible Light Up EL LED Flowing High Speed Durable Charging Cable for Samsung, HTC, Motorola,Android (black)
1.Flowing Light Smart Cable:EL-AURORA use EL cold light technology.USB Sync and Data cable shows a fluent light effect with smart function that modifies its speed.It slows down as the battery getting full and shuts down automatically when 100% charged.
2.Quick Charging Cable:EL-AURORA visible flowing charging cable support fast quick charging speed up to 2.4 amp and data transmission speed up to 480Mb/s. Supports QC 2.0/3.0. Great performance ensures charge and data transmission simultaneously in extreme high speed.
3.Safety and Cool Design: EL cold light source inside for safety and low consumption. The flowing light makes the electric current visible, which makes it a perfect decoration in the room, office or car. The light is cool and gentle.
4.High Quality:High quality metal durable USB connector and soft TPE cover keep excellent heat dissipation and flexibility, with a 5000+ bend lifespan, which is several times longer than most cables. This charging cable can backup files or transfer pictures, music and videos all while charging.
Price: $8.74 (from Amazon at time of review)
The Review
Let's start with a video review and then move on, the video shows how this cable works so you may want to check it out.
The micro USB cable just comes packaged in a plastic bag but it was also in a padded envelope and shipped in a padded envelope. The cable has a twist tie on and it and you'll notice the USB connection side is much larger than usual as it has special circuitry in it. The cable supports quick charging and can handle up to 2.4amps or power. It works as both a charging cable and data cable and it can do both simultaneously. The cable is very flexible and it seems to be rubber coated making it fairly durable and it's rated for 5000+ bends.
What makes this cable special is that it has EL or Electroluminescent wire in it that lights up but this lights up not just solid. The EL lighting moves in pattern from the connector to the device you're charging, the electric flow, it gives you a visual of the device charging and electrical flow. The EL lighting moves fast as it's charging but as the device gets closer to full charge the movement will slow down and then will turn off when fully charged. It's a very unique cable, I like it a lot, and so do my kids. For the cable in action check out the above video where I use it.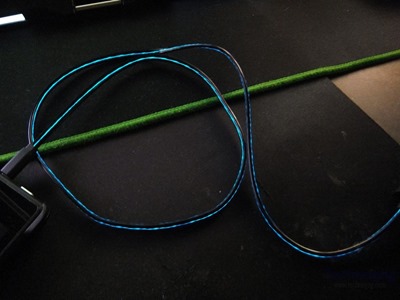 Conclusion
I like the El-Aurora EL USB cable a lot, it looks great and it provides a visual charging indicator so you can easily see if you're device is charging.
The cable seems well made like it will last, it's rather thick and durable.
One small issue is that is might be considered expensive for just a single micro USB cable.
Pros:
+Visual charging indicator
+Looks great
+Cable seems well made
Cons:
-Might be considered expensive for a single micro USB cable
| | |
| --- | --- |
| Grading | Scores Out of 10 |
| Overall | |
| Design / Aesthetic | |
| Value / Price | |
| Performance / Usage | |
Disclosure: This product was given to me for review by the company for review purposes only for free or at a discounted price.
To learn more about our review policy please visit this page HERE.