Up for review today I've got an excellent printer for those that like to print photos. It's an all-in-one really, it's from Epson and it's the Artisan 730. By the name you'd expect it's for artists, and you'd be partially right as it's for anybody who appreciates good quality in a printer and what the printer can produce. The Artisan 730 can be used on your network either wired or wireless and it's very easy to get up and running, just a few steps and you're good to go. The 730 prints beautiful pictures truly, and it can also print on CDs and DVDs so you can get creative with your projects.
The printer is packed well as you might expect.
Once you unpack everything you'll find the ink cartridges, power cord, user manuals, driver/software CD and a sample printable CD as well.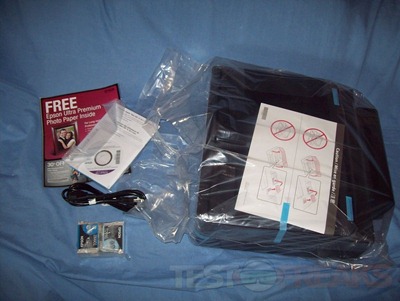 The printer is small in height, it actually looks sleek and honestly I think it looks good.  One small complaint I have though is that it's mostly glossy and it picks up dust and fingerprints quickly and easily.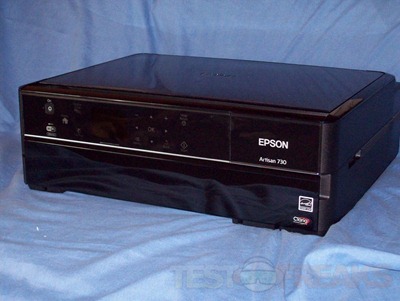 The Artisan 730 comes equipped with a flatbed scanner than can scan up to 2400dpi and 9600 interpolated.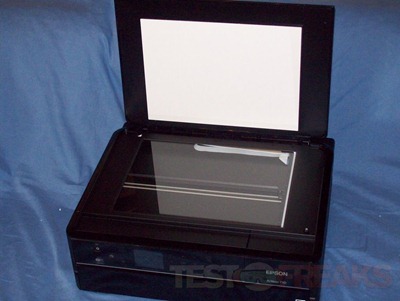 Under the scanner you'll find access to help you remove any paper jams and where the ink cartridges go. The 730 uses six cartridges so you only need to replace what you use.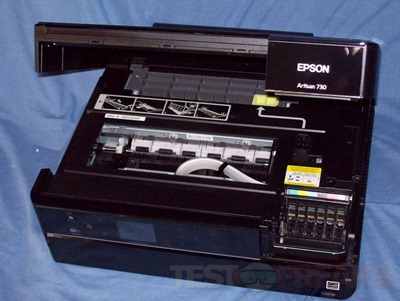 The control panel can flip up to horizontal, or will stay at any other angle you set it to. Whatever is comfortable for you basically.
On the front of the 730 is a door beneath the control panel that flips down to reveal the paper tray and memory card reader and a USB port that you can use for charging things like you phone if you need to.
The paper tray comes out in sections like most printers and has a stop at the end.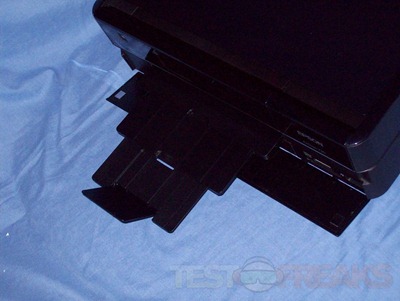 Beneath the paper return tray is the actual paper tray. The paper tray is actually two in one, you can put regular paper in the bottom and then photo paper in the top and the Artisan 730 knows which to use.
Moving around the back of the printer you'll notice a large roundish section sticking out, this would be the automatic paper flipper, for lack of a more technical term. The 730 can print on both sides automatically for you, so no more manually flipping pages over to print on the back side. This back piece makes the printer very deep, or really big in depth. You'll need plenty of space for the Artisan 730.
You can easily remove the back section if there happens to be a paper jam.
On the left side you'll find the Ethernet port and USB port and then the power connection on the right side.
Specifications:

For wi-fi there are a few more steps. I got it connected to my network with no hassles, first try and I was up and printing.
The control panel is what Epson calls the Emerald Green Touch Panel, and it's green as the name implies, or at least the buttons are green.
From the touch panel you can make copies, scan, print photos, print ruled papers and even print coloring books from photos. You can also access the Setup menu, problem solver and back up data from the menu. The touch screen is bright and vivid and it's very sensitive. You can pop a memory card in and print your photos right from the printer and view them on the LCD. I really like the green on black a lot, it's visually striking and certainly unique.
One of the great things about this printer is that it can print on printable CDs. You'll notice a button in the above pictures for the CD Tray, you press it and the tray slides out and you put a CD or DVD in it to be printed. You will need to move the control panel all the way to the horizontal position to access the tray though.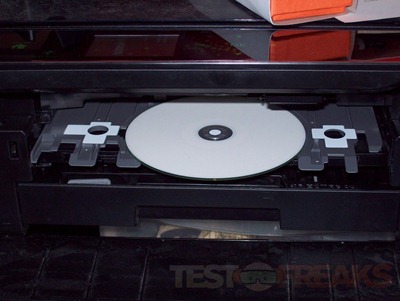 When you're installing the software it will also install the CD printing program aptly named Epson print CD. I found it very easy to use really and it comes with backgrounds and templates ready for you or you can add you own photos.
Besides printing CDs I printed text, text and graphic and of course pictures.  It occurs to me I didn't get a separate picture of the CD, but there it is in the photo below along with everything else. The CD came out very nice.
The photos printed very fast and they're just gorgeous, you can't see any lines in them like with some other printers out. They really look professionally done. The ink dries super fast, they come out and you can touch them without smearing of getting ink on your fingers. The same went with text as well, it dried virtually instantly. The blacks are very dark, and just overall the pictures look great.
Printing text or text and graphic is very fast, a whole page in seconds.
Taking a closer look at the text we can see it is crisp and clear, and I see no runs or overspray at all.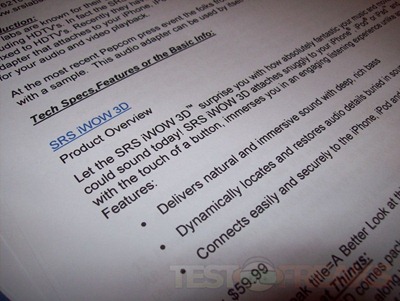 Here's a couple zoomed in very close to show you better:
One of the great things about this printer is the ability to print right from your phone or tablet. I downloaded the Epson iPrint from the Android market to my tablet and I could easily print photos, documents and more right from it. You can install it on your phone of course and do the same thing. This also works with iDevices too. To use the program you have to have the printer connected over Wi-Fi though.
One thing I noticed is that the printer seems to use a lot of ink. If you look up at that second photo there with the ink levels you'll see I've used a lot of black, but I don't think I really did. I printed a few full pages of text and several text and graphic pages along with a few mailing labels. It just feels like I used a lot more ink that I should have.
Under properties you'll find printing presets and pretty much everything else you've come to expect to find in here.
I think that's about it, I think I've covered it all. It's a great printer really.
Conclusion:
The Epson Artisan 730 is a printer that can give you studio quality photos quickly and easily. It allows you to print directly from a memory card or even a mobile device like your phone or tablet. The Artisan 730 is something for those that want high quality results from their printer and the 730 can offer you that and much more. It's a printer that can help you fully realize that creative side in all of us, be it a business presentation or just something for your kids school project, the Artisan 730 can do it and make it look professionally done. 
The printer does seem to use a lot of ink quickly. It's a bit on the large side so you'll need to find the appropriate space for it.
Pros:
+Simple and easy to use
+Print directly from mobile devices
+Print directly from memory cards
+Prints gorgeous photos
+Fast printing
+Prints on CDs and DVDs
+Can auto correct photos
Cons:
-Seems to use ink rather fast
-A bit on the large side
| | |
| --- | --- |
| Grades: |   |
| Overall | |
| Design | |
| Performance | |
To learn more about our review policy please visit this page HERE.