Today for review I've got the latest  Epson printer, the WorkForce 840 that is an all-in-one style printer that does everything your home or small office might need it to do. The 840 is something for users that need a workhorse of a printer like this. The 840 features dual paper trays so it can handle a whopping 500 pages, and it has built-in double sided printing so you won't waste paper on those less important documents, like draft or like coloring pages for your kids. The Epson WorkForce 840 is a worthy addition to the WorkForce line of printers, it certainly live up to the name.

The Epson WorkForce 840 comes packaged well as can be expected.
Inside you'll find the ink cartridges, documentation, driver/software CD, phone and power cables. The Ink Cartridges are regular size, not trial size. The black is actually a large capacity and it costs $21 to replace it, while the color cartridges are standard but only cost about $11 each.
The printer itself looks like other Epson WorkForce printers, it's black in color and it looks like something you'd find in an office, but it should fit right in any home setting.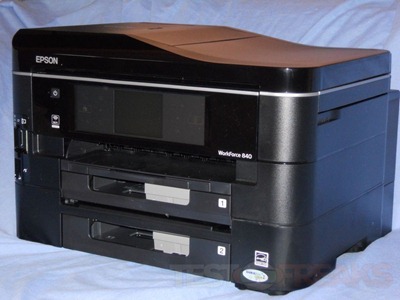 The front has a nice large touchscreen display that can open up at an angle for easier viewing and usability.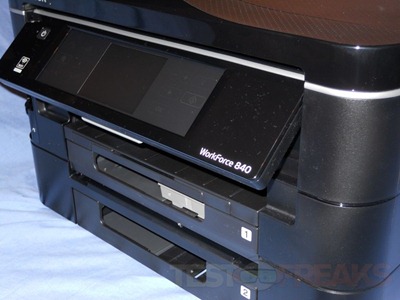 Below the display is the return paper tray.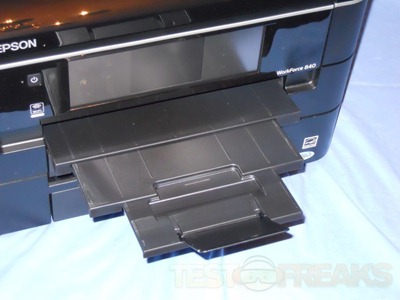 Below the return tray you'll find two paper trays that can hold a total of 500 sheets of paper.
Off to the left of the touchscreen you'll find the USB port and card reader.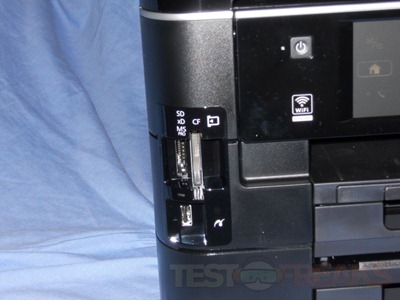 On the top of the WorkForce is the automatic document feeder.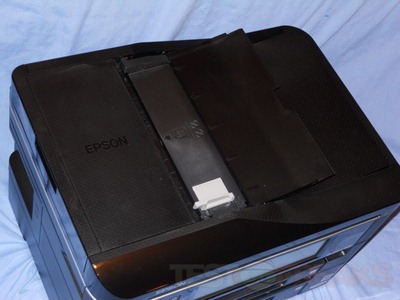 Under that is the flat bed scanner, then below that is where you'll put the ink cartridges.
Moving to the back of the printer is where the connections for Ethernet, phone, USB and power are.
On the back you'll also find an access door for paper jams.
The printer is rather large in both height and width so you're going to need quite a bit of room for it. The two paper trays are what make it taller of course.  I've got two WorkForce printers in my home and the 840 is just as good as those in its construction. I like the design of the WorkForce printers, they look business like and classy, yet they would fit fine in any home.
Specifications:
Epson WorkForce 840 All-in-One Printer
The World's Fastest All-in-One, the WorkForce 840 delivers high-speed, automatic, two-sided color printing, copying, scanning and faxing. Keep your business running at full speed. Load paper less often with a 500-sheet paper capacity. Extra High-capacity Black ink cartridges produce about 2x more prints per cartridge. Forget about waiting for ink to dry — this all-in-one uses instant-dry DURABrite Ultra Ink. Built to perform, the WorkForce 840 can be shared wirelessly with multiple PCs on your network, using Easy Epson Wi-Fi CERTIFIED n. And, it prints directly from an iPhone, BlackBerry or other mobile devices. The WorkForce 840 surpasses the competition in quality, speed and performance and is the top-of-the-line, high productivity all-in-one for the busy small office.
Key Features
*ISO print speeds of 15 ISO ppm (black) and 9.3 ISO ppm (color)
* World's Fastest All-in-One — save time with the world's fastest two-sided print speeds
* Speed through critical documents — ISO print speeds of 15 ISO ppm (black) and 9.3 ISO ppm (color)
* Fast automatic two-sided printing — two-sided print speeds of 7.4 ISO ppm (black) and 5.4 ISO ppm (color)
* 500-sheet paper capacity — get more done with two 250-sheet paper trays
* 7.8″ smart touch panel — lights up only the buttons you need; includes a 3.5″ LCD
* Quickly scan and archive with OCR software included — scan important documents and save them as JPEGs or PDFs
* Save paper — save up to 50% of your paper supply with automatic, two-sided printing
* Print twice as much — get about 2x more prints with 127-series Extra High-capacity Black ink cartridges
* Print directly from your cell phone — supports iPhone and other mobile devices
* Sharp documents — laser-quality black text delivers crisp, high quality proposals and brochures
* Individual ink cartridges — replace only the color you need
* 30-page Auto Document Feeder — quickly copy, scan and fax one- or two-sided originals
* Latest generation Wi-Fi — built-in Easy Epson Wi-Fi makes wireless setup, networking and printing fast and easy
* PC-Fax — fax documents directly from your computer
* Front USB port — insert thumb drive and upload files directly to your PC
* High-speed faxing in black and color — as fast as 3 sec per page; speed dial storage up to 60 numbers; fax memory up to 180 pages
* Instant-dry inks — smudge, fade and water resistant prints; documents rival those from a laser printer
* Save energy — uses up to 70% less power than laser printers
* Product protection you can count on — one-year limited warranty; phone support, without charge, for the life of the product; plus, get free templates and "how-to" tutorials with registration
Eco Features:
* Uses up to 70% less power than laser printers
* Save up to 50% on paper with manual, two-sided printing
* ENERGY STAR qualified
* RoHS compliant
* Designed to be recycled
* Epson America, Inc. is a SmartWay Transport Partner
Price:$299.99

Installation is fairly simple, just pop the disc in and follow the prompts to install the drivers and software. I did run into a couple problems with my installation of the 840.
You can connect it to your network over wireless or wired. To connect it via wireless  you can do it two ways, input your wireless information right into the printer on the touchscreen or let the software do it over USB. Neither of these ways worked for me for some reason, but that's not exactly true. I could see the printer on my network on my computer but yet the software just wouldn't complete the installation process for me. I tried both wireless ways and then tried with an ethernet cable as well and got the same result. For some reason the software just kept giving me an error and I couldn't install it that way.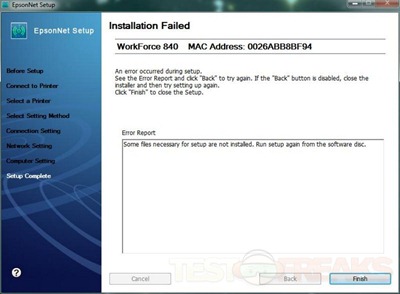 I did get it installed via USB, and that worked with no issues. The software saw the printer and completed installation.
Once installed you can then access the settings through five basic screens.  Under the Main tab you can select the quality from five settings for Draft, Text, Text & Image, Photo and Best Photo. You can also select 2-sided printing and a quiet mode as well and see the ink levels. You can see for yourself the rest of the tabs and settings.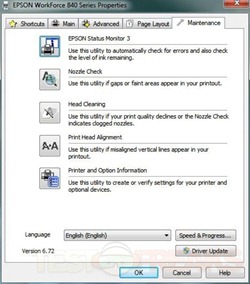 The LCD display when on the main screen offers two pages of options for Copy, Fax, Scan, Print Photos, Print Ruled Papers, Setup, Back Up Data and Problem Solver.
Under Setup you'll find three pages of choices for Ink Levels, Maintenance, Printer Setup, Network Settings, File Sharing Setup, Fax Settings, External Device Setup, Select location and Restore Defaults.
Depending what function you use different buttons will light up that you can access. For example when you're copying or faxing:
Under Print Photos you'll find View and Print, Print All, Print Greeting Cards, Photo layout Sheet, Proof Sheet, Slide Show and even an options for Copy/Restore photos.
Under Ruled Papers you'll find plenty of options for lined paper, graph paper and even stationary using a picture you scanned or on a USB drive or memory card.
Browsing around the menus, under External Device Setup and then under Print Settings you'll find options for photo adjustments which is interesting.
So it's a printer and I printed stuff to test it. I printed small and large photos along with text and text with graphics. For the pictures I used Epson Premium Glossy Photo paper and they're good, but not what I would call studio quality. Even though the paper is glossy the pictures really aren't for some reason. Again, they're not bad, but just not high quality. They're fine for most any uses, they would work for printing your photos out surely.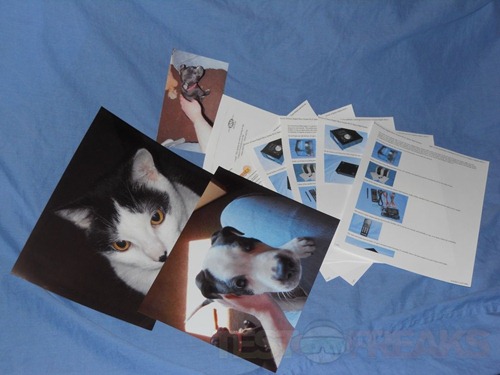 The set of web pages I printed I did in two quality modes, Text and Text & Graphic and there's rather large difference.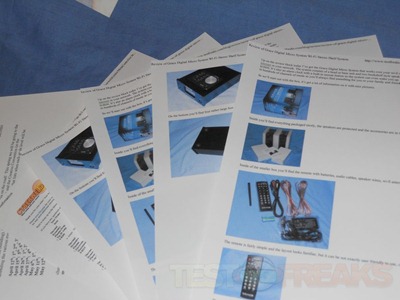 As you can see here there's lines going through the photos: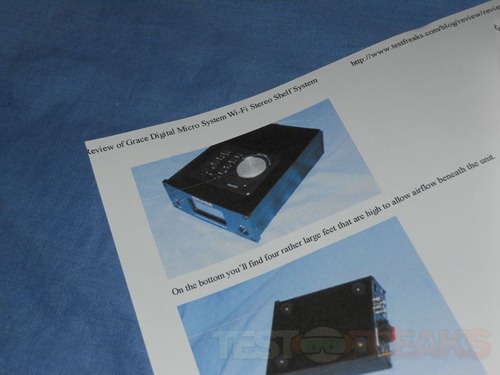 Then here's a comparison between both quality levels, bumping it up to Text & Graphic quality level makes a huge difference.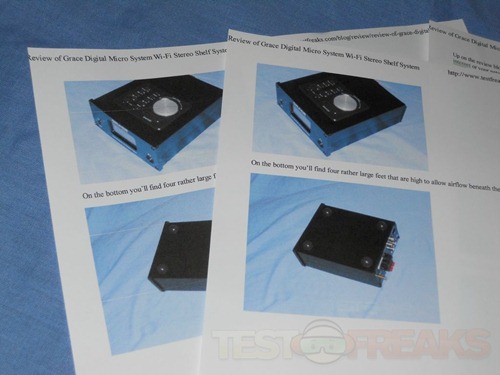 I tested the scanner out as well, on two settings the default which is low and the high which output a picture over 1mb in size. There is a difference between them. The picture of my cat is the low quality, it's kind of fuzzy and hazy really.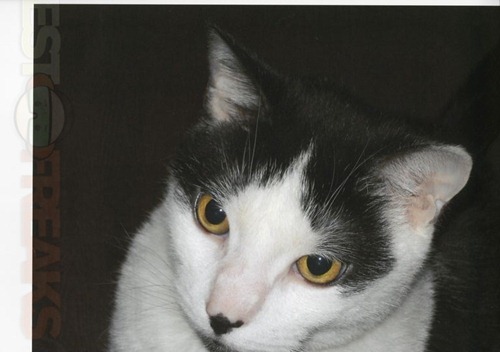 Then here is the high quality scan of one of my puppies, the quality is much better, nice and crisp and sharp.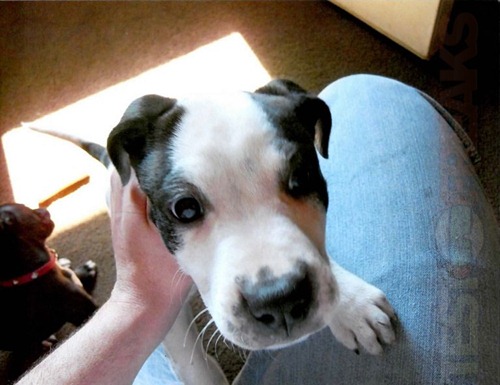 Small photos print surprisingly fast, and even large photos like the ones above print fairly quickly.
The print speed for text is nice and fast but it seems just slightly slower than the Canon printer I was using before. The main difference though is that the Epson printer doesn't seem to need as much warm up time as the Canon does. There were times when the Canon would take over a minute to start printing a regular, text only, black and white document. The Epson on the  other hand just seems much faster at the warm up phase for anything.
The noise level isn't bad, it's fairly quiet I think.
The prince for this printer is kind of high if you get it though Epson where they're asking $299, but I found it at Sam's for $186, and that's a great deal for this printer.
Faxing works, it's faxing after all, how complicated can it be?!
Conclusion:
The Epson WorkForce 840 Printer  is an excellent multi-function device that would work great in any small office or home office. Users will certainly appreciate the high capacity paper trays and the ability to print two sided pages.
The 840 prints fairly fast and produces excellent results that can be used for business presentations or for a family scrap book.
The touch screen display is very sensitive and works perfectly responding to the slightest touch.
I did run across a slight problem with the networking that I just couldn't figure out though, but updating the software fixed the issue. I guess what came on the disc was an older version.
Photos come out looking good, but not what I would call studio quality, but then again you have to remember that this is a business printer and not a photo printer. Don't get me wrong though, the photos are very nice when you set the quality to high and use quality paper. The results should be fine for printing photos for personal or family use I'm sure.
Pros:
+Easy to use touchscreen
+Scan to computer, memory card or USB drive
+Decent printing overall
+Fairly fast printing
+Fast scanning
+Huge paper capacity
Cons:
-Problem with network connections
-Not the best for high quality pictures
-Large size
| | |
| --- | --- |
| Grades: | |
| Overall | |
| Design | |
| Performance | |
To learn more about our review policy please visit this page HERE.