We haven't done many CPU cooler reviews here on technogog, but I hope to change that, at least add some more from time to time. Evercool sent me two for review recently and that first I've got for you is the Buffalo that's compatible with LGA1156 and LGA1136 platforms. The Buffalo is a rather small aluminum and heatpipe style cooler with a bright red fan on it, and for its size it performs admirably well.

Not sure where they came up with the name for the Buffalo, an odd name for a CPU Cooler for sure, but what's a name matter right?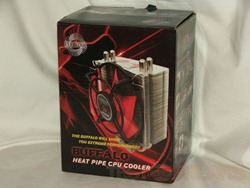 Instructions are on the side of the box so you won't find any inside, only the cooler and a tube of Evercol 800 Series Thermal Compound.
The Buffalo uses the plastic push-pin style mounting system. It works for both LGA 1156 and 1366 sockets and you just slide the pins in or out for either socket style.  The cooler features four U-shaped cooper heatpipes that go through a series a aluminum fins. The cooler itself is actually very lightweight and small in size. Not compact, but much smaller than most coolers out there these days. On the front of the cooler is bright red 100mm cooling fan.
The fan is held on by a common metal bracket so you could possibly switch fans if you wanted or needed to.
On the top of the cooler you'll see the Buffalo logo.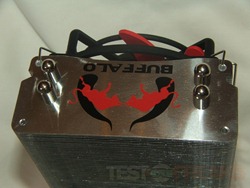 Here's the base:
The base is copper and it's fairly flat with faint machine lines in. It's not a mirror finish but it is reflective.
Specifications:
Model: HPFI57-10025
Compatibility:
-HPFI57-10025 FOR INTEL-CORE I7 / I5 (1366/1156)
Features:
-Compatible for all kinds of high-end CPU version.
-Dual heat pipe cooler with high thermal conductive technology and special welding techniques enable seamless connections between fins and pipes.
-User can choose to install one or two 12cm silent fans(PWM Function) according user's need to achieve great noiseless and cooling capacity.
-By using 10cm fan with more strong air flow and quiet.
-Easy to install for all users.
-Bullfight design to make it unique and characteristic.
Specifications:
-Overall Dimension: 110 x 72 x 142.7mm
-DC Fan Size: 100 x 100 x 25mm
-Base Material: Heat Pipe
-Bearing Type:Ever Lubricate Bearing(Long Life bearing)
-Speed:1800 ±10% RPM
-Noise Level:<23 dBA
-Rated Voltage:12 V
-Weight: 500 g

For installation I installed it on my Corei5 LGA1156 CPU. The bracket supports both 1156 and 1136 by moving the plastic pins into position, out for 1136 and in for 1156. The pins that go through your motherboard are soft plastic and I found that bend a bit with any force making it kind of tricky to install the cooler. It took me a couple tries to get it installed as the pins kept bending and and flaring out so they wouldn't go through the holes. Eventually I got it installed though. I found that on my motherboard it doesn't go over the ram slots so I could use ram with large heatsinks on it.
Ambient room temperature was 21.3C (+/- .3C) during testing. I used two instances of Orthos Stress Prime to get load on the CPU. I used CoreTemp to monitor and log the temperatures and then I averaged them out to get a single temp for the graph.  For comparison I put the Buffalo up against the Coolit Vantage and the Noctua NH-U12P coolers. The Vantage cna be set to three modes, Quiet, Performance and Extreme, I used the middle or Performance setting as it's a nice balance of cooling and sound.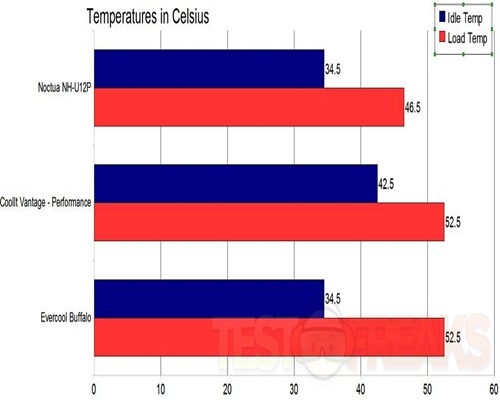 The Idle temp of the Buffalo is the same as that of the Noctua surprisingly, but the load is much higher than the Noctua. The Buffalo performs the same as the Coolit actually under load. Performance isn't that bad actually for a cooler this small.
Noise level though is a different story when it comes to the Buffalo. Loudness is a subjective thing, what's loud to one person is fine for another. My computer is less that three feet away from me off to my right, so I like things as quiet as possible. The Buffalo cooler to me is too loud for my preferences, but it's not overly loud. I'm sure if I had my PC under my desk it wouldn't bother me at all, but as is I don't care for the noise level it adds to my system.
Conclusion:
For its size, the Evercool Buffalo CPU cooler performs rather well. The cooler is lightweight and small in size so it should fit in most 'normal' size cases and not interfere with your ram no matter what size the heatsinks are.
The Buffalo is fairly quiet but not silent by any means. I'm sure you could switch fans if you wanted to though.
Pros:
+Small and lightweight
+Decent performance for size
+Works for both LGA 1156 and 1136
Cons:
-A bit loud for my preferences
-Tricky to install
| | |
| --- | --- |
| Grades: | |
| Overall | |
| Design | |
| Performance | |
To learn more about our review policy please visit this page HERE.