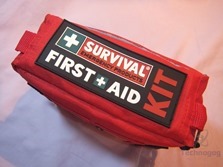 Today for review I've got a product for the outdoors category or maybe even home and health as it's a first aid kit from a company called Adventure Aid. This kit has pretty much everything you need for any emergency that might arise while you're out and about and I'm truly impressed by it honestly. The bag itself is very well made, rugged and durable and inside you'll find everything neatly arranged in their own pockets ready for you. Read on to learn more..

Specifications and Features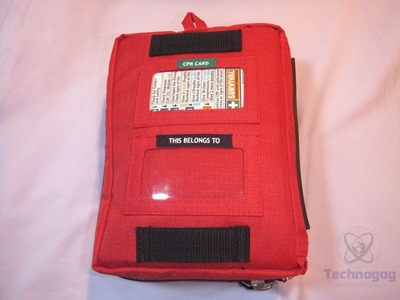 The bag is held closed by two large and heavy duty zippers with pulls on them.
On the top you'll find a nylon carry handle as well.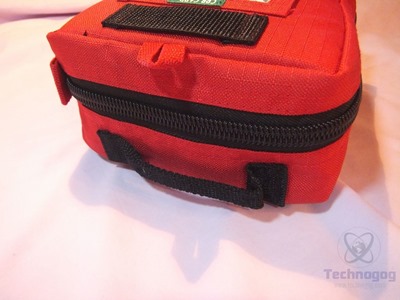 When you first open the pack you're greeted with an empty mesh style zippered pocket labeled personal on the left, this is a spot where you can put anything else you think you might need.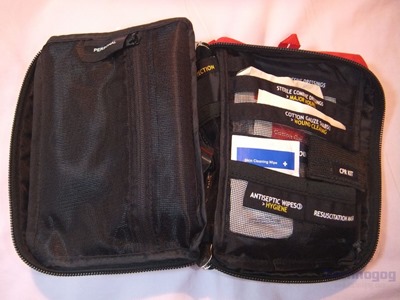 The bag unfolds into three sections for you with everything neatly labeled and in its own pocket. Most of the pockets are mesh so you can see the contents and they have elastic tops to hold things in.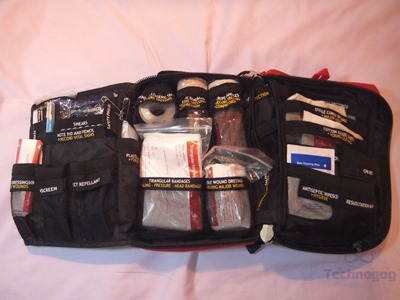 On the left side you'll find foil blanket, fever strip, tweezers, 50 regular adhesive bandages, basic first aid instruction booklet, shears or scissors, pencil and notepad and four safety pins. There is also two empty spots labeled sunscreen and insect repellent so you can add your own, they're not included because they can expire.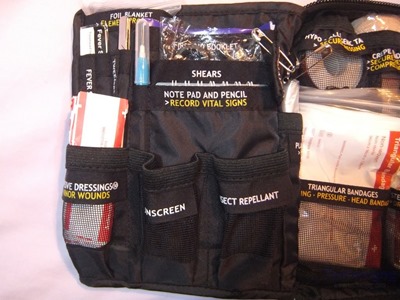 The center section is a deeper pocket with medical tape, plastic bags for waste, two crepe/compressions bandages both medium weight, triangular bandage, large wound dressing bandage and rubber gloves. There is also an empty spot here for a bottle of saline, again not included as it can expire, you can just add your own.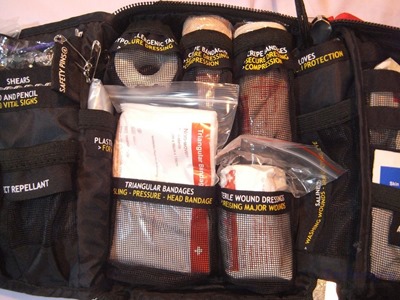 On the right flap you'll find a 10cm x 10cm non-adhesive dressing, a 20cm x 10cm combine dressing, 3 packs of 3 7.5cm x 7.5cm gauze pads, 3 packs of antiseptic wipes and a CPR kit.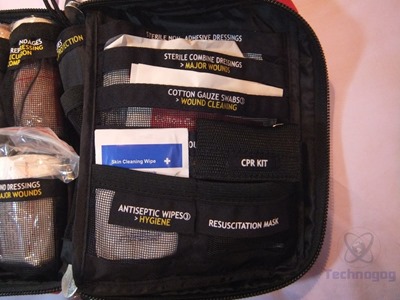 The CPR kit is a small removable nylon pouch that contains an antiseptic wipe, gloves and a face mask along with basic adult and baby CPR instructions attached to the pouch flap.
All in all this is a great kit, with most everything you need. I think the only thing missing or that I would add is a knife or scalpel. Yes there are scissors included but they can't do everything that a knife can do. I would pick up a few disposable one-time use scalpels and add them to the kit. You can pick up a box of ten disposable/sterile scalpels for about seven dollars.
Conclusion
If you need a first aid kit then this is the one to get I would think, I know I love it honestly. I was truly impressed when I first opened it, the bag itself is just very well made and heavy duty and there's pretty much everything you need inside for most any emergency situation that might arise while you're outdoors.
I will be keeping this in my van from now on as that's what we take when I take my son on his Boy Scout camping trips. This is something that I think everyone should have, I have several first aid kits and this is the nicest one I've ever owned.
My wife is a nurse and even she was impressed by it, and she's not impressed by much at all, so that right there says something.

Pros:
+Excellent quality bag
+Most everything you need for any situation
+Very portable
+Very handy
Cons:
-Missing knife/scalpel
| | |
| --- | --- |
| Grading | Scores Out of 10 |
| Overall | |
| Design / Aesthetic | |
| Value / Price | |
| Performance / Usage | |
Disclosure: This product was given to us for review by the company for review purposes only, and is not considered by us as payment for the review.
To learn more about our review policy please visit this page HERE.