Are gaming or computer glasses just a fad? I don't know, some say they help and I've always wanted to review a pair and now I get the chance! Today for review I've got a pair of computer and/or gaming glasses from a company called GG&G and they're called the Great Gamer Glasses. These glasses are very inexpensive at about $15 on Amazon right now, but they're not bad really, they even come with a nice, sturdy, carrying case. The glasses are plastic of course and have a yellow tint to the lenses which makes everything brighter. Read on to learn more…
Specifications and Features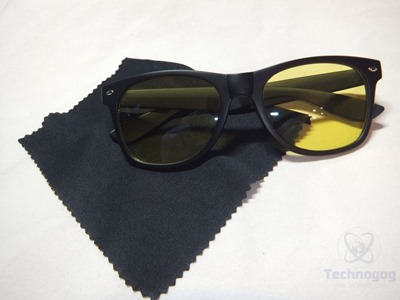 The glasses themselves have a black plastic frame with silver oval dots on the front corners for accents. The lenses are clear but have a yellow tint to them. The glasses are rather large in size, the lens part is what I mean, just a bit too big for my tastes personally. The glasses are very inexpensive and you can tell they are, for the price they seem made well enough. The glasses are very lightweight, you won't even notice you're wearing them really.
The arms are rather stiff when moving them but that's a good thing I think, they have the GGG logo on each side in yellow.
The nosepiece is not adjustable, it's just built or molded into the frame but yet it's not uncomfortable to wear and they stay on my nose just fine.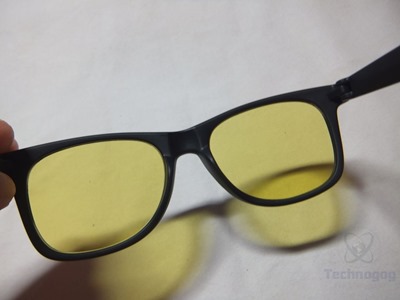 Conclusion
There are lots of computer and gamer glasses out there and these are very inexpensive at about $15 and you really do have to take the price into account when reviewing them.
The glasses are made well enough for the price for sure, they aren't flaws in the material or extra pieces of plastic that you might expect from something of this low cost.
The glasses or lenses really are a bit too large for me personally, it's just my taste, but other may not care and be fine with them. Despite not having an adjustable nosepiece they fit me just fine, they are very lightweight making them fine for long periods of wear.
When you first put them on you will notice a huge difference, everything is brighter, they just seem to brighten up the room really. There is a yellow tint that will take a bit of time to get accustomed to, but a couple or few hours and you'll be fine.
Do they do what they claim to? I'm not sure about all that, but they do make things brighter and things seem clearer really.
All in all, for the price, these aren't a bad basic set of gamer or computer glasses in my opinion.
Pros:
+Include sturdy carrying case
+Very inexpensive
+Brighten everything you look at
Cons:
-Nosepiece not adjustable
-Feel rather cheaply made
| | |
| --- | --- |
| Grading | Scores Out of 10 |
| Overall | |
| Design / Aesthetic | |
| Value / Price | |
| Performance / Usage | |
Disclosure: This product was given to me for review by the company for review purposes only for free or at a discounted price.
To learn more about our review policy please visit this page HERE.