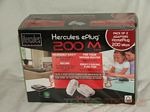 Today for review I've got the Hercules ePlug 200 Duo Powerline Network kit, and this is a truly plug and play setup. I've always wanted to try a powerline setup, and now I've got the chance to and I'm amazed at how simple and easy it is to install and get up and running. In about 5 minutes I had these kit up and running on my network, and that was including the time it took to walk upstairs to connect the second adapter. The kit automatically connected with no issues, in mere seconds after I plugged it in I was up and running. So read on to learn a bit more about a great little product that makes expanding your network quick and easy…
Now for some still pictures..
There's not much in the box, just two ethernet cables, two powerline adapters and the brief quick start guide.
The two parts to this kit are exactly the same, both have one ethernet port on them and activity LEDs.
Specifications:
* The new Powerline Communication (also called Homeplug) solutions range by Hercules
* Enables users to connect computers, modems or Internet boxes, games consoles, set-top boxes and more* using their home's electric network and to share an
Internet connection and broadband TV throughout their home.
With the Hercules ePlugT 200 Duo:
* EXTREMELY EASY: CD-less installation. Connect it – it's ready to operate. 2 powerline communication adaptors included in the box to get you started instantly!
* BROADBAND COMMUNICATIONS: The 200 Mbps bandwidth enables you to broadcast multimedia files and Internet data simultaneously
* POWER-SAVING: The adaptor powers down when not in use: up to 50% power savings.
* SECURE: Keep your data safe at home – your powerline communication kit is preconfigured for safety. Your data will not leave your home.
* PAIRING BUTTON: Additional Hercules ePlug adaptors (or compatible devices) are paired by simply pushing a button.
* The device offers a connection as stable and secure as any wired network.
* All power sockets turn into broadband network connection points for computers, games consoles, set-top boxes and other network devices.
* The Hercules ePlug Station software watches over your powerline communication network. Available for download on the www.hercules.com website and localized in your language (8 languages)
Main specifications:
* Maximum bandwidth reaching 200Mbps based on the Homeplug AV standard
* Plug & Play installation
* One 10/100 Mbps Ethernet port
* 3 indicator lights for:
-Mains power
-Powerline communication network quality (3 colors: green= excellent, orange = fair, red = bad)
-Ethernet connection
* A pairing button to add further powerline communication adaptors to an existing network
* Automatic power saving function
* Reset button to reinitialize all settings
* Certified by the HomePlug Powerline Alliance.
Price: $103.24 (from Amazon at time of review)

Using this kit was amazingly simple. I recently go a new Gigabit switch as I needed to expand my network a bit, so I plugged the ePlug into that and then took it upstairs to the second floor and plugged the other into a wall socket.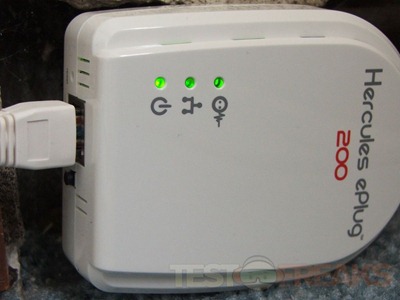 I didn't have to do anything at all, within a matter of seconds all the lights were green and I was ready to go. it was so simple I was shocked really, I was expecting to have to push buttons and try to get them to conenct, but they connected automatically in mere seconds. Truly amazing and extremely simple to do. You'll notice the lights are green meaning I have an excellent connection.
For testing I grabbed my Seagate BlackArmor NAS110 and plugged it into the Hercules ePlug, no issues there it was found on my network easily.
The reason I took the powerline adapter to the second floor is that I've already got an ethernet connection up there on the same switch, so it would make for a good comparison, it's on Cat5e cabling.
I ran three different tests, single small Video file (900mb), single large ISO file (3.02gb) and a files/folders test (874 files within 199 folders total of 3gb).
I ran the tests both ways, upload and download to and from my computer.
These were done via FTP transfer, at the end of the transfer my program gives me the time it took and the average speed as well in KB/s.
If you know anything about conversions, and they'll drive you nuts seriously, going from KB/s to Mbps can be a bit confusing at times, it's not what you think it is. You can't just round up and guess what it might be…
Anyway, my charts are done in the KB/s that that transfers were in, with explanations afterwards.
So let's start with the Files and Folders test, faster is better of course for the speeds.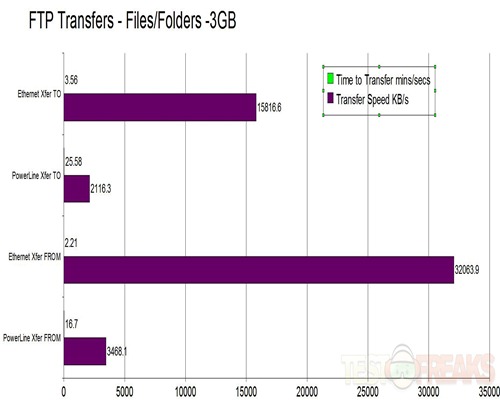 Those speeds look really fast, at least with those numbers.
The Hercules kits claims 200Mbps right? Well my network is supposed to be gigabit, we all know we'll never see the rated speeds honestly of pretty much anything like this. Gigabit is essentially 1000Mbps, my network maxes out at about 480Mbps on average, and I run Cat5e and some Cat6 cabling.
So let's do some conversions here with the first set of Transfer To results, that 2116.3 KB/s is really 17.34 Mbps and that 15816.6 is really 129.57 Mbps.
If we look at the Transfer From results we see the Hercules Powerline kit hits 28.41 and my network hits 262.67 Mbps.
Next is the single large ISO file:
Again with the conversions…
Let's look at the two highest ones for the Transfer From.
Powerline: 29.91 Mbps
Ethernet: 489.48 Mbps
The last test is the small video file: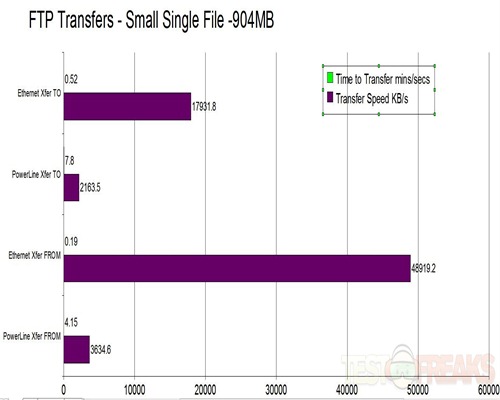 Again we'll take a quick look at the conversions:
Powerline: 29.77 Mbps
Ethernet: 400.75 Mbps
Now did we hit the 200Mbps as they claim? No, but I didn't expect to either. Just like my home network, I don't expect to hit 1000Mbps there either but I do come close to half that.
The speeds you'll get with a powerline kit though are determinate on a number of factors, the biggest one being the quality of the wiring in your house. Most of the wiring in my house is old, 15+ years, some of it I've re-done within the last 10 years, but still most is old. Another factor that comes into play is what's between them, I have a second breaker box in my house on the second floor, so my connection essentially had to go to my main box, then to the 2nd breaker box to get to the powerline adapter. We know electrical wires are not shielded, and they cross each other over and over again which I'm sure plays a part is degrading a signal like this one. So many factors come into play, in the ideal world, you'd have new wiring to run your powerline network on, let's face it though, the world is not an ideal place, and most likely the majority of house out there have old wiring in them. So basically your results will vary on many different factors.
Let's take this in contrast though, an HD 1080i movie peaks at 25Mbps, this kit will handle that with no problem, it's essentially one large file streaming right? If we look at 720P video it peaks at 19Mbps, the Hercules ePlug should easily handle that. Yes it will use most of your bandwidth to do it, with just a little left over, but it can handle it no issues I'm sure. Most likely if you're streaming a movie, that's all you're gong to be doing anyway, you'll be watching the movie so you probably won't need to worry about the bandwidth usage.
For simplicity though, you can't beat this setup, it was so easy my 4 yr old could have done it with no problems, if you can plug something into the wall and to your network then surely you can handle this setup.
Conclusion:
Let me start off with saying I could easily recommended this product based just on how easy to was to use and install, you can't get any easier than true plug and play like the Hercules ePlug Duo kit is.
Yes I didn't hit the rated speed, but there are a number of factors that could have limited my connection, and I mentioned them already. Still though, as I said, you can easily stream HD video with this kit with the speeds that I got.
Pros:
+Inexpensive for what it is
+Fairly small in size and nicely made
+Amazingly simple to use and install
+HD quality speeds
Cons:
-I got slow speeds with my home power lines
| | |
| --- | --- |
| Grades: | |
| Overall | |
| Design | |
| Performance | |
To learn more about our review policy please visit this page HERE.