When it comes to audio for our computers most just accept what comes with their computers. If you bought a pre-made computer then you got a pair of speakers with it, granted many times you can get decent ones but most times they're fairly bad sounding really. Our computers today are much more than just that, they've become multi-media centers and as such a decent set of stereo speakers is need or even a nice little surround sound system.  Today for review I've got the Hercules XPS 5.1 70 Slim speaker system, and from my time with them I've come to enjoy them very much, they've truly added a new depth to my audio experience.

The Hercules XPS 5.1 speakers system comes in a rather large box as you might expect with something like this and it's packaged well.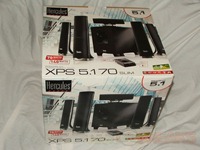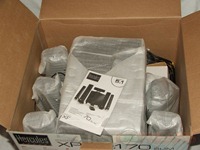 Once unpacked you'll find satellite speakers for left, right, two for the rear and one for the center. The subwoofer is what everything connects to and coming from that is a remote control that features outputs for headphones and microphone and an input as well. There's also a power supply and some brief documentation and three audio cables for connecting from your computer.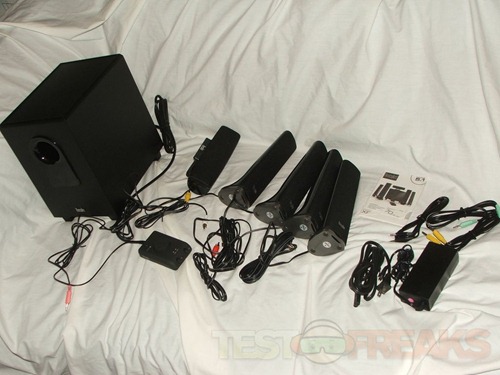 The main satellite speakers are tall and thin, about 9.5" tall and 3" wide at the base but they taper towards the top to 1.5".
The center speaker is made to sit right on top of your TV or monitor. On the back side you'll find an adjustable clamp of sorts with rubber pads on it.
The subwoofer is big like you'd expect it to be, on the front is a bass port and on the bottom are feet and the subwoofer itself.
On the back you'll find all of the needed connections, inputs and outputs along with a master power switch and power connection.
The remote has a large volume and adjustment dial on it which also acts like the power switch, below the dial are two LEDs. On the front edge are jacks for headphones and a microphone and on the back is a 3.5mm input jack as well. Above the dial you'll find another button to activate surround sound and an LED below that.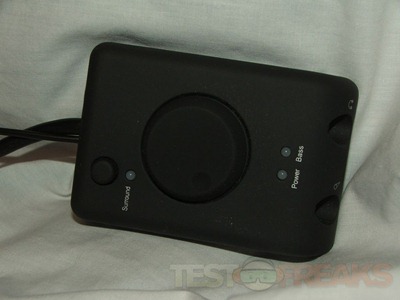 Specifications:
5.1 multimedia speaker system
Features:
-5.1 speaker system, featuring center speaker with flat panel screen mounting system and wooden subwoofer.
-Ultra-slim satellite speakers: their sleek, modern design fits in perfectly with any décor. Includes a very thin center speaker with flat panel mounting system – a bonus, compared to current market standards. Lacquer finish on backs of satellites.
-Greater energy savings than market standards: special power supply uses less than 1 watt of power in standby mode.
-Magnetically shielded speakers won't disturb your surroundings.
-Master on/off switch on the back of the subwoofer.
-Multifunction remote control – practical and easy to use:
–Control knob with 3 functions: on/off, volume control and bass control. LED indicators for the different functions.
–Headphone jack and microphone input.
–Auxiliary line input.
–Virtual surround sound button (applied to stereo input).
Specs:
-Satellite dimensions: 23.5cm H x 5.8cm W x 7.2cm D
-Subwoofer dimensions: 27cm H x 17.2cm W x 25cm D
-Total power: 70 watts RMS (4 x 7.5 W (satellites) & 1 x 15 W RMS (center), 1 x 25 watts RMS (subwoofer)). Peak power: 140 W.
-Frequency response: 30Hz – 20kHz.
Compatible with:
PC
Netbooks
Mac
MP3 players
CD/ DVD players
TVs
Game consoles
Box contents:
• 5 satellites
• 1 subwoofer
• Wired remote control
• Audio cable: 3.5mm to 3.5mm
• Warranty certificate and paper manual
Price: $100 ( +/- Depending where you look)

The remote is unique is that it controls power, volume and bass levels. To turn on the speakers you hold the dial down, then just adjust the volume as need be. I should note that the dial spins freely, meaning that there is no stop like most volume controls have. To adjust the bass levels you just hold in the dial for a second or so and the Bass LED will light up yellow to let you know you can now adjust it. Notice I only said you can adjust the bass, no there is no treble adjustment on these speakers.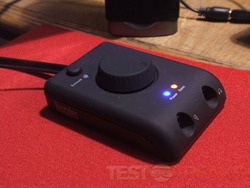 vThe surround button located on the remote isn't for the main speaker system at all, it's actually only for when you use the input jack. When you use say an MP3 player with it it will normally use just two speakers but if you press the surround button it will give you surround sound, simulated yes, but still decent sounding. One problem with this set up is that Hercules doesn't include the cable to be able to do this so you'll have to provide your own.
When I first saw this mounting system I wasn't too sure about it, but it works actually. If you hit the monitor hard enough it will fall off, but just a bump won't make it fall. It's good enough for most uses I would guess.
vInstallation is fairly simple though I found the wires on the front right and left speakers to be a bit too short for my uses. To be fair though I've got a very large desk, 59.5" wide and 39" deep. Still though it would be nice if the wires were longer. The wires for the rear speakers were more than long enough for my needs though. The other cables have adequate lengths as well.
Here's the center speaker set up on my monitor:
The three cables with the same audio jacks on them are color coded, these go from your center/sub, front and rear speaker jacks to the subwoofer.
The last thing I had to do was go into the audio settings and change it to 5.1 sound to let the computer know I was able to play media encoded for surround sound.
Before this system arrived for review I was using another Hercules speaker kit actually, just a 2.1 set up though. I really never thought I had a need for a 5.1 set up on my desktop computer, but now that I've got one installed there's a huge difference in the sound quality. I do watch movies and TV and listen to a lot of music at my desk, so it kind of makes sense to have a decent sound system for my own personal enjoyment.
For testing I enjoyed myself by listening to music and watching a few movies. Of course I had to pop in a game as well. Everything sounded very good and there truly is a difference when playing media that utilizes surround encoding.
All of the speakers don't work for everything, only media that is encoded with 5.1 audio like most Blu-rays and even DVDs and many games as well. Media that isn't made for surround will play through the front speakers only and the subwoofer.
The bass can be very profound and vibrating, for lack of a better word there, but my desk was vibrating. Too much bass can be a bad thing. Seriously though the sound was actually very good once you get things adjusted the way you like it. You can have too much bass where it gets a little distorted but surprisingly not that much.
There is no treble adjustment as I mentioned earlier, but you can go into your software settings and adjust it if need be, at least most motherboard audio chipsets will allow adjustments. The treble setting at default seems fine for my tastes as is.
Overall I like them, especially for the price. Looking around online the lowest I found was $79, plus shipping of course, and for these I think they're very much worth it.
Conclusion:
The Hercules XPS 5.1 70 Slim speakers produce decent sound, especially if you consider the price they can be had for. The quality of the audio is very good really, as is the quality of the speakers themselves.
The included remote is very handy for not only making quick adjustments to volume and bass, but the added ports do make life easier when you want to hook something up.
There aren't many problems with these speakers really, the sound is decent for the price you'll pay, just don't expect very high quality sound and you won't be disappointed. I think most people, especially those just using two speakers now, will be more than happy with these.
For my installation I had to use extra cables to extend the length of the front speaker wires as they were just a little too short, so that might be a problem for some people.
You'll most likely need to buy an extra cable to be able to hook up devices like MP3 players to the sparkers since it doesn't come with a cable to do so.
Pros:
+Power switch on remote
+Inputs / Outputs on remote
+Simple installation
+Seems well made
+Decent sound
Cons:
-Right/Left speaker cables a bit short
-Does not include audio cable for external devices
-No treble adjustment
| | |
| --- | --- |
| Grades: | |
| Overall | |
| Design | |
| Performance | |
To learn more about our review policy please visit this page HERE.