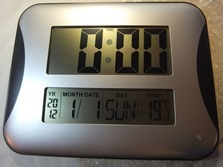 Up for review today I've got another clock from Hippih, this one is much bigger than the last one but it shows the same information like time, date, and temperature. The clock seems nicely made, but it's just a bit too big for my tastes. Read on to learn more…
Specifications and Features
The clock is very large at 9.75 x 12.75 inches in dimensions with a thickness of about 1 inch. The clock is made of plastic as you'd expect and I guess it looks decent, it's mostly silver with black on the sides. The front is divided up into two parts, the clock and then the information bar below that. The clock section is about 7.5 x 3.25 inches with the clock numbers measuring at 3 inches each. The information bar is divided into four sections for year, month/date, day and then the temperature.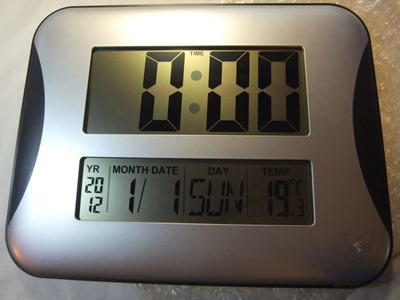 On the back of the clock you'll find three holes for mounting the clock on the wall if you wish but there's also a fold out stand so you can set in on a desk or wherever. The control panel is located in the center with with six buttons for Mode, Set, Up, Down, C/F and Alarm and they're all self-explanatory really. It's nice to see both up and down buttons so you can more easily set the clock or alarm. The battery compartment is located right below the controls and you'll need four AA batteries for power.
Conclusion
I've had this clock for almost one month now and I set it to my computer clock and it's still showing the same time so I'd have to say it's accurate, at least so far anyway.
The temperature is nice to have there but it's not exactly accurate, about degrees lower than what my other thermometer says. I guess it's fine to give you an idea of the room temperature though.
The clock is easy to set, the buttons are large and easy to press.
I don't care for the size of it, specifically the whole thing, it just seems there's a lot of wasted space around the actual clock. I would have much preferred just the clock with a smaller frame.
Pros:
+Good viewing angles
+Keeps accurate time
+Shows time, date, day and has an alarm
+Looks nice
+Simple setup
+Stand or wall mount
Cons:
-Really big, mostly frame
-Temperature not quite accurate
| | |
| --- | --- |
| Grading | Scores Out of 10 |
| Overall | |
| Design / Aesthetic | |
| Value / Price | |
| Performance / Usage | |
Disclosure: This product was given to me for review by the company for review purposes only for free or at a discounted price.
To learn more about our review policy please visit this page HERE.