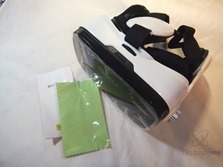 Up for review today I've got a very nice pair of VR glasses from a company called Kedsum and they are the Z4 Bobo VR glasses and what makes these special is the fact that they have headphones built right into them. The headphones are a great addition and they work great and they sound good. The headset also has a button to use in apps and games so there's no need for an external controller. The Bob VR headset is very comfortable to use and has adjustments for focus as well. All in all these are great set of VR glasses in my opinion, they work great and they're comfortable. Read on to learn more…

Specifications and Features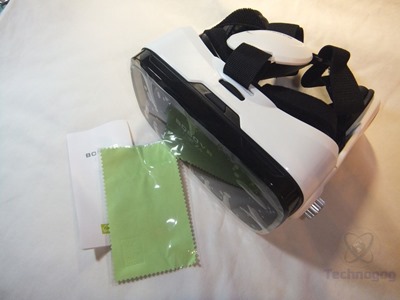 The straps are attached to the top and sides with a round plastic section on the top that's padded underneath where it will touch your head. The headset is bigger than the standard cardboard ones of course and it's made of plastic making it heavier, but it's not overly heavy. Overall they seem well made and durable, there's no unfinished parts or anything like that, they look very nice really.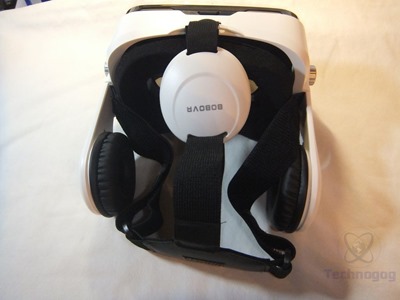 On the top of the headset you'll find the push button lock that holds the front section closed and secure, also here is an adjustment dial to change the distance of the lenses inside, moving them away and towards each other.
On the bottom of the headset you'll find a volume control slider and a button to use in VR applications and games. The button is spring loaded and does require slight force to press. Once note here is hat the nose piece section doesn't have any padding at all, not sure why it's not padded as it needs to be.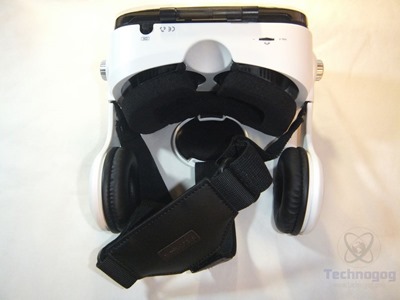 The straps are very easily adjustable as they're velcro and they're elastic and they're soft making them comfortable to wear.
On the right and left side of the headset are silver knobs used to adjust the focus of the lenses, move them forward and back essentially. On the right and left side you'll also find the built-in headphones that can slide in and out to be adjusted to fit your head. The headphones are padded well for comfort and the sound is decent.
The lenses are surrounded by a soft and rather thick sponge style padding which is comfortable on the face.
The front has a door that locks securely closed with a push button style lock and it will hold your phone securely in place. The front door is semi transparent, it's smoke colored but there is no opening for the camera. The camera can see though the cover but it's not exactly clear or the best for any type of AR functions. Inside of the front section you'll also find a 3.5mm audio jack attached to a spring style cable which you'll connect to your phone for audio through the headphones. Inside of the front section is a place to store the connector when not in use, you just plug it in basically. There are cutouts on the top and bottom and right and left sides of the front cover to allow airflow to keep your phone cool.
I used the Z4 VR glasses with my Samsung Galaxy S6 Android phone and the Google Cardboard apps and games. I should note they did not include any QR code to scan so you can sync with the Google cardboard but everything seemed to work fine even without it.
The headphones sound great and I really like having them built-in, it just makes life easier I think and they are very comfortable. They can be adjusted easily and they stay where you adjust them to.
The button is a nice addition, I don't know why all VR headset don't have buttons, it makes no sense to me. The button though does take some time to get accustomed to as it's fairly hard to push in, but after a few minutes I figured it out easily enough.
The front section that holds the phone in place does so very well, it locks securely and you can easily take the phone in and out by just pushing the button.
The headset itself is very comfortable to wear for the most part, there is no nose padding and after a long time use I did start to notice the hard plastic pressing on my nose. I'm sure I could add some type of padding if I really wanted to, it should be easy. The foam around the lenses is nice and thick and very soft making it very comfortable for long periods of use.
Conclusion
I can easily recommend these VR glasses as I find them well made and very comfortable to wear for long periods of time, despite not having padding on the nose section, but that can be easily fixed yourself if you really wanted to.
The addition of the headphones is great feature, they work well and they sound great and they're comfortable. Sadly I could not get the volume button to work for me with my Android phone, not sure why.
Yes there is no QR code for sync but I didn't find any problems using these without the code to sync.
All in all these are a great set of VR glasses.

Pros:
+Nicely made
+Look nice
+Built-in headphones
+Width and focus adjustments
+Holds phone securely
+Easy to adjust
+Comfortable
+Has physical button
+Fairly lightweight
Cons:
-Volume control does not work
-No padding for nose
-No opening for camera for AR
-No cardboard code or link to sync
| | |
| --- | --- |
| Grading | Scores Out of 10 |
| Overall | |
| Design / Aesthetic | |
| Value / Price | |
| Performance / Usage | |
Disclosure: This product was given to me for review by the company for review purposes only for free or at a discounted price.
To learn more about our review policy please visit this page HERE.