Today Kingston just launched their first USB 3.0 flash drive called the Data Traveler Ultimate 3.0 and I've got it for review, specifically the 64gb version. This is, as I said, the first USB 3.0 flash drive from Kingston, so I was very curious as to how it performs and it does well. The DT Ultimate 3.0 exceeds the speeds that Kingston has listed in the specs, which is of course a very good thing and something that I'm glad to see. It's Kingston though so I expected them to well honestly…. Read on to see the drive itself and see the test results for yourself.

The Data Traveler Ultimate 3.0 comes packaged in the familiar sealed plastic clamshell style package. On the front you can see the drive itself, and on the back you can see a USB cable along with some basic information.
When you open it up you'll find the drive, a 'Y' style USB cable and a small lanyard.
The 'Y' USB cable can be used with USB 2.0, actually it says to use it with USB 2.0 and not to plug it into a USB 2.0 port. The cable has one thick wire and one thin one, one is data and one is extra power. This isn't true all of the time though, you may be able to use the DT Ultimate 3.0 without the cable on USB 2.0. I found I could use it without the cable on USB 2.0 ports in my system.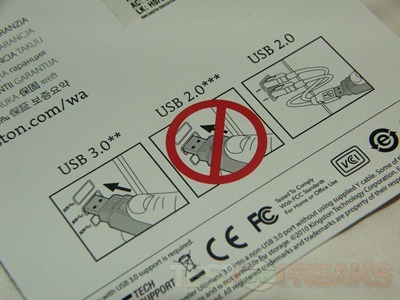 The drive itself is plastic and aluminum, and it feels very well made. It's solid and sturdy. On the front you'll see a the DT Ultimate 3.0 logo plate and on the back is the Kingston logo. On the end of the drive is a large hole for the lanyard, keychain or whatever. The cap can attach to the back end for storage while in use.
The top pops off to reveal the blue USB 3.0 connector.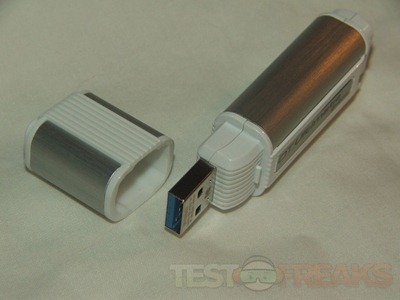 Specifications:
DTU30/64GB
-64GB USB 3.0 Flash drive
Ultimate Performance expands new worlds.
Kingston's DataTraveler Ultimate 3.0 (DTU30) features the latest technology for USB Flash drives, making it ideal for early adopters who want to take advantage of all the performance improvements offered by USB 3.0 right away.
The DTU30 is the perfect solution for easily storing and quickly transferring all your documents, high resolution photos, HD video, and more. It's exceptionally fast and easy to let you keep data with you wherever you go.
USB 3.0 offers the same ease-of-use and plug and play capabilities as previous generations of USB technologies but with a performance increase and better power management. This USB 3.0 drive is backwards compatible with USB 2.0.
DTU30 is backed by 24.7 tech support, a five-year warranty and legendary Kingston reliability.
Features/Specifications:
* Capacities – 16GB, 32GB, 64GB
* Requirements – system with USB 3.0 port
* Fast – data transfer rates for USB 3.0 to 80MB/sec. read and 60MB/sec. write; USB 2.0 = 30MB/sec. read and 30MB/sec. write
* Backwards compatible – with USB 2.0.
* Dimensions – 2.90″ x 0.87″ x 0.63″ (73.70mm x 22.20mm x 16.10mm)
* Operating Temperature – 32° to 140°F (0° to 60°C)
* Storage Temperature – -4° to 185°F (-20° to 85°C)
* Simple – just plug into a USB port
* Practical – durable casing with a solid lanyard loop
* Guaranteed – five-year warranty
Price: $208.86   (From Amazon at time of review)

In use there is a rather bright blue LED in the end of the drive. It lights up solid when connected and then blinks for activity.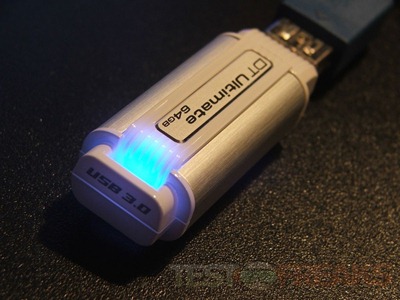 USB 3.0 is rather new, and I've got no other USB 3.0 drive to compare the DT Ultimate 3.0 to, so I'm just testing the speeds here and trying to see if it meets the specs that Kingston has set forth for it.
First up I used ATTO Disk Benchmark.  I ran three tests actually here, one on USB 3.0, one on USB 2.0 with the 'Y' cable and one on USB 2.0 without the 'Y' cable to see if there were any differences or if the cable was needed in my system, and it wasn't needed. The drive worked fine on my USB 2.0 ports without the cable.
On the package Kingston lists speeds of 80mb/s read and 60mb/s write for USB 3.0 and 30mb/s read and 30mb/s write for USB 2.0. On USB 3.0 I managed to hit 91mb/s read and 70mb/s write speeds which is well above the specs Kingston states for this drive. On USB 2.0 I hit 33 MB/s read speeds and only 25MB/s for the write speed. I didn't hit the 30Mb/s write as Kingston says it should but still 25MB/s isn't bad for a USB drive. I did though exceed the 30Mb/s read speed which is good.
Next up I ran CrystalDiskMark to see what it tells me. I didn't run the tests again with the adapter as it wasn't needed.
I got similar results here with this test, above specs for USB 3.0 and almost the same for USB 2.0 for the Sequential read/write test.
Finally I ran the Read Test on HD Tune to see what kind of performance I could get.
HD Tune gives you the average speed as well as minimum and maximum speeds. We hit 32mb/s and averaged 30.1mb/s on the UBS 2.0 interface. On the USB 3.0 connection I hit a maximum of 84 MB/s with an average of 71.3mb/s.
So not bad overall I would say, I'm happy with it anyway.
One thing I did notice is that while in use the drive gets very warm. Room temperature was 24C/75.2F, I used as non-contact infrared thermometer (ThermoHawk 200) to check the temps on the DT Ultimate 3.0 and it averaged 37C/98.6F during testing or usage. 98.6F might seem hot but that's your average body temperature anyway, still though going from 75F up to 98F is rather large jump. We know heat isn't exactly something that electronics like very much, but I think it'll be fine. The Kingston specs state operating temperature maximum of 140F/60C, so hitting 37C we're way below that and safe.
The price of this drive might be a concern to some. Kingston lists it on their site as $270, but Amazon has it for $208, still that's a bit high for a USB drive, but as with any new tech prices are high when it first comes out. The 32gb and the 16gb versions are much cheaper of course though.
Conclusion:
The Kingston Data Traveler 3.0 USB 3.0 flash drive exceeds specifications, what more could you ask for really? The speeds are excellent, coming in well above the rated specs. The drive itself is nicely made, it's solid and feels very sturdy while being aesthetically pleasing as well.
This is the first USB 3.0 drive for Kingston and it's decent for a first attempt truly. I'm happy with it, it's work fine.
Some might have to use the 'Y' USB 2.0 cable, but most likely that will only be a concern with laptops as most desktop PCs will provide enough power on the USB 2.0 ports for use of this drive.
I would however work on the heat issue, it does feel very warm to the touch, and to some that might be a bit disconcerting.
The price is high, but that's to be expected for a new technology/new product, give it a month or so and the price will drop as does all technology.
Pros:
+Very nicely made
+Exceeds specifications
+Fast transfers
Cons:
-Drive gets very warm when in use
-May have to use adapter cable
-Expensive
| | |
| --- | --- |
| Grades: | |
| Overall | |
| Design | |
| Performance | |
To learn more about our review policy please visit this page HERE.