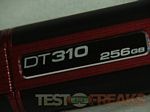 They say size doesn't matter, but I think it does… at least when it comes to a USB drives, and I'll leave it at that… I've got an exclusive review for you, our friends over at Kingston have sent me a rather expensive USB drive, coming in at about $1100 it's not one that most people will be running out and grabbing anytime soon I'm sure, but it's one of the first on the market. So I've got my hands on the Kingston DataTraveler 310 256gb USB Flash Drive, and you know we love our flash drive here at technogog, and one like this gets us a little more than excited! Anyway, I've run my tests on it and compared it to some other drives I've got on hand and I can tell you that it performs better than even Kingston claims in does, I got faster speeds for both reads and writes, so read on to learn more…

The DT310 comes packaged in the familiar to us all sealed plastic clamshell style package.
Inside we find the drive itself along with a nylon strap so you can attach it to your keychain or wherever.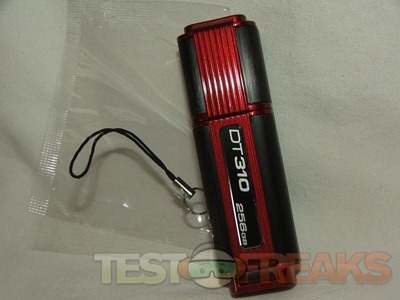 It's red and black and in color and it's made of plastic and metal.
Specifications:
Store more – with the highest capacity Flash drive available.
Kingston's new DataTraveler 310 USB Flash drive features 256GB capacity, making it the highest capacity drive available on the market. There's plenty of room for movies, high-resolution photos, applications, graphics and other large files – all on a compact device not much larger than a standard USB drive.
Kingston P/N: DT310/256GB
Features/Specifications:
* Capacity – 256GB
* Fast – data transfer rates of 25MB/sec. read and 12MB/sec. write
* Dimensions – 2.90″ x 0.87″ x 0.63″ (73.70mm? x 22.20mm x 16.10mm)
* Operating Temperature – 32° to 140°F (0° to 60°C)
* Storage Temperature – -4° to 185°F (-20° to 85°C)
* Simple – just plug into a USB port
* Convenient – does not require Administrator rights to access the Privacy Zone
* Safeguarded – includes Password Traveler
* Practical – loop supports most key rings
* Guaranteed – five-year warranty

When you plug in the DataTraveler 310 and check My Computer you'll find you've really only got 238gb of space free.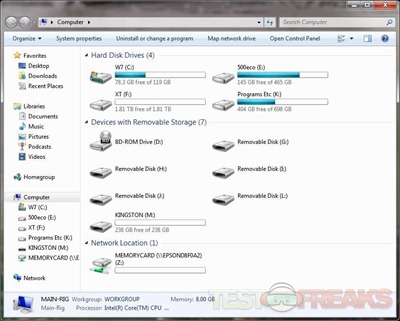 When you actually open it up you'll find a PDF file and the Password Traveler software to help secure your drive.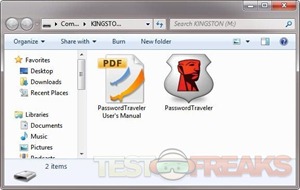 If you go back and look at the price of this USB drive you'll see it's a bit on the expensive side so I don't have many of these just lying around, but I do have a few 64gb drives for comparison. I've got the Kingston DataTraveler 150, the Patriot Xporter Magnum and the OCZ Rally2.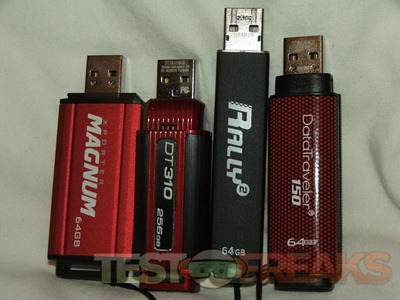 Since I've got USB3.0 on my system I'm testing the DataTraveler 310 and the other drives on both USB2.0 and USB3.0.
So we'll start off with the USB2.0 results and ATTO Disk BenchMark.
As expected and as with any USB drive, the smaller ones are the fastest so there's no surprise there. There is a surprise however when we look at the actual speed of the DT310, they're faster than what Kingston claims them to be which is a good thing of course.  The specs for the DT310 claim speeds of 25mb/s read speeds and 12mb/s write speeds, here we can see it hit 27mb/s and 17mb/s read/write.
The next test I used SiSoft Sandra 2010 Portable Edition Removable Storage Test.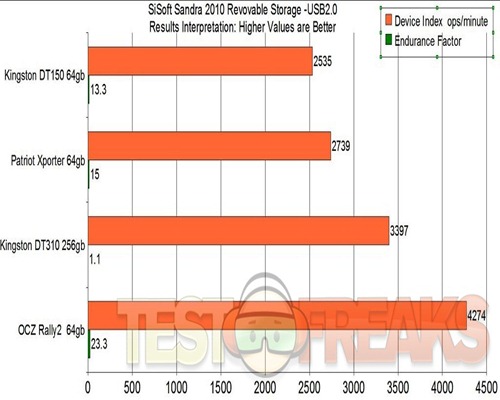 According to this test the DT310 is fairly fast coming in second place, not too shabby…
Next up is the tests using USB3.0 just because I'm curious and so you can know what to expect when everything moves to USB3.0…
I'm using a Gigabyte branded USB3.0 PCIE card, the review of which you'll see soon.
Again we'll start off with ATTO Disk BenchMark.
Again the other drives are a bit faster, but we also see that the DataTraveler 310 got faster as well we gained about 1mb/s in write speed and about 3mb/s in read speed on the USB3.0 interface.
…and finally here's Sandra again: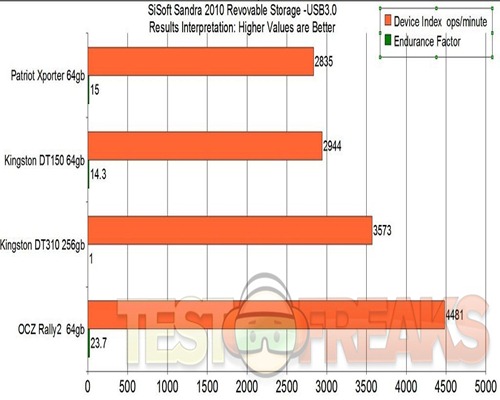 Here again we see the ordering remains the same with the DT310 coming in second place, not bad. All of them though perform a little bit better while on the USB3.0 interface.
I have to mention the price here, yes it's a bit over the top at $1108.00. If we do the math that comes to about $4.33 per gigabyte which is well, outrageous, even SSDs aren't priced that high. The OCZ 1TB SSD drive runs about $3.80 per GB, but then again it's not exactly portable is it?!
Though if you check over at Amazon, the DT310 is going for about $878.95 and $999.99 from two different sellers.
Conclusion:
So I need to conclude this review here, and well there's not much more to say that I haven't really covered above…
There's no doubt that the Kingston DataTraveler 310 is a big drive, it's relatively fast and it's well made so it has the makings of a good flash drive overall.
It looks good and it seems well made, the metal and plastic housing seems sturdy and rugged so I can give it a 10 rating for the Design.
The performance is better than expected yes, it's performs even better than Kingston states it will, but it's still not that fast when compared to others out there so I'd have to give it a 9 for Performance and an overall 9 as well.
Pros:
+Well made
+Faster than spec speeds
+Largest USB drive on the market
Cons:
-Expensive
| | |
| --- | --- |
| Grades: | |
| Overall | |
| Design | |
| Performance | |
This product was given to technogog for review by the company for review purposes only, and is not considered by us as payment for the review, we do not, and never will, accept payment from companies to review their products. To learn more about our review policy please visit this page HERE.