Keeping with the recent slew of SSD reviews at technogog, today we will be looking at the most recent solid-state drive release from Kingston. The SSDNow V+200 Drive is a SATA 3.0 drive that is targeted for both the corporate and high-end consumer segments.
This SSD features the SandForce Processor to help provide optimal quality and performance. In fact this drive uses the same SandForce 2281 controller found in their HyperX SSD. The main difference between the two drives is the lower endurance of the V+ 200 as it uses Intel 3K P/E 25nm Asynch NAND while the enthusiast aimed HyperX SSD uses Intel 25nm Compute-Quality MLC NAND (5k P/E Cycles).
The SSDNow V+200 Drive has advertised read speeds of 535 MB/s using SATA 3.0 and 280 MB/s on SATA 2.0. The write speeds are 460 MB/s for the 60 GB version while all other capacity models have write speeds of 480 MB/s via SATA 3.0 channel with write speeds of 260 MB/s on SATA 2.0 for all variants.
Since it is a Sandforce drive, this SSD has RAISE (Redundant Array of Independent Silicon Elements) which helps keep your data safe and DuraWrite to help extend the endurance of the SSD.

The Kingston SSDNow V+200 Drive performance upgrade kit comes packaged in a blue cardboard recyclable package with an image of the drive on the front along with the Sandforce logo on the bottom left, the drive capacity is found on the bottom right. Kingston offers a three-year warranty on these drives which is advertised on the front and sides of the box. On the back we see a description of features in several different languages along with a listing of the package contents.
Inside the package we find the 2.5" SSD, a 2.5" USB enclosure, 3.5" mounting brackets and screws, SATA power and data cable and a installation guide CD with hard drive cloning software. If you ever have used a Kingston SSD upgrade kit then the contents of this package will look very familiar.
On the front of the SSD drive is the Kingston head logo along with the drive capacity printed in the center. A standard SATA power and data connector is found on the back. On the bottom we find four screws keeping the SSD enclosure sealed and four additional screw holes for mounting the SSD drive onto the included 3.5″ drive brackets.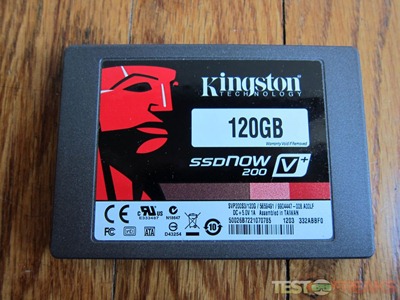 Kingston offers the SSDNow V+200 Drive in 60GB, 90GB, 120GB, 240GB, and 480GB capacities. For our review we will be looking at the 120 GB model.
Specifications:
Kingston SSDNow V+200 120GB SATA III 2.5" SSD
SSDNow V+200 Drive Kingston's SSDNow V+200 is designed for everyday business — but there's nothing ordinary about it. This innovative drive features a second-generation SATA Rev. 3.0 SandForce Processor for best-in-class sequential read/writes combined with Asynchronous NAND for exceptional quality and performance at an affordable price. It's the perfect balance of performance and affordability and easy to integrate into corporate asset refresh cycles. V+200 offers Data Integrity Protection that features DuraClass Technology plus RAISE for advanced data reliability. V+200 is available in a range of capacities to meet your business needs.
Features:
Multiple capacities — the right capacity to meet your storage standards
Endurance — Data Integrity Protection featuring DuraClass Technology
Dependable — RAISE for advanced data reliability
Secure — Self-Encrypting drive
Durable — DuraWrite optimizes writes to extend endurance
Guaranteed — three-year warranty
Specifications:
Form factor: 2.5"
Interface: SATA Rev 3.0 (6Gb/s) , SATA Rev 2.0 (3Gb/s)
Capacities1: 60GB, 90GB, 120GB, 240GB, 480GB
Sequential reads:
SATA Rev. 3.0 – 535MB/s
SATA Rev. 2.0 – 280MB/s
Sequential writes:
SATA Rev. 3.0 – 60GB – 460MB/s | 90GB, 120GB, 240GB, 480GB – 480MB/s
SATA Rev. 2.0 – 260MB/s
Sustained Random 4k Read/Write2:
60GB – 12,000/47,000 IOPS
90GB – 20,000/47,000 IOPS
120GB – 20,000/44,000 IOPS
240GB – 36,000/43,000 IOPS
480GB – 43,000/30,000 IOPS
Max Random 4k Read/Write2:
60GB – 85,000/60,000 IOPS
90GB – 85,000/57,000 IOPS
120GB – 85,000/55,000 IOPS
240GB – 85,000/43,000 IOPS
480GB – 75,000/34,000 IOPS
Warranty/support: three-year warranty with free 24/7 support
Power Consumption: 0.565 W (TYP) Idle / 1.795 W (TYP) Read / 3.230 W (TYP) Write
Storage Temperature: -40°C ~ 85°C
Operating Temperature: 0°C ~ 70°C
Dimensions: 69.85 x 100 x 9.5mm
Weight: 115 grams
Vibration Operating: 2.17G
Vibration Non-Operating: 20G
MTBF: 1,000,000 Hrs
The installation process is straightforward; if you have ever installed a SATA hard drive then you can connect the SSDNow V+200 Drive to your laptop or desktop. The drive comes unformatted which means it can be used with any operating system. The drive has TRIM as well as firmware level garbage collection to help keep the SSD running optimally even after several months of use.
For those who wish to copy their current Windows OS Kingston includes Acronis True Image HD, which makes cloning Microsoft's OS a breeze.
For testing the SSDNow V+200 Drive the following platform was used:
CPU: Intel Core i7 2600K
Motherboard: Asus P8P67 PRO
Memory: 8GB Mushkin DDR3 1300
Video Card: Galaxy 460GTX
Hard Drive: Western Digital 250GB 7200RPM, Samsung 1 TB 7200 RPM
PSU: Ultra X-Finity 1000 Watt Power Supply
The SSDNow V+200 Drive's performance was measured against an Intel X25-M SSD 80 GB with 250MB/s read and 70MB/s write speeds, a Kingston SSDNow V Series 30GB with write speeds of 30 MB/s and read speeds of 180 MB/s, a Verbatim SSD 120 GB (SATA 2.0) with read speeds of 270MB/sec and 225MB/sec write speeds and the reigning champ a Kingston Hyper X SSD 240 GB with write speeds of 510 MB/s and read speeds of 555 MB/s.
Benchmarking was accomplished using Anvil Storage Utilities Beta 11, ATTO Disk Benchmark and CrystalDiskMark 3.0.1 x64 and AS-SSD 1.6.4.
When looking at advertised SSD speeds most company's websites and packaging derive their values from ATTO Disk Benchmark as other SSD benchmarks tend to show more "real world" like results which sometimes show substantially different speeds.
For instance the AS-SSD benchmark uses incompressible data which tends to impact write scores predominantly with a lesser hit to the read results. CrystalDiskMark also uses incomprehensible data causing slower result values than advertised speeds.
ATTO Benchmark starts the testing. We see the two Kingston drives running pretty close with the HyperX coming out slightly ahead.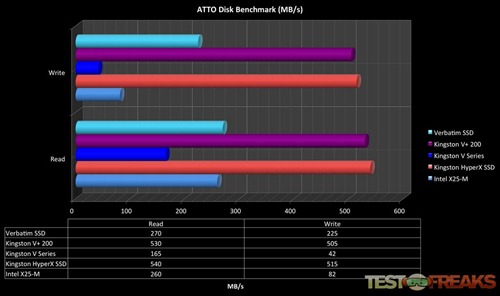 When I initially attached the SSDNow V+200 Drive to the ASUS motherboard it was connected to the Marvell SATA 3 ports that produced speeds between SATA 2 and SATA 3 rated values. It is definitely advisable to stick with Intel ports for SATA 3 at least until Marvell fixes their drivers.
Next up is Anvil Storage Utilities using the 4MB Sequential Speed test we see that the V+ Series was neck and neck with its brother the HyperX in write speeds.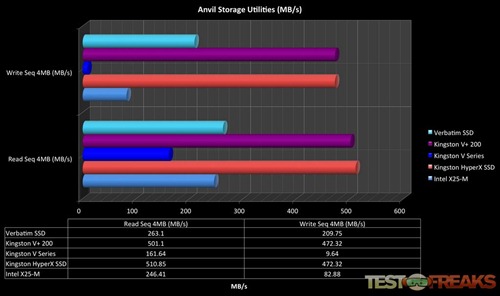 Here are the Anvil results measuring the IOPS (Input/Output Operations Per Second)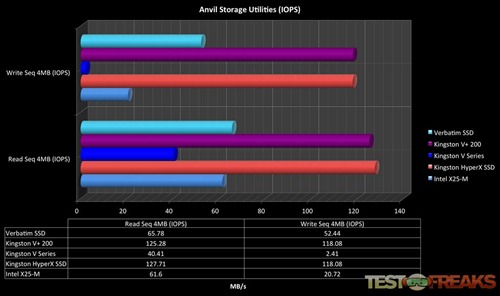 Here are the results for Crystal Disk Mark. On this Benchmark the HyperX easily bests the slower SSDNow V+200.
Finally we look at AS-SSD which shows the SSDNow V+200 slightly closer to the HyperX SSD.
In real world use these benchmarks will not mean much as the user experience is what people will usually notice; how fast a program opens, how quickly the OS boots up, etc. Running the Kingston SSDNow V+200 as the OS X and application drive on a older Mac Pro (Dual Core 2.66 GHz Xeon x2) the machine was able to get up running from a cold start in less than 45 seconds. Applications booted 2-3x as fast compared to running off a standard hard drive.
Conclusion:

The Kingston SSDNow V+200 Drive is a worthy performer as it is close in performance to the enthusiast branded Kingston HyperX SSD. While there are some performance tradeoffs you may notice them unless running side by side with an enthusiast SSD.
Kingston has recently priced their SSD models to be competitive in this increasing crowded market. If you don't mind rebates then you can grab this solid state drive for around $1/GB, which is fantastic considering, a few years ago $2-3/GB was the norm. Of course these prices are for the standalone SSD, if you want the bundle it will raise the price usually from $10 to $20.
More motherboards and laptops are coming with SATA 3.0 connections; it would be foolish not to take advantage of these speed gains. The SSDNow V+200 Drive is a great way to add speed without paying a premium.
Pros:
+Includes upgrade kit and cloning software
+Fast speeds
+Competitive pricing
+Three year warranty
Cons:
-None
| | |
| --- | --- |
| Grades: | |
| Overall | |
| Design | |
| Performance | |
To learn more about our review policy please visit this page HERE.