Today for review I've got the Kinivo ZX120 mini portable speaker which is just like it sounds, a small speaker you can take with you. The ZX120 is basic but it's inexpensive, it's not wireless but it does have an integrated 3.5mm audio cable so you don't have to take one with you. The battery life is excellent at ten hours on a single charge and the ZX120 is well made and even comes with a carrying case. Read on to learn more..
Unboxing
Let's start with a quick video unboxing and then the regular unboxing.
The packaging looks fine, a nice large window on the front to show you the ZX120 and then some basic info on the back.
Inside of the box you'll find a carrying bag, the speaker, user manual and a combination audio and USB cable.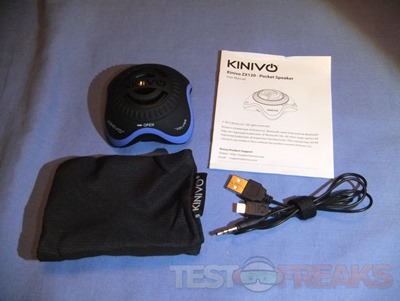 The carrying bag is just cloth with a drawstring on it.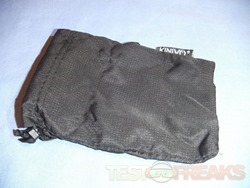 Here's the USB cable, it's a 'Y' style with a single regular USB connection that splits into a microUSB connection and a 3.5mm audio connector. You can charge and use the ZX120 at the same time, or you can use the audio cable alone.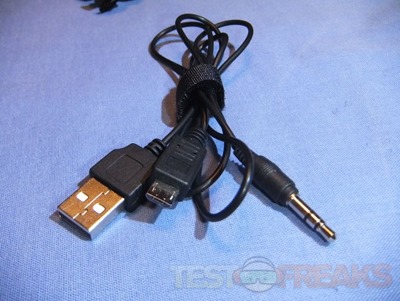 Here's the top view of the ZX120 and you can plainly see the speaker but it has a protective band across it with the Kinivo logo.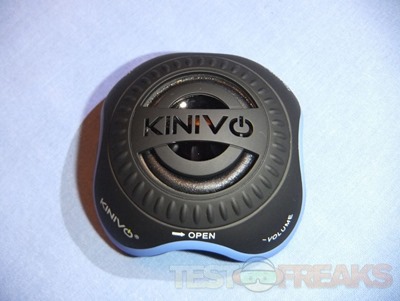 On the bottom edge you'll see a blue band which is actually three buttons for power and volume up and down.
The Kinivo ZX120 can expand for enhanced bass. To open it up you just twist and it pops up, push and turn to close it again.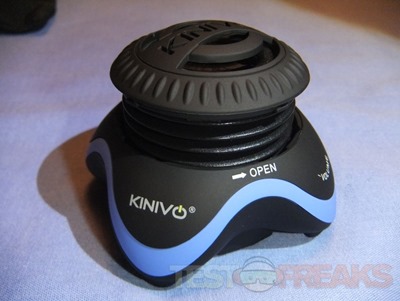 On two of the sides you'll find a microUSB port for charging, an LED and a 3.5mm audio jack. The audio jack is so you can chain several ZX120 speakers together for more and even better sound.
On the bottom you'll find the ID label and a shorter 3.5mm audio cable to connect to your devices.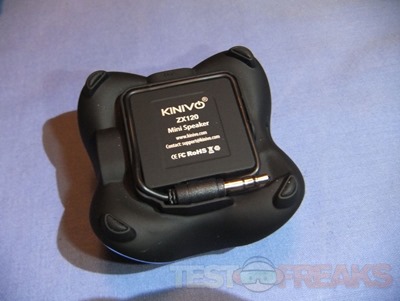 Specifications and Features
Kinivo ZX120 Mini Portable Speaker with Rechargeable Battery, Enhanced Bass Resonator and Long Cord
The Kinivo ZX120 Mini speaker is designed to provide full-bodied 360 degree audio in all directions. The ZX120 is a compact pocket sized speaker with an expandable bass resonator that provides superb low frequency (bass) output. The ZX120 contains a built-in lithium ion battery, making it an ideal speaker for listening to your music anytime and anywhere.
Key Features:
New and Improved Design: Uniquely integrated, longer built-in 3.5mm audio cable and expandable resonator for bass enhancement
Modular Speaker Design: Connect multiple ZX120s together to improve your audio experience
Increased Battery Life: Enjoy music with long-lasting battery life up to 10 hours of high volume music playing time
Portability: Compact design with built-in audio cable provides maximum portability and convenient storage
Operating Instructions:
1. Power On: Press and hold the colored strip under the Power icon for 5 seconds till you see the blue LED
2. Play Music: Connect the 3.5mm connector on the bottom of the speaker to your mp3/music device and start playing music
3. Volume: ZX120 starts at 50% volume. Press and hold the colored strip under the Vol+ icon on the speaker to increase volume
Device compatibility
– All iPhones, iPods, iPads
– All MP3 players, CD players, laptops, notebooks, tablets, smartphones, and other music devices with a 3.5mm audio socket
– Android smartphones – HTC, All Droids, Samsung, and more
Note: ZX120 is a wired speaker and does not support Bluetooth
What's in the Box:
-Kinivo ZX120 speaker
-Audio and USB charging cord
-Carrying Pouch
-User Manual
Warranty: ZX120 is backed by 1 year warranty.
MSRP: $19.99 (from Kinivo at time of review)
Price: $19.99 (from Amazon at time of review)
Testing and Usage
The first thing to do is charge the ZX120 and that's done with the included microUSB cable and it takes about three hours if the battery is depleted. On a single charge you should get about ten hours of playtime, which is very good. When charging the LED lights up red to let you know it's working.
When powered on the LED lights up a very bright blue.
For testing I used the ZX120 with my ZuneHD and my HTC One.
The ZX120 is not Bluetooth so the only connection required is a 3.5mm headphone jack, very simple to connect. The cord might be considering short, at least I think it's a bit too short, but you can use the USB cable which has the audio connection on it and it's longer. Then again having to use the longer cable sort of defeats the purpose of having one integrated into the speaker. The ZX120 does have an integrated audio cable so you won't have to carry one with you.
Anyway, the sound varies on the type of music you're listening to. Overall the sound isn't bad but very bass heavy music will be distorted at high volume levels. All in all the sound is fairly decent with good bass and it's clear.
The expander or resonance chamber is meant to add more bass, and it does, but I found that a lot of bass can make the sound distorted, very distorted to the point where you can't really make out the words in the music. That is only at max volume though with bass heavy music.
Kinivo does include a cloth carrying bag, but it is just cloth so I'm not sure how much protection it will actually offer.
Conclusion
The Kinivo ZX120 speaker is about as basic as you can get and that's not a bad thing, sometimes that's all you need.
Yes the speaker is not wireless but it costs about $20 and it's well made.
The ZX120 offers up to ten hours of battery life on a single charge which is very good.
The integrated cord is nice, but it's rather short, then again you might not need a long cord either. It's nice having the cord right there and not having to worry about carrying or even losing one.
The cloth carrying bag is a nice touch I guess but it's not exactly going to protect it, it is just thin cloth. The ZX120 though does seem rugged and sturdy and the actual speaker is protected from damage by the crossbar.
Overall the ZX120 isn't a bad little speaker, it does have decent sound and it's well made.
Pros:
+Small and portable
+Simple to use
+Integrated audio cable
+Can chain together
+Carrying case included
Cons:
-Not wireless
-Cord is a bit short
-Sound distortion at loud volumes
| | |
| --- | --- |
| Grades: | 8 out of 10 |
| Overall | |
| Design / Aesthetic | |
| Value / Price | |
| Performance / Usage | |
To learn more about our review policy please visit this page HERE.