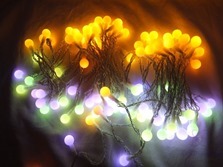 It's been awhile since I'm looked at any LED lights and I've got a neat globe set from Koopower today for review. These LED lights are globe shaped obviously, but they have six modes and even a remote control. The string length is 39 feet and they can be great for holidays or just whenever you feel festive. Read on to learn more…

Specifications and Features
Koopower 39ft 100 LEDs Indoor Colorful Globe String Lights with Remote and Low Voltage Plug (6 Modes, Dimmable, Timer) RGB Multicolor
Think all string lights for Christmas, weddings, parties and other holidays and events are all the same? Think again! The KooPower Colorful 100 LED Globe Fairy String Lights feature an eco-friendlier, safer and smarter design that makes them the perfect choice for all of life's occasions.
The KooPower Multicolor Globe String Lights is a 39 feet strand light set that includes 100 LED lamps. Its clear wire blends in with the surroundings, keeping the emphasis on the lights. Thanks to their advanced LED technology, the lights can shine with 6 different modes:
– Warm White Steady
– Warm White Flash
– Multicolor Steady
– Multicolor Flash
– Warm white and color alternating
– Warm white and multicolor
A remote control makes setting the lights easy, and a Memory Function allows the lights to remember your previous setting every time that they turn on. You don't even have to spend time powering the lights on and off yourself. Their Timer Function automatically turns the strand on for 6 hours and then off for 18 hours every day.
Due to the use of LED technology, the KooPower 100 LED Globe Fairy String Lights are energy efficient and safe. The 31-volt lighting set can be plugged into a standard electrical outlet without worry. LEDs give off minimal heat, helping to keep conditions comfortable wherever you're decorating.
Illuminate your home for any occasion with just the right lighting.
Price: $18.99 (from Amazon at time of review)
The Review
Let's start with a video unboxing and demo of sorts:
The LED lights ship in a nice looking box, a Christmas looking box really, but that's fine as they're a festive product for sure. The lights are wrapped up in the box.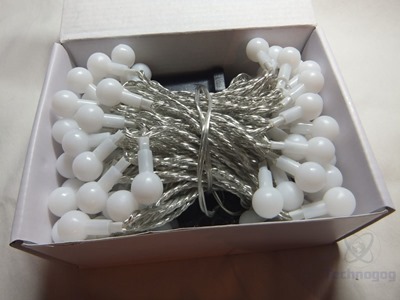 Once you get everything unpacked you'll find the lights, power adapter, user manual and the remote control.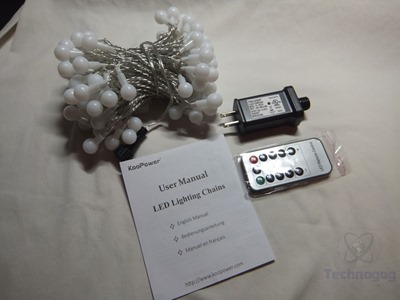 The power supply is interesting, the cable from the LED lights plugs into the power block and then you twist it to lock it in place. It should stay connected no matter what I'm sure. The lights can be controlled with the remote or by a button on the power box.
The remote is small, credit card sized, and it has functions for on, off, timer, the six modes and then dimmer buttons.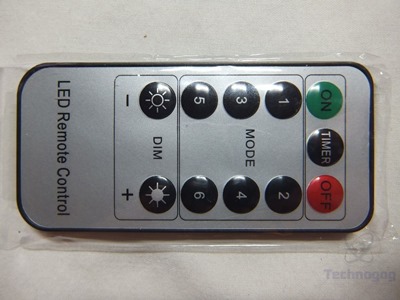 There are six modes, I can't really show you the flashing modes in the still pictures but if you watched the video you should have seen them in action. The modes are Warm White Steady, Warm White Flash, Multicolor Steady, Multicolor Flash, Warm white and color alternating and Warm white and multicolor. The lights are really bright, even the colored ones.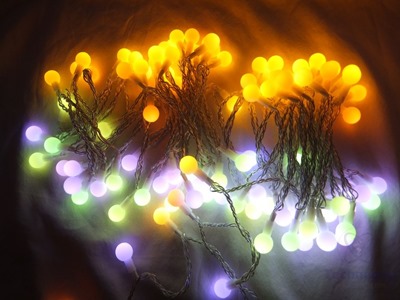 Conclusion
I'm a big fan of LED lights, it's the future really, but they generate a lot of light and only use a little power to do it.
These lights from Koopower have many uses, holidays, parties or just whatever really. The long length let's you put them most anywhere you need to with good coverage. The multiple modes give you options and color choices.
All in all this is a decent set of lights in my humble opinion. I like them, I can find nothing wrong with them.

Pros:
+Easy to use
+Bright and colorful lights
+Remote control
+Numerous modes
Cons:
-None really
| | |
| --- | --- |
| Grading | Scores Out of 10 |
| Overall | |
| Design / Aesthetic | |
| Value / Price | |
| Performance / Usage | |
Disclosure: This product was given to me for review by the company for review purposes only for free or at a discounted price.
To learn more about our review policy please visit this page HERE.