Keyboards are an integral part of our life and they come in many shapes and sizes and some have specialized uses. A little bit ago I was contacted by a new company and they asked me to review a few of their products, specifically wireless keyboards. Today for review I have a small and unique little keyboard from Koribo just called the Mini. It very much reminds me of a gamepad, it has a full keyboard, many special keys, a joystick for controlling the cursor and a touch sensitive slider for scrolling. It uses two AA batteries that are supposed to give you about three months of use. This little keyboard is perfect for an HTPC setup surely or just anytime you might need a little wireless keyboard.

The Koribo Mini Keyboard comes in a rather plain little box.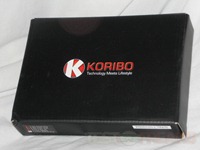 When you unpack everything you'll only find batteries, the keyboard and a user manual.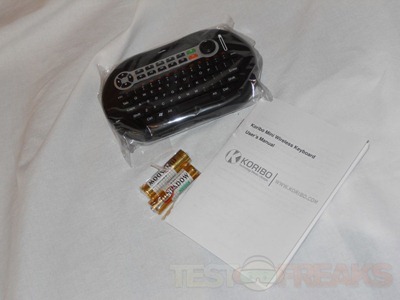 So here's the keyboard itself, it's small and it reminds me of a gamepad actually. At the top on the right is a joystick that controls the mouse, to the right of that is a touch sensitive slider for scrolling.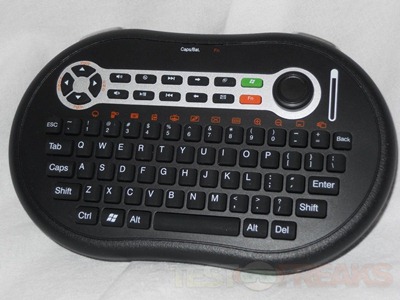 Here's a close up of the top section. On the top is the directional buttons, multimedia buttons, MCE and Function button. On the keyboard you'll see orange icons that are to be used with the Function button like magnify, close window, My Videos, My Pictures, My Music and more. The joystick is spring loaded, when you move it the stick springs back to the center position. At the very top of the board are two LEDs for Caps Lock and for the Function button to indicate them being in use or on.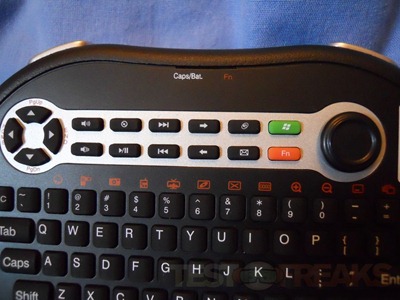 The mouse buttons are on the front of the keyboard, nice and big.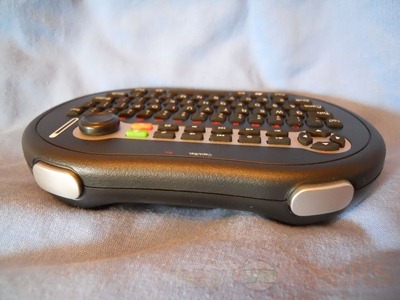 The back of the keyboard has handholds that are actually the battery covers, one on each side. The USB wireless receiver fits into a spot on the back as well. There is also a power switch and a reset button there as well.
Specifications:
Our new Mini RF 2.4GHz  wireless keyboard brings a new and innovative spirit to the world of HTPC control boards. A perfect keyboard and mouse that fits your hand, the keyboard is packed with over 30 easy-to-use shortcut keys and hot keys (see details below). It allows an amazing operating range of 10m/30ft, no matter where the receiver is placed – line of sight is not required!
The keyboard is designed to be held easily with one or two hands, and is equipped with a mobile-phone style keypad for easy thumb-typing which is very intuitive to use.
For those of you who seek a small, elegant solution that fits anywhere (smaller than some TV remotes!), and allows full control of your PC or HTPC, Mini is your best option!
Specs:
-Working Range 10 meter effective working range including transmission through walls – 15m / 50ft in open space.
-Batteries: Requires 2 x AA batteries for approx. 3 months of battery life (based on average 2 hour daily use of 2 hours)
-Sleep feature extends battery life.
-Low battery light indicator.
Media Center and Other Hot Keys
11 Hot Keys:
* Start Key to launch Media Center
* 4 Internet Hot Keys: WWW, E-mail, Back, Forward.
* 6 Multimedia Hot Keys: Volume Down, Volume Up, Mute, Pre-track, Next track, Play/Pause.
12 Embedded MCE Function Hot Keys are controlled by the "Fn Lock" key:
* 6 MCE Hot Keys: My Music, My Videos, My Pictures, My TV, My Radio, DVD.
* 6 Application Hot Keys: Close, Win select, Zoom +/- , Minimum, Flip 3D.
Mouse
"Joystick" style "thumb size" control, including a touch scrolling bar.
Left and Right Click buttons on the top for easy reach with the index finger.
Supported OS
Built-in Media Center hot key for use with Vista Media Center and Windows 7 Media Center.
Other operating systems may be supported as long as they comply with HID (Human Interface Device).
Technology
2.4 GHz radio frequency, 8 Channels with 16 bits, 65536 IDs per channel.
10,000,000 cycles per key with less than 10msec bounce time.

I used the Koribo Mini keyboard with my HTPC/Gaming computer running Windows 7 64bit. Installation is very very easy, just plug it in and let it install the drivers, I had no problems there.
I used it for the last week and found it to be very unique. The size is nice, it's nice and portable and fits comfortably in your hands. It really is like a gamepad I think.  The buttons are great little shortcuts for having just about everything your need access to right at your fingertips.
The range is fine for my uses, I can easily control the computer from across the room. I did find that the joystick isn't exactly accurate. When you first turn it on the cursor is very slow, but you can go into the Windows control panel and adjust the cursor speed.  I changed the speed and it seemed to get worse actually, yes it was faster but it was even less accurate. Using it can be frustrating trying to get the cursor to the right spot, like hitting the X to close a window or a check box. It's the small stuff really that can get annoying without pinpoint accuracy.
Don't get me wrong though the joystick works to control the cursor, I think it just needs to be a bit more accurate overall.
Typing on it is fine, no problems there, it works just as a keyboard should. The keyboard reminds me of like that on a phone, it's small but you'll get accustomed to it after a while.
Conclusion:
If you've ever used a gamepad then you should be able to pick up the Koribo Mini keyboard and you should be just fine with it.
The Mini is nice honestly, it feels well made, it's lightweight and it really does work well.
The joystick or mouse could use a bit of work though, it's not as accurate as I would like it to be. Personally I am accustomed to rather expensive laser mice, so I might be a bit oversensitive to the whole thing though.
If you're looking for a wireless keyboard then I think you might be happy with this really, it's not bad overall. I like it and I'm going to continue using it.
Pros:
+Small and easy to use
+Touch sensitive slider for scrolling
+Lots of buttons
+Decent range
+USB receiver stores on back
+Feels like a gamepad
Cons:
-Mouse accuracy needs a bit of improvement
| | |
| --- | --- |
| Grades: | |
| Overall | |
| Design | |
| Performance | |
To learn more about our review policy please visit this page HERE.