Today for review I'm back with the final of three wireless keyboards from our friends at Koribo.  This one is called the Vivar and it features a trackball as the mouse along with thirteen multi-media keys, scroll wheel and two sets of mouse buttons to round it all off. It has a nice soft rubberized surface to make sure you keep your grip, and all the while it provides you with the comforts of a full-sized keyboard.

The box is decent looking with information and pictures on it.
Inside you'll find the keyboard itself, UBS cable, 1600mah rechargeable batteries and a user manual. The Vivar uses regular style rechargeable batteries or it can use AA batteries if you want, it charges via USB.
Here's the keyboard. On the right side the the trackball and the left side are your standard right and left mouse buttons.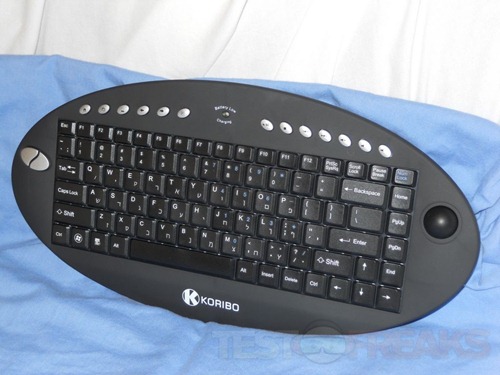 Above the keyboard are the 13 media keys for Pre-Track, Next Track, Stop, Play/Pause, Mute, Volume Down, Volume Up, Close, Pre-Page, Next-Page, WWW, E-Mail, and My Computer.
On the front edge you'll find a single button on the right side where the trackball is, this is your standard left mouse button. In the middle is the connect button, USB port and a Gaming/Normal switch (not sure what that's for exactly..). On the left side, where the two mouse buttons are, you'll find the scroll wheel.
On the bottom is where you'll find the battery cover and two hand holds.
Removing the battery cover reveals the USB wireless receiver which is about the size of a small USB flash drive. You can store the receiver inside when not in use.
Specifications:
Vivar is a premium wireless, streamlined, media-control, full-featured keyboard with an optical trackball and dedicated media and internet keys. Vivar is provided with NiMH rechargeable batteries that can be charged, while installed in the keyboard, using a supplied USB cable.
This great keyboard has a working range of over 10m/30ft., even through walls, which enables to place the computer in a different room than the TV. The keyboard is very easy to operate on your lap or even while handheld. Effortless typing allows you to breeze through your emails, browse your favorite web pages and control your media applications.
Vivar is coated with a thin layer of rubber for a high-end finish and is also provided with non-skid rubber pads for desktop typing.
For those seeking a single wireless control board with optical trackball mouse, Vivar is the best option!
Technical Details:
Working range: 10 meter effective working range including transmission through walls – 15m / 50ft in open space.
Batteries: Requires 2 x AA batteries.
The keyboard is provided with NiMH rechargeable batteries.
Batteries can be charged, while located in the keyboard using a supplied USB cable.
Sleep feature extends battery life.
Low battery light indicator.
Multimedia Keys and Internet Shortcut Keys: Pre-Track, Next Track, Stop, Play/Pause, Mute, Volume Down, Volume Up and a special switch-to-gaming key, Pre-Page, Next-Page, WWW, E-Mail, My Computer.
Mouse: Optical Trackball: 25mm,  1000 DPI
OS supported:
Supports Windows 2000 and later. Other operating systems may be supported as long as they comply with HID (Human Interface Device). Linux (except for Windows hot keys).
Technology:
2.4 GHz radio frequency, 8 Channels with 16 bits, 65536 IDs per channel.
10,000,000 cycles per key with less than 10msec bounce time.

So let me say two things first off that I don't particularly care for about this keyboard. The first is the shape, it just feel weird, I think because it's so large. It is a full sized keyboard so it's meant to be big, but to me a wireless board should be small. At least that's my opinion of what I think a wireless keyboard should be.
The second thing I don't care too much for is the weight, this goes back again to being such a large product I would guess. Personally I think something like this should be lightweight and not as heavy as the Vivar is.
I do like the rubberized coating on the Vivar, it has a nice soft touch feeling to it.The keys are short stroke style and rather springy, not clicky really but they just have a lot of spring to them. Typing on it is very similar to using  a laptop keyboard really, the keys are short and they feel small and they're close together. This isn't a bad thing if you're accustomed to laptops, but I'm not so it's different for me to use the Vivar.
I do very much appreciate the track ball and the double set of mouse buttons, or at least there's two left click buttons anyway. The hand holds on the bottom are in a perfect position to use the buttons, trackball and scroll wheel with your fingers comfortably.  It is kind of odd using the right side left click button, but it's useful to have there. On the left side you have the right and left click with your thumb and then the scroll wheel with your index finger, it's nice to use.
The range is good, across the room from my PC I have no problems.
I also very much like the fact that is uses standard rechargeable batteries and not some proprietary one that's hard to find and expensive. It also charges right from any USB port so that's handy as well. The specs don't state how much life you should get out of the batteries, but I've got about two weeks so far and not had to recharge them yet, so that's not too bad I think.
Conclusion:
The Vivar is wireless and meant more to be used with an HTPC type setup, but it can be used with any computer. It allows wireless access to your computer and virtually complete control of most of the main functions having them right there at your fingertips. The trackball works very well, no skips and jumps, I much prefer it to a track pad style interface for wirelessly controlling a computer.
Yes it's big, but I think it's meant to be as to allow people to be more comfortable using it as it's more like a desktop keyboard is. I've used many wireless keyboards and this is by far the largest and heaviest I've ever encountered. I'm not sure if that's a good thing or a bad thing though. Personally I prefer lightweight and smaller myself.
Pros:
+Rubberized surface
+Lots of multi-media keys
+Seems well made
+Dual mouse buttons
+Optical trackball
+Good range
+Uses standard rechargeable batteries
+Good battery life
Cons:
-Oddly shaped for my tastes
-A bit on the heavy side
| | |
| --- | --- |
| Grades: | |
| Overall | |
| Design | |
| Performance | |
To learn more about our review policy please visit this page HERE.