Today for review I've got another printer for you, it's an All-in-one from Lexmark called the Interact S605. The S605 is not a bad printer, the print quality is very good for everything, photos come out beautiful, and the regular printing is very good as well. This printer is a networked printer over wireless, but it can also connect to the internet and you can view newsfeeds and access other things from the internet right on the display. The display is a nice and large 4.3" touch screen display, it's color and it's even animated as well for some things. As a printer it's not bad, but I ran across some issues with it that didn't make me too happy, I even had to call tech support at one point, so read on to learn more…

We'll start off with the video unboxing for you:
Then we've got still pictures for you. It comes with the usual stuff like user manual, ink cartridges, drive/software disc and power cord and it even comes with a USB cable!
The Lexmark S605 is a fairly big printer honestly, it's not tall but it's short and fat so you'll need a lot of desktop space for it, especially when you open the paper output tray.
The S605 does not have an automatic document feeder. I don't use one often, but I do use it, and not having one means you've got to do all of your copies one by one on the flatbed.
Beneath the flatbed scanner is the cartridge area, the S605 uses a separate printhead system which I'm not sure I like. You install the printehead, then install the ink into it.
The front has a nice large color and animated touch screen display, but I found it very hard to close, it took me about ten minutes literally to get it closed.
On the front bottom right is the USB port and card reader so you can print directly from memory card or USB and you can save to them as well.
On the back you'll find the USB and power connections and a door to help remove any paper jams.
Specifications:
Part #:60S0000
Intelligence at Your Fingertips
An all-in-one powerhouse with a new friendly face—the big, customizable myTouch web-connected display.
Features:
Touch the Future with myTouch
Web-connected myTouch is a 4.3" LCD touch screen that steps you through your print job with vivid icons you can customize online. Or print directly from the web too.
WiFi N for Intense Productivity
WiFi N gives you the freedom of wireless technology with 3x the coverage and faster transfer speeds than traditional wireless networks(2). With WPS™, enjoy a simple wireless setup process that involves only two steps.
Great Results, Less Waiting
At speeds up to 33 pages per minute black, and 30 pages per minute for color jobs(3), you'll free up precious time. And 4 x 6 photos print as quick as 24 seconds(4).
Go Green, Automatically
Trust Lexmark to lessen your environmental impact with automatic two-sided printing and energy-saving EcoMode at the touch of a button.
Better Ink, Supreme Results
Our patented Vizix ink cartridges are engineered for intense ink-droplet precision—vivid, razor sharp images and highlighter-resistant mono text, page after page after page.
Specs:
Display: 4.3 inch (109 mm) Color WQVGA touch screen display with screen saver
Print Technology: Thermal Inkjet
Color Technology: 4 Color Inkjet – Cyan, Magenta, Yellow, Black
Print Resolution, Black: Up to 2400 x 1200 dpi
Print Resolution, Color: Up to 4800 x 1200 dpi
Maximum Print Speed (Draft, Black): Up to: 33 ppm
Maximum Print Speed (Draft, Color): Up to: 30 ppm
Duty Cycle, Maximum: 5000 pages per month
Print Noise Level, Operating: 50 dBA
Laser Quality Print Speed (Black): Up to: 10.4 ppm in accordance with ISO/IEC 24734
Laser Quality Print Speed (CMY): Up to: 6.6 ppm in accordance with ISO/IEC 24734
Reduce / Enlarge Range: 25 – 400 %
Scanner Type: Flatbed scanner
Optical Scan Resolution: 1200 x 2400 dpi
Print (ASF) Paper Input Capacity, Maximum: 100 pages 20 lb or 75 gsm bond
Standard Ports:
-USB 2.0 Specification Hi-Speed Certified (Type B)
-PictBridge Certified Port
-USB pass-through via PictBridge Port
-802.11b/g/n Wireless
Size (in. – H x W x D): 7.0 x 20.24 x 14.09 in. /  178 x 514 x 358 mm
Weight (lb.): 16.5 lb. /  7.5 kg
Product Warranty: 3 year warranty. 1 year limited warranty and 2 year extended limited warranty upon registration within 90 days.
Price: $129.99 (at Amazon at time of review)

So where do I start here? I ran into some problem with this printer and they annoyed me to no end, but more on that shortly..
Let's start with installation, it's easy, just follow the prompts, there's even on-screen instructions on how to unpack it and it automatically can upgrade the firmware for you as well. Installation took about 10 minutes total. I installed the S605 with the wireless network connection.
The Home screen or interface on your computer is plain, but it works.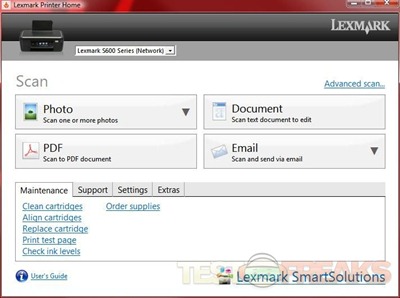 Before we get into anything, let's just jump right to the problems first.
I installed the printer and used it as my main printer, after about 5 days it wouldn't work anymore, I got a Printhead error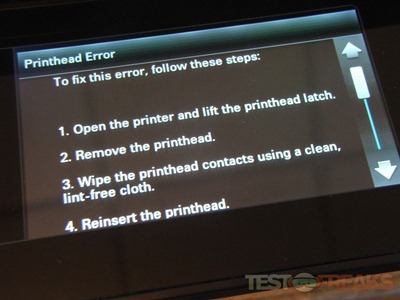 Followed the instructions, it seemed to work but then when I tried to print I got another error: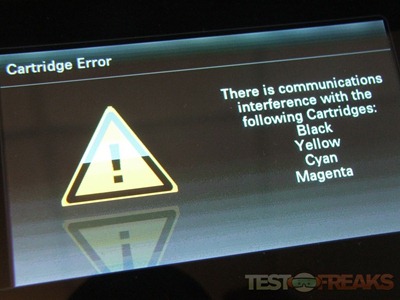 Now I'm using real Lexmark branded cartridges, I've got two sets actually. They were kind enough to send me a set in addition to the one that was included with the printer. So I thought maybe something was wrong, I installed the new cartridges and got the same error. Then it was back to the printhead error.
Again I followed the instructions and did what it said, about five times before I gave up and actually called tech support. Tech support was actually rather fast, only on hold for about 5 minutes before someone answered, and they told me to do the same things I already did. The only thing different was that they told me to unplug the printer for at least 30 seconds to let it reset. Did all that and it seemed to work again for two days, then I got the printhead error again… So again I followed the instructions and it's been working fine for the last week with no issues. So it's been working now, at least it seems to be, but for how long will it work?
Let me also mention that tech support really didn't resolve anything, they told me to do the same things I already did time and time again. I even asked why the error showed up, what caused it etc, but I go not answers at all..
An interesting note is that one of the things the instructions mention is that you should remove any electrical devices from near the printer that may cause interference, wouldn't that include your computer and accessories?  What are you supposed to do, put the printer in a room by itself? From what I gathered you've got to seat the printhead just right or you'll run into problems, even if you think you did it right following the instructions you still may have did it wrong. Why do we even have to use a separate printhead anyway, other printer just have it built right in…
Moving on… the interface is a touch screen and it's bright and colorful and even animated for some things. The main screen has three main options Copy, Scan and Smart Solutions. Under the icons you've got for more options for Eco settings, double sided printing, settings and printhead/ink related settings. The interface is nice looking and being a touch screen is a nice, but it's not very reactive, what I mean is that it can take several 'touches' for it to register that you 'pushed' the button.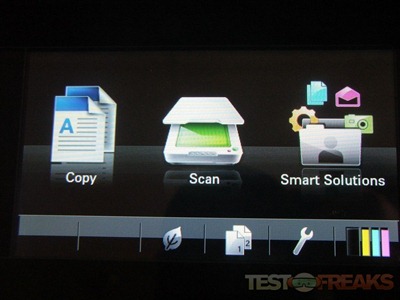 You might think the Copy option is just that, copying stuff, but it actually does have many more options in it like resizing, quality, color or black and white, content type and even a preview with other option as well. Copying is just like a copier, it's a flatbed so you put the document on the glass and copy it, relatively simple really.
Scanning is easy, if you want to scan from the printer you've got three options for the destination, Computer, Memory device like a USB drive or even to email.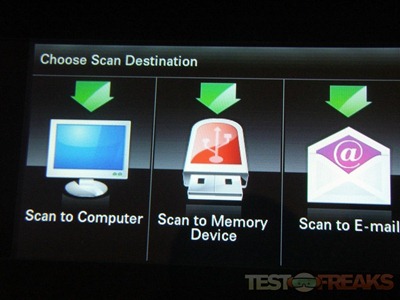 Scanning from the computer is easy, and it does offer the crop option in the preview which is a great feature that I truly like. There are basic and advanced options for the scanning as well which you can change if you desire.
Here's two sample scans:
The scans are not bad on the default settings, but you can adjust things to make them even better. Scanning is pretty fast, the scanner is not exactly quiet but it's not exactly loud either, it's bearable.
The S605 is an internet connected device, the option on the main menu for Smart Solutions actually includes the ability to read newsfeeds on the printer among other things. You actually go to the Smart Solutions website and pick and choose what you want on your printer. You also have the option to open the newsfeed on your computer from the printer if you want to read more or you can even email it.
It's a nice idea, but how many people would actually use the printer to access the internet? It's more of a novelty thing I guess.
Here's the web page:
You can add you Google calendar, Picassa, PhotoBucket, MobileMe, Stamps.com, and many other things and you can add shortcuts for the printer as well. Again it's interesting, but you actually have to visit the website to use it, why not have a program on your computer to do the same thing? I can understand about the shortcuts etc, but I don't see myself or many people actually reading the news on a printer screen…
In the setup menu you'll find many options including email and address book settings.
The Ink settings menu is where you can check ink levels, cleaning and print test pages etc
The Eco Mode buttons allows you to change the power settings and you can use double sided printing as well to save paper.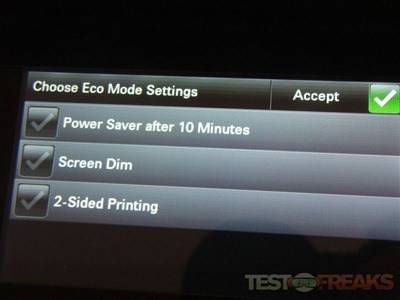 One note about the power saving mode, it take quite a while for the printer to wake from power save mode. You push the button and it's about a minute before the printer wakes up to use. Printing though when it's in power save mode is quicker, it only takes about 15 seconds for the printer to wake up and start printing.
Here's some samples of the printing, I used good quality paper, Hammermill laser print stock actually. These are varying levels of magnification.
The last picture is using a 10X macro lens and you can really get a good look at it. These were printing with the setting on Automatic as opposed to Quick Print, Normal or Best. You can also choose to print only using Black Ink or only using Color Ink. An interesting options is you can actually watermark your prints with Text if you need to.
The print quality is decent, looking at it normally it looks good. The lettering a very black, and the colors are bright and well, colorful. The S605 is fast actually, prints come out in a few seconds after you hit the print button, copies are fast as well.
I did print photos using good Glossy Photo Paper and the results were very good, near studio quality truly. I did of course set the preferences to Best, and the they printed out fairly fast and again the results are very good.
So overall the print quality is very good for everything really.
And I didn't get any paper jams at all, which is a good thing.
The noise level on the printer is a bit high, it can be a loud printer even the specs list it as 50db for the noise level in operation.
Conclusion:
The Lexmark S605 is a nice printer basically, the quality of the prints is excellent, the pictures are beautiful and the regular printing is good as well.
The extraneous stuff like the ability to connect to the internet and read feeds etc is a nice addition, it's a novelty idea, but personally I think it's not needed. I would never be reading the news on my printer, I want a printer that prints and works when it should.
As far as working when it should, as you read I ran across of few problems that seem to be fixed, but I thought they were before as well. I want a printer that works, and honestly this is the first printer I've reviewed that I had to call tech support about and I don't think that's a good thing at all to be a first for…
Pros:
+Beautiful prints and photos
+Fast printing
+Easy setup
Cons:
-Problems with the printer working
-Touch screen not very sensitive
-Rather loud
| | |
| --- | --- |
| Grades: | |
| Overall | |
| Design | |
| Performance | |
This product was given to technogog for review by the company for review purposes only, and is not considered by us as payment for the review, we do not, and never will, accept payment from companies to review their products. To learn more about our review policy please visit this page HERE.