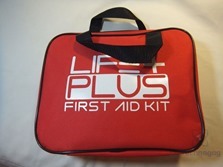 You can never have too many first aid kits in my opinion, we've got two cars and three kids so we need to be prepared for everything. I like having a first aid kit in my car as you never know what might happen and my oldest son is in Boy Scouts and goes camping and hiking etc so you really need a first aid kit for those types of things when you're out in the woods away from civilization or a quick way to get medical help. Today for review I've got he Life Plus first aid kit which comes in a nice bright red carrying bag and inside you'll find a large assortment of basic necessities to use in an emergency. Read on to learn more…

Specifications and Features
Emergency First Aid Kit Survival+FREE Mini Pouch From Life Plus. Supplies First Aid Sports Bag & For Office,Kitchen,Travel,Home,Car,Camping,Trauma,& Hiking. Secure Yourself From Accident Injuries Now!
-Free Mini Pouch To Compliment The Emergency First Aid Kit
-Waterproof Compartments For Camping To keep Your First Aid Supplies Dry On Rainy Days While out Traveling Or Hiking
-Many Supplies Inside the Bag Include Different Bandages, Cleaning Wipes, Ultra Light Rain Coat, Sturdy Scissors, Emergency Blanket, Whistle & Much More. See Below For Full Content.
-Our Life Plus Kit Has Been Used As: Sports Bag, Office First Aid Bag, Work First Aid Kit, Kitchen First Aid Kit and If Your Not The Adventure Person You Can Keep It As Home First Aid Kit Case.
-You Are Backed By Our 3 Year Warranty!
PREMIUM FIRST AID KIT WITH WATERPROOF COMPARTMENTS
Secure Yourself From Accidental Injuries NOW!
– Are you fed up of having your FIRST AID SPORTS BAG OR FIRST AID HIKING KIT soaked from rain when on expedition?
– Do you find too many bandaids in your FIRST AID BAG and no other essentials like, Emergency Blanket, or even a note pad to write down your blood pressure?
– Are you frustrated opening your OFFICE FIRST AID BAG and you cant find what your looking for?
Introducing Your Very Own Durable LIFE PLUS First Aid Kit To The Rescue!
– Designed Waterproof Compartments keeping your first aid essentials safe and dry on those rainy days when camping.
– Has clear see through pockets for you to quickly find what you want immediately whether its for use in the kitchen, office or while out for travel.
– LIFE PLUS is a compact FIRST AID KIT with a diverse range of supplies. It includes:
Trangular Bandage(2),PVC Glove(2),Tweezer 13cm (1),PBT Bandage5*450cm(2)
PBT Bandage7.5*450cm(2),PBT Bandage10*450cm(2),Nonwoven Tape(1),Scissor 13cm(1)
Disposable CPR Mask(1),Safety Pin(6),Sterile Non Woven Swab7.5*7.5cm X2(5),Alcohol Wipe(10)
Trauma Pad10*20cm(2), Bandaid 19*72mm(20) ,Cleaning Wipe(4),Pencil(1),Note Pad(1),Emergency Blanket(silver) 130*210cm(1)
Whistle(1), Disposable Raincoat(1),Instruction Manual
Price: $23.99 (from Amazon at time of review)
The Review
Let's start with a video tour and then move on:
The kit ships in a plastic bag and that's all, but that's fine as it's not exactly fragile, it's cloth and what's inside is soft as well. The bag is bright red as you'd expect so it's highly visible. The bag has two sturdy nylon handles on the top and it's about 10 inches by 8 inches in dimensions and about 3.25 inches thick, so it's fairy large really. The bag itself is made of a nylon material and it has dual zippers so it can open wide.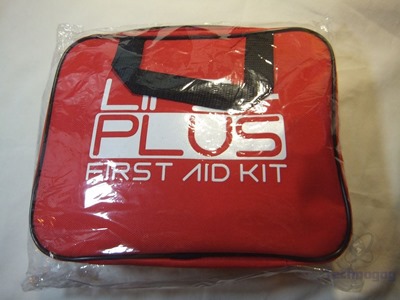 When you open the bag you'll essentially find three sections, one zippered compartment on each side and then a large one that folds out into three smaller zippered parts. All of the pockets are clear so you can easily and quickly see and find everything you need in an emergency.
The center section folds out to about 15.5 inches in length and the pockets are about 5 inches by 8.75 inches in dimensions.
There's plenty of stuff included in the kit but you won't find any consumables and by that I mean things that will expire like sunscreen and/or any other medications etc.
The left pocket contains six bandages of three varying sizes along with two pairs of rubber gloves, two trauma pads and there was a single safety pin in there too.
The right side has a raincoat, emergency blanket,  very small roll of tape and an empty nylon pouch to put whatever you want in.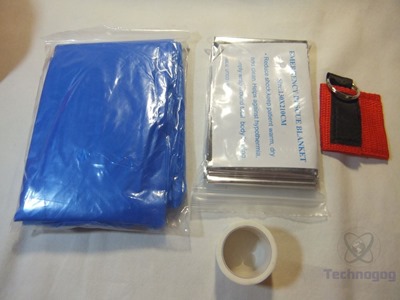 The center pockets have more stuff of course, the first one on the outside end has two triangular bandages with safety pins included in the packs, along with six more safety pins on the side, a very nice aluminum whistle and a resuscitation mask.
The center pocket has a pair of safety scissors, four square gauze pads, ten alcohol pads, four antiseptic cleaning wipes and twenty regular size adhesive bandages. The last pocket has a pair of plastic tweezers, pencil, notepad and a basic first aid instruction sheet.
Conclusion
First Aid kits are something that everyone needs in my opinion, you never know what's going to happen. I have them in our cars, in bags ready to go camping and just in the closest in the house as I believe in being prepared.
You won't find medications in the this kit but that's common as you can add your own as everyone needs different things and some people are allergic to things as well and of course they'll expire eventually. The bag is oversized for what's included in it, there's plenty of extra room in the bag to add more stuff which is a good thing I think.
As far as price this kit is well worth it I think, if you tried to buy everything and the bag you'd pay more than what this costs for sure.
Pros:
+Plenty of extra room to add more things
+Inexpensive for everything included
+Nice assortment of basics included
+Multiple uses for home, car, camping etc
Cons:
-None really
| | |
| --- | --- |
| Grading | Scores Out of 10 |
| Overall | |
| Design / Aesthetic | |
| Value / Price | |
| Performance / Usage | |
To learn more about our review policy please visit this page HERE.