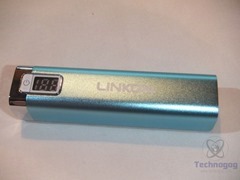 Power, power and more power, yes I've got another portable battery review and I have yet another one coming up after this one. It seems everyone is making external batteries these days to make sure you've got power on the go and when you need it most.
Today for review I have the Linkon Power Stick which is a small and very portable 3000mAh external battery that can charge most any device over USB and yes that even includes tablet from my testing. The Power Stick is like any other portable battery out there but what I found most interesting about this one was the charging cable. The Power Stick comes with a standard microUSB to USB cable for charging it and your devices but it also includes Apple and Lightning adapters which have a microUSB female connection on them so they just connect right to the included cable, no special adapters or tips required. Read on to learn more…
Unboxing
The Linkon Power Stick does have nice packaging, it comes in a very sturdy box with a pictures of the battery on the top and them on the bottom is a diagram showing the parts of the Power Stick.
When you remove the top of the box you'll be greeted with the Power Stick in a formed plastic tray to hold it in place and keep it safe while shipping.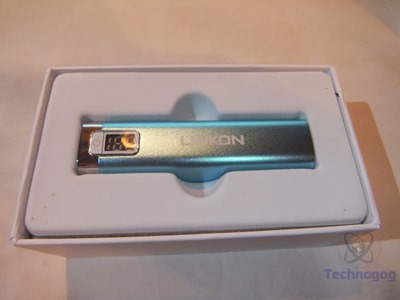 Once you get everything unpacked you'll find the battery, cloth carrying bag, user guide and bag of cables.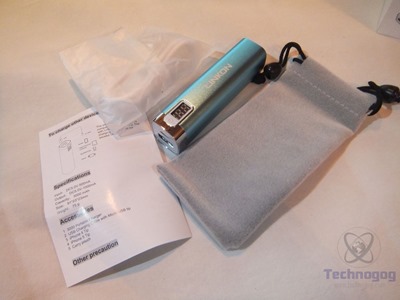 The cables are interesting. The main cable is your standard USB with a microUSB connection on it. Included also are two adapters for Apple and Lightning and these have female microUSB connections on them so you just connect them to the main cable and switch as needed. I don't think I've even seen anything like this before using a microUSB connection as an adapter connection, it works well and I like it. Since it's just a regular microUSB connection is can be used with any microUSB cable you have lying around and you don't need any special cables or connectors like some battery/cables combinations require. They made it simple which is nice to see someone finally understanding that simpler is better.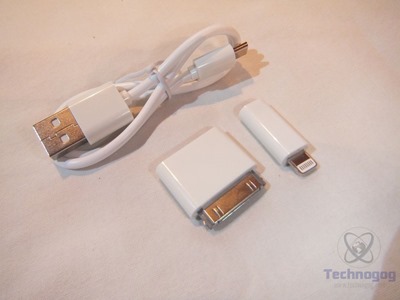 The battery itself is small, only about there and half inches long. It's made of aluminum so it's sturdy and should last a while and you can just toss it in your bag and not worry about it. On the top is the Linkon logo and a small digital display that shows battery charge or capacity in numerical percentage and there's also a power button next to the display.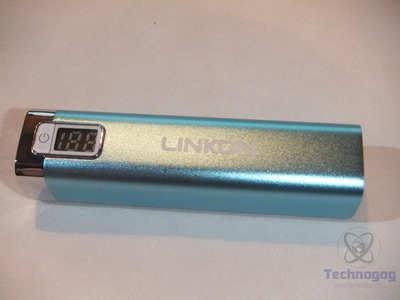 The check the battery charge you just tap the power button and it shows up in a nice bright red on the display. When the Power Stick arrived to me it was at 51%, so it needed charged before I could use it.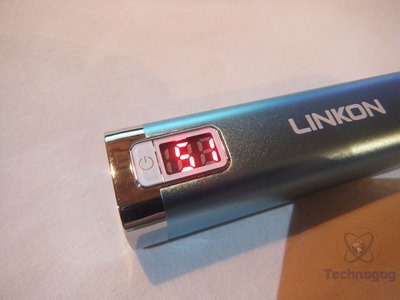 On the end of the battery you'll find a microUSB port for charging the Power Stick and a regular USB connection that's used for charging your devices.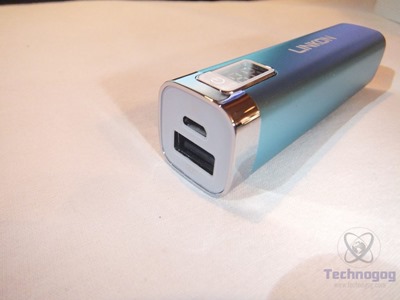 Specifications and Features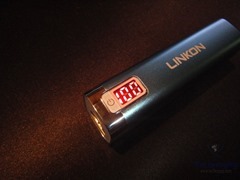 To test the Linkon Power Stick I grabbed three rechargeable devices. The three things were not fully depleted but I was curious as to if the Power Stick could still charge them all.
To start charging you just plug it in and it starts automatically.
The first thing was my Joby Blade LED flashlight that charges over miniUSB. I had to use my own cable yes but once it was charged there was 84% capacity remaining on the Power Stick. Charge time seemed the same as when I charge it from my computer, so no issues there.
The next thing I charged was my HTC One M7 cellphone and it uses the standard microUSB connection and it was about 75% charged. I let it charge and when it was done there was 65% capacity left on the Power Stick.
The last thing I charged was my Windows 8.1 tablet and it worked fine. The tablet needed charged, it was about 25% capacity I believe, somewhere around there. Many of these types of batteries won't charge tablets so I was happy to see the Power Stick could handle it with no issues. Once the tablet was charged there was only 9% power remaining on the Power Stick.
The three devices I charged weren't fully depleted but still I think it's a good thing that I can top off three devices including a tablet with a single charge of the Power Stick.
I should note I also used the regular Apple adapter with the included cable and charged my iPod Nano 4th gen after I recharged the Power Stick since it was almost depleted after charging the other three devices, and it worked perfectly fine. Sometimes Apple devices give a warning about non-Apple stuff being connected to them, but no errors, it just charged as it should.
Conclusion
The Linkon Power Stick is another type of portable charger you'll find in a market just flooded with them and when there are so many it's hard to get yours to stand out. Linkon makes theirs stand out by having a useful cable and adapter system that's unlike anything I've personally seen before.
Linkon includes a standard USB to microUSB cable but adapter for standard Apple connection and the Apple Lightning connecter but what's interesting is that these adapters have a female microUSB connection on them so they quickly and easily connect to the included cable or any other microUSB cable you've got floating around.
The included carrying bag is large enough to hold the battery, cables and the two adapters so you can take everything you need with you.
The battery is 3000mAh capactiy which can charge most phones at least once and have some left over or top-off charge a few devices you have.
The Power Stick can charge tablets, at least those tablets capable of being charged over USB, which I've found some portable batteries can't do for whatever reason.
I like the LED digital display as it tells you exactly how much capacity remains in the Power Stick, there's no more wondering how much is left in the battery.
I think the price is fine, it's worth it in my opinion as it is quality made and the cable system is handy.
For what it is I can't find anything really wrong with it. It is what it is and it does exactly what it's supposed to do.
Pros:
+Small and portable
+Can charge most anything
+Multiple charges
+Well made
+Includes carrying bag
Cons:
-None really
| | |
| --- | --- |
| Grading | Scores Out of 10 |
| Overall | |
| Design / Aesthetic | |
| Value / Price | |
| Performance / Usage | |
To learn more about our review policy please visit this page HERE.