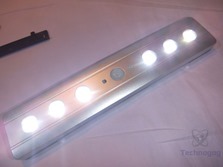 Motion sensor LED light bars seem very popular and I like them a lot, as of now I've got three of them in my home and am planning on getting a few more as they're just really useful. I've got two on my steps, one at the top and one at the bottom and they work to illuminate the hall and steps in the dark. Since I've installed them we've all come to depend on them for that extra light and most times now I don't turn on the main light at all. Today for review I've got the Liron Slend LED Motion Sensor Light Bar which features six LEDs and the ability to charge over USB. it's a great light and I'm happy to have it installed in my home, read on to learn more…
Specifications and Features
Liron Home CLWLB8IN6LED58 SLEND LED Motion Sensor Light Bar for Home Access Lights, Cabinet Lighting, Step Lighting or Closet Lighting
Liron Anywhere lighting series is designed to illuminate any dark area in your home. Liron slend is the perfect lighting solution for closet, under or inside the cabinet, drawer, bookshelves and display room with any dark spot without wiring or complicated installation. What you need to do is put in the battery and stick to wherever you want. Liron slend is activated by PIR Motion Sensor within 10 feet detection range. It automatically turns on when it detect any human has moved in of the sensors range and shut down after 30 seconds when nobody is there. Also, LED Technology developed well and you never need replacing it. The light are so efficient that you will get more than thousands of hours from each light on one set of batteries.
Item Weight: 3.2 ounces
Product Dimensions: 8 x 1.8 x 0.6 inches
Type of Bulb: LED
Luminous Flux: 80
Price: $16.99 (from Amazon at time of review)
The Review
Let's start with a video unboxing and then move on from there:
The box is just plain white with a label on it and inside you'll find a bag of accessories, instructions and the light itself wrapped in plastic for protection.
In the accessory bag you'll find a piece of double sided tape along with two different sized screws along with two plugs.
The Liron Slend light is about 8 x 1.8 x 0.6 inches in dimensions and it's made of plastic and weighs slightly over three ounces.  On the side edge of the light is a miniUSB port that can be used for charging the light. You'll need to buy six rechargeable AAA batteries and you'll need a USB cable as the batteries nor the cable come with the light, but it's nice to have the option anyway.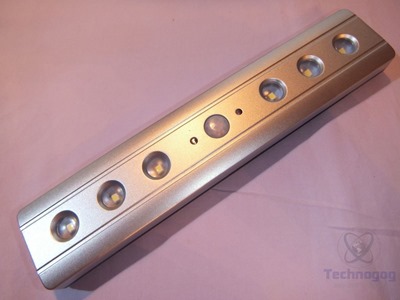 In the center of the light you'll find a light sensor, motion sensor and a charging indicator LED.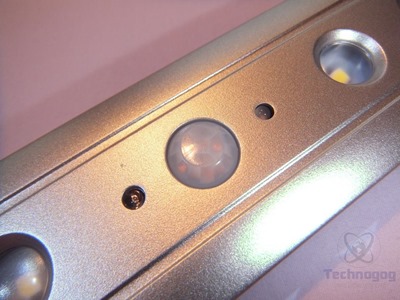 There are six LEDs in total, three on each side of the sensor.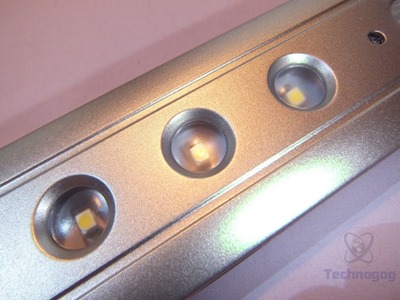 On the back or bottom of the light you'll find the mounting bracket that locks and unlocks by sliding it to the side. The idea is to, permanently with screws or semi-permanently with double sided tape, mount the bracket where you want the light installed and then attach the light to it.  When you need to change the batteries or recharge them you just slide the light off of the bracket and it stays mounted and then you can easily put it back.
There are two battery covers on either side of the light, each holds three batteries.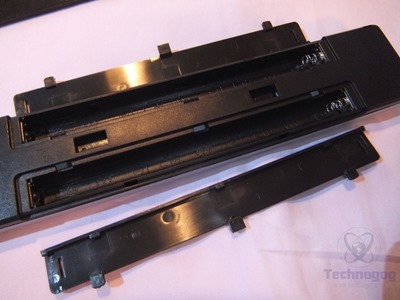 The Liron light uses six AAA batteries but you don't have to as it will run on just three. Using all six though will give you more time between having to change the batteries.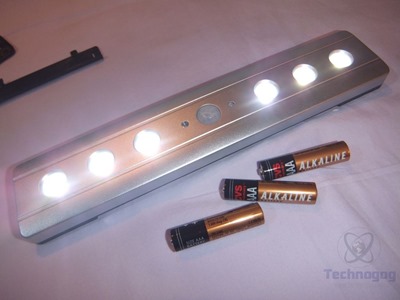 The LEDS aren't super blinding bright but they're more than bright enough to light the way until you reach a light switch and bright enough to see things on the floor so you don't trip on them.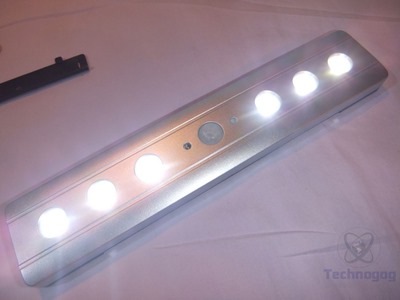 I installed the Liron Slend motion sensor light in my bathroom. The light switch is located towards the middle of my bathroom so you have to take a few steps in before you get to it and in the middle of the night, in the dark, it can be hard to find. Now that I have the motion sensor light there I can see things on the floor before I get to the switch which is helpful. My cats, for whatever reason, like to lie on the bathroom floor sometimes and in the middle of the night it's not fun for me or the cat when I step on him because it's too dark to see him there before I reach the light switch.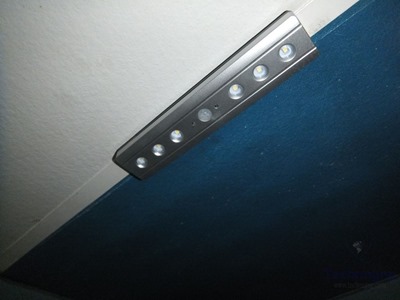 The motion sensor seems to work just fine, the light turns on just as I enter the bathroom which is perfect timing. I've had no issues with it since I installed it, it works every time and even in low light, not just the dark.
I did not test the USB charging functionality as I don't have any rechargeable AAA batteries to test it out with, but I'm hoping to get some in the future as it seems like a good feature to have, and it's a nice option to save some money on batteries.
As far as mounting I used the double sided tape and it fell off once and survived just fine. I reattached it making sure to really push to get it to stick and it has stayed ever since. I think I may not have pushed hard enough on the tape and mount to get it really stuck to the ceiling tile, but now it seems fine.
Conclusion
The Liron Slend LED light is a great product that everyone in my home has come to depend on, it's amazing what a little extra light can do really.
The Liron light isn't super bright but it's more than enough light to let you see things clearly so you can find what you need or so you don't step on anything or trip.
The optional USB charging is a nice addition but it would have been nicer if they included a USB cable and the rechargeable batteries as then that's an extra expense. Sure most of us will have the USB cable floating around but not many people have six AAA rechargeable batteries handy so you'll need to buy them separately.
All in all I like the Liron Slend LED light, it's well made and it provides enough light to see what needs to be seen.
Pros:
+Works great
+Seems well made
+Can work on just three batteries
+Can be charged over USB
Cons:
-Does not include USB cable or rechargeable batteries
| | |
| --- | --- |
| Grading | Scores Out of 10 |
| Overall | |
| Design / Aesthetic | |
| Value / Price | |
| Performance / Usage | |
Disclosure: This product was given to us for review by the company for review purposes only, and is not considered by us as payment for the review.
To learn more about our review policy please visit this page HERE.