There's plenty of webcams out there, you can pick them up for under $30 and it seems everyone has one these days. I don't know if that's a good or a bad thing though.  if you want a good webcam, one that you know is going to produce good results then you'll pay for it and you'll want to go to a reputable company for it. In comes Logitech, they're well known by everyone I'm sure, and they've been making webcams for a long time so they know what they're doing. Today for review I've got the Logitech HD Pro Webcam C910 that's one of the best out there today, and that's not just my opinion either. This camera features the ability to do 1080P, has Carl Zeiss optics and features dual microphones. Coming those with everything else and you've got the making of an excellent, high quality product that produces fantastic results.

I did a video unboxing, though I'm not sure why. I expected a bit more to be in the packaged I guess, but not to waste it here it is. Make sure you press the HD button there in the video interface for a better video.
Opening it up you'll only find the camera, CD and some documentation.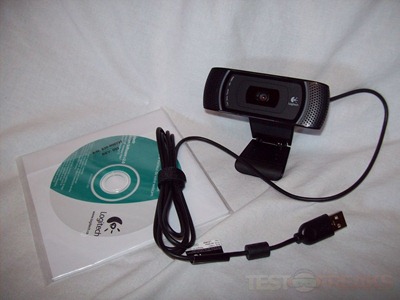 The Logitech C910 camera is top of the line with dual stereo microphones and Carl Zeiss optics.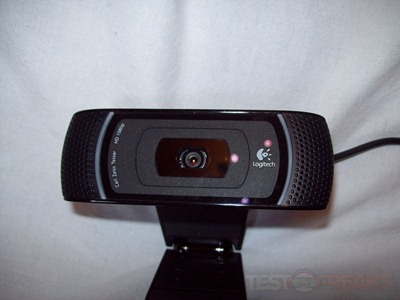 The camera features a an adjustable stand that can basically clip on your desktop monitor or laptop display.
Specifications:
When it's on there are two blue LEDs on each side, you can turn these off via the settings in the software.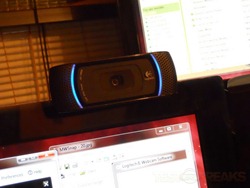 Installation, including updates took about five minutes and that was installing the included Vid HD software as well.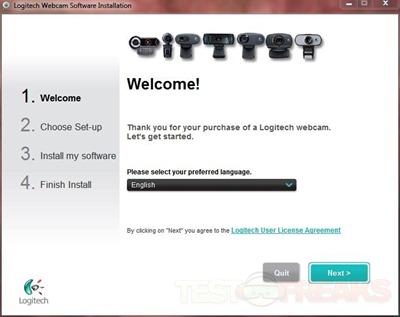 If you want to make calls you'll need to configure the software and create an account with Logitech to call through their services. You can use it with others like Google, iChat and Skype though. The camera is 1080p yes, but it only does 720p for video chat and that's if the service can support it.
Once I got it installed and starting playing around with it I was a bit surprised by the fact that it has pan tilt zoom features, I just thought 'Wow, that's cool'.
There's a small control panel when you turn it on that has pan, tilt and zoom features on it and basic webcam options.
The camera does offer many types of effects like Face Accessories, Fun Filters and Video Masks. If you want to add a little fun to your life then you've got plenty to pick from.
Under the Settings you'll find adjustments for the camera and information.
Something else I found a bit interesting is that the C910 can be used as a security camera complete with motion detection.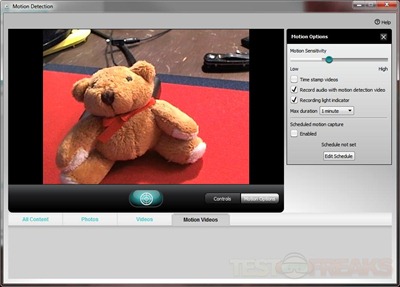 Here are two still pictures I took with it, one zoomed in and then not. When zoomed and close it can get a bit grainy, and movement can as well, but it still looks decent, at least the video does.  Most any digital zoom though does get grainy or pixelated, so it's not surprise really.
Conclusion:
The Logitech Webcam C910 costs about $100 and I think it's worth every penny really, I don't think you'll find a better camera with this many features out there today.
The build quality is great, the camera is lightweight but seems to be well made.
The picture quality is very good, and the camera just has tons of features that most anyone will appreciate in a webcam.
Pros:
+Excellent still pictures
+Motion detection
+Pan tilt and zoom features
+Great audio
+Easy and stable mount
+Works well in low light
Cons:
-Chat in 720p only
-Rather short USB cable
-Can be fuzzy at times when recording video
| | |
| --- | --- |
| Grades: |   |
| Overall | |
| Design | |
| Performance | |
To learn more about our review policy please visit this page HERE.