Light bulbs do not usually come to mind when thinking about tech devices. Today's review item plans to change everyone's opinion of the plain old light bulb. While LED light bulbs are certainly not new the ability do control them remotely is a new capability. The Tabu Lumen Smart Bulb TL800 is a light that offers multiple unique features besides simple illumination.
This connected light bulb uses Bluetooth 4.0 technology to communicate with Android or iOS-based devices. A free downloadable app offers features such as party mode, alarm clock, proximity detection and mood lighting.
Not only does the Lumen emit a warm white light it can also produce 16 million other colors. It is designed to last up to 30,000 hours and uses just 7 W of energy using the warm white light and only 3 W when emitting RGB spectrum colors.
Unboxing
The Lumen Smart Bulb TL800 comes in a white cardboard box with an image of the light on the front with a spinning colored wheel to demonstrate all the color variations of the light bulb. The front cover opens to reveal the plastic window with the bulb inside along with an image of the iPhone running the Lumen app.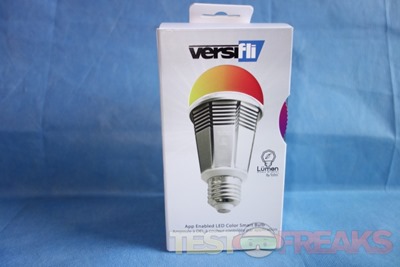 On the sides are details about the Lumen along with a QR link for the iOS Lumen app. The back of the box lists more features along with another QR code for the iOS App Store. On the bottom along with the UPC is an additional QR code which takes you to the Tabu website.
Inside the package we find the Lumen bulb along with an instruction sheet in multiple languages and a warranty paper.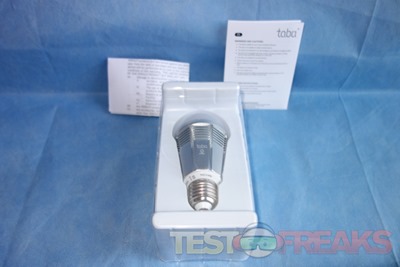 The Lumen Smart Bulb TL800 is primarily aluminum heatsink which houses the lights electronics and controls. The Tabu logo is seen on one panel of this metal casing. The top of the bulb features the dome where the light emits. At the bottom is the standard light bulb base for installing it into a standard light fixture.
The Lumen Smart Bulb TL800 is designed to work in open light fixtures and should not be used in an enclosed light housing. It is rated to put out 400 lumens at max and is on par with a 40W bulb.