Today for review I've got another inexpensive phone from Verizon, it's an Android phone running version 2.1 and it's from Motorola. The Citrus is meant to be basic and it is, it's small and compact but yet it gets the job done. The Citrus features a touchpad on the back called Backtrack that can be used for navigation if the user wishes instead of the normal touch screen. What really makes the Citrus special is that it's green, it's made from 25% recycled plastic an the packaging is eco-friendly as well.

We'll start off with the video unboxing: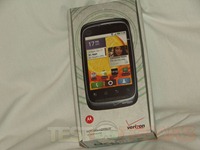 Inside you'll find documentation, battery, USB cable, battery cover and USB cable.
The Citrus is small with dimensions of 4.09″ (H) x 2.32″ (W) x 0.59″ (D) and weighing only 3.88 ounces. The Citrus has regular touch buttons like any other Android phone, but it also have hardware phone buttons beneath them.
On the back you'll see the Motorola Logo, above that is what they're calling the Backtrack which is touchpad for navigation. There's also a 3mp camera there but no flash.
Beneath the cover is the battery compartment and the microSD card slot.
On the top of the phone you'll see a power button and audio port, then on the right side you'll find volume and camera buttons and finally on the left is the microUSB port.
Specifications:
Compact Full Touch Smartphone Powered by Android
CITRUS is a smartphone with Android 2.1 (Éclair) software in an affordable and compact design that feels good in your hand and fits easily in your pocket or purse.
PC–Like Mobile Browsing Enjoy a PC–like browsing experience with the full HTML Webkit browser. Conveniently access your favorite web apps and services like Facebook and YouTube.
Customizable to Fit Your Needs
With 7 highly customizable home screen panels, and a host of pre loaded apps, shortcuts, and widgets, you can make your home screen work for you.
Conveniently Eco–Friendly
CITRUS is an environmentally responsible device made from 25% post–consumer recycled plastic. It's also packaged with eco–friendly materials and certified Carbon Free through an alliance with Carbonfund.org.
Camera:
* 3MP camera with fixed focus
* Dedicated Camera Key
Video: Video capture and playback rate: Up to 24fps
Specifications:
Dimensions:
* 4.09″ (H) x 2.32″ (W) x 0.59″ (D)
* Weight: 3.88 ounces
Operating System:
* Android 2.1 (Éclair)
Display:
* 3″ screen
* 320×240 (QVGA) TFT Touch Screen Display
* Supports up to 262K colors
Keyboard:
* Virtual QWERTY Keypad with Swype
* BACKTRACK Read Touch pad
Battery:
* 1150 mAH Li–Ion
* Usage time: up to 380 minutes
* Standby time: up to 300 hours
* SAR: Head: 1.39 W/kg; Body: 0.47W/kg
Memory / Processor:
* 2GB pre–installed microSD card for music, videos, & pics
* Optional removable memory expandable up to 32GB
Price:
Full Retail Price: $289.99
2-Year Contract: $149.99
Online Discount: -$100.00
PRICE: $49.99


The Citrus is an Android phone running version 2.1 so it has panels like any other. Most are filled with widgets, and you'll find Bing and Verizon stuff there as well.
Here's the App screens with everything. There's lots of Verizon stuff as expected, and some basic other stuff but nothing special really.
It's a "Green" phone and it's has a related app installed called Treehugger that basically just lists Eco related headlines.
Phone calls are very good, nice and clear.  Battery life though isn't the greatest really, it's supposed to be 300Hours for standby and I didn't get that at all, not sure why as I didn't have Wi-Fi or anything on.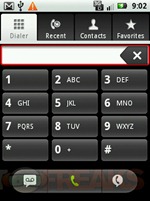 The Citrus is small so it fits right in your pocket, but it's almost too small really I think.
The screen is only 3 inches in size, making typing somewhat cramped, but the keyboard keys seem large so it's not too bad.
The touchscreen is responsive and the phone seems nice and quick. As I said the screen is 3 inches so gaming isn't exactly something you'll be wanting to do on it I would think. You can play basic games yes, but I don't think the Citrus will be able to handle anything hat's CPU intensive at all.
The Backtrack touch pad certainly adds a new dimension to it, it's very similar to the Backflip which also had a navigation pad on the back. You can actually have a cursor appear on screen.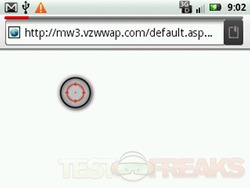 The resolution is low on the Citrus so looking at webpages full screen are just blurry and unreadable.
You'll need to zoom in on every page and do a lot of scrolling to be able to read everything, even then it's a bit blurry. So overall the browsing experience isn't exactly the best.
Let's move onto the camera shall we? Here's the viewfinder, and when you press settings some basic things pop up.
Opening up the settings you won't find much.
The camera is limited but there is an included help section: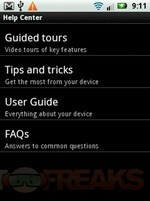 Here's several sample photos, my cat was there so I used him as a model along with my mouse and mousepad.
Colors are bad, my mousepad is very red and not almost pink like it looks in the pictures. If you look again at the pictures you'll see all of them to be rather blurry and pixellated. There is no flash and it could use it.
Conclusion:
The Citrus sells for $50 which isn't bad at all for this type of phone. It's nice to see a fairly decent entry level phone at a low price.
The Citrus does have some issues yes, but they're not all that bad especially when you consider the price.
Pros:
+Simple and easy to use
+Touch pad on the back is interesting
+Very small
Cons:
-Poor camera
-Browsing experience is not the best
-Low resolution and the screen is small
| | |
| --- | --- |
| Grades: | |
| Overall | |
| Design | |
| Performance | |
To learn more about our review policy please visit this page HERE.