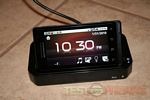 Close your eyes and imagine you are falling deep asleep to the soothing sounds of your favorite songs (on a playlist that you personally created). The morning comes quickly and you are awakened by the sound of your alarm clock going off. Silence your alarm and your first thoughts are "I wonder if it is going to be nice enough to go to the pool today? You look at your Droid perched comfortably in its Docking Station and it shows on the weather display that today's temperature is 77 degrees. You think, "PERFECT!" Then, switch your Droid into the digital photo frame mode to view your favorite photo slideshow of family, friends, or random photos while you prepare for your day.
Now open your eyes and realize it's not a dream; add your Droid to the Docking Station and you get a digital clock interface with instant access to local weather conditions, a media player, digital photo gallery, and alarm clock.
Today for review I'm taking a look at a combination docking station battery charger for the Motorola Droid cell phone. This product allows you to dock the phone and charge it, while it's in the dock you can easily view and access it. It could be placed on your desk or even on your nightstand as an impromptu alarm clock. As a bonus you can even charge a second battery for your phone at the same time via the built-in charger. It's a nice product that offers quite a few features for about the same price you would pay for a standard charger.
When I first received the Docking Station, it was packed very tightly and was in perfect condition.
Each part/cable for the station was separately wrapped.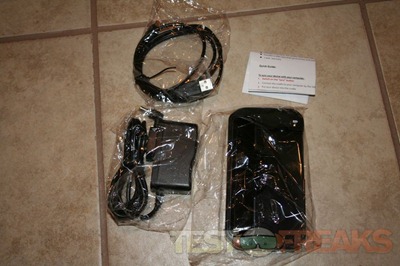 Specifications:
To sync your device with your computer:
Switch on the "snyc" button. This must be done before you connect the USB cable and your device to the cradle.
Connect the cradle to your computer by the USB cable and then put your device into the docking station.
To charge your device with the USB cable:
Switch on the "charge" button. This must be done before you connect the USB cable and your device to the cradle.
Connect the cradle to your computer by the USB cable and then put your device into the docking station.
To charge your device with the AC charger:
Switch on the "charge" button, connect you cradle to your computer by the AC charger. Then you can place your phone into the charging station.
The Docking Station included directions for operation included in the package are short and to the point. It explains how to charge your Droid via the computer or with the AC adaptor. As I plugged the Droid into the docking station, it was a smooth transition. The Droid slides right into the docking station on and into the USB slot. While it sits on the station, you can also charge an additional battery. Keep in mind, not all charging stations have the second charging port. This is great to help keep a fresh battery close by. When I charged my Droid for the first time in the charger, it was complete in just 3 hours. The wall charger took five hours to fully charge. The Droid also sits on an angle which is great for when you are viewing your digital photos in a slideshow or just watching music videos.
Weighing 10.4 ounces, it is quite hefty for a charger. The non-skid base will allow to you to put it on your desk at work, nightstand at home or anywhere without worrying about it moving around. When you first place the Droid into the docking station, it will automatically change to a landscape mode which will then let you change your settings and select your features. First you want to select your city so that the weather feature can locate you to give you the accurate outside temperature. I also noticed that when you place the Droid in the docking station your phone does not lock. Not a big deal, but a small deterrent to a kid's or friend's curiosity while the phone is unattended in the docking station.
The first night I got the cradle I used it for my alarm clock. I was not pleased with it. I am the type of person that likes the bedroom to be fairly dark to sleep. When I used the droid in the station, I turned it to the dim setting. It is still BRIGHT… It was like having two people sitting next to you with a flashlight reading a book. There is also an LED light that flashes endlessly while the Droid is in the station.
I love the fact that you can play your media in the station, but WHERE ARE THE SPEAKERS? You can only play it as loud as the phones internal speaker will allow. With how large the station is, you would think they should have been able to fit a speaker in there somewhere. If not, then maybe a jack to external speaker system.
Conclusion:
In conclusion, I feel that the Droid Docking Station is a great little accessory to have. It gives your Droid some very useful and usable features that most applications or accessories do not.
Having quick and easy access to control functions is a benefit.
It seems that with a $25 price tag, you can get a lot more fun out of your Droid with this item then with a basic wall charger bearing the same price tag.
Pros:
+Easy to read instructions
+Allows quick access to weather
+Digital slideshow
+Looks nice with phone inserted
+Comes with all the necessary cables for operation
+Good price – same price of a regular charger.
+Dimmable display on front screen
+Music controls with onscreen icons
Cons:
-Bulky base
-Does not have a edgy style
-You have to remove the Droid's protective case EVERY time you insert it into station.
-Alarm clock display is very bright in a dark bedroom setting – even on the dim setting
-The charge/power indicator is also a bright
-Flickering light is somewhat annoying
| | |
| --- | --- |
| Grades: |   |
| Overall | |
| Design | |
| Performance | |
This product was given to technogog for review by the company for review purposes only, and is not considered by us as payment for the review, we do not, and never will, accept payment from companies to review their products. To learn more about our review policy please visit this page HERE.