Recently while packing and unpacking for a move into my new home office I came to the realization of how much paper clutter occupied my workspace. During my research on how to optimize my work area using sites such as Unpluggd, I came across a product from the aptly named the Neat Company.
NeatReceipts for Mac is their streamlined way to transform one's documents, receipts and contacts into digital information allowing this data to be easily archived, edited and stored. It comes as a bundled hardware-software solution to file your hard copy information into a digital filing cabinet.
What makes NeatReceipts for Mac especially appealing is the included extremely low profile, light weight scanner allowing one to take it on the road, to one's office or just use it at home. It's small size makes it easy to keep out of the way making for even less clutter in one's office.
NeatReceipts for Mac arrives in a white and orange cardboard box with a picture of the scanner on the front. On the back of the package is an image of the Mac NeatWorks software along with a listing of features. The Neat Company gets additional points for being green by using 100% recyclable materials in the packaging.
Opening the box reveals the Neat scanner, a mini USB cable, a quick start guide containing the installation CD, set up instructions, calibration paper, dry cleaning paper and alcohol cleaning paper.
The Neat scanner is composed of mostly white plastic with a gray area around the document feeder. It measures 10.8″ x 1.6″ x 1.3″ and weighs only 10.6 ounces.
On the top left hand corner of the scanner we see the Neat logo and a PDF and Scan button towards the right with an LED light adjacent to these buttons.
The front of the scanner has the document feeder with an icon for proper scan alignment on the right. The scan area measures 1″ x 1″ to 8.5″ x 14″. The scanner has a max resolution of 600 dpi, Bit depth in color- 48-bit input, 24/48-bit output, while in grayscale- 16-bit input, 8/16-bit output; B/W- 1-bit. It can scan 3-4 receipts per minute.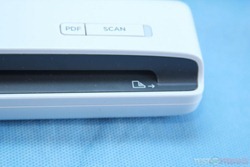 On the right-hand side of the scanner is the mini USB port that is USB 1.0 & 2.0 compatible. The Neat Company designed the scanner to run off USB power, so an external power supply is not necessary. On the back of the Neat scanner is the document output area.
The bottom of the scanner has two rubber feet to keep it from sling along its resting surface and a product tag in the center.
Specifications:
NeatReceipts for Mac is a mobile scanner and digital filing system that scans receipts, business cards and documents so you can organize, store and secure all your important information.
With our patented NeatWorks for Mac software, NeatReceipts actually identifies and extracts the important information from your paper – then automatically organizes it in a digital filing cabinet.
Key Features:
Scan in receipts to:
Create expense reports
Keep records of vendors, dates, totals, even sales tax
Assign tax categories and save digital copies for tax documentation (accepted by the IRS)
Create your own searchable library of information
Scan in business cards to:
Capture contact information
Save original image of business card with each contact
Send contacts to Address Book
Sync contacts to your iPhone or mobile device
Scan in documents to:
Create searchable PDF files
Capture text that you can edit
Organize documents in your digital filing cabinet
Organize Your Information:
Create separate cabinets for multiple businesses, projects or time periods.
Organize documents into folders and subfolders to keep relevant items organized together.
Create Smart Folders based on specific criteria such as vendor name and category.
Import PDF files stored on your hard drive or send electronic files directly to NeatWorks through the Print dialog box.
Scanner Specifications
Portable color/grayscale/B&W CIS
No external power supply needed, runs off USB power
Maximum Resolution: 600 dpi
Speed: approximately 3-4 receipts per minute
Interface: USB 1.0 & 2.0 compatible
Scan Area: 1" x 1" to 8.5" x 14"
Scanner Dimensions (WxDxH): 10.8" x 1.6" x 1.3"
Bit Depth: Color- 48-bit input, 24/48-bit output; Grayscale- 16-bit input, 8/16-bit output; B/W- 1-bit
Prior to hooking up the Neat scanner you will need to install the NeatWorks for Mac scanning software. The installation file comes on a CD but for those using a Mac without an optical drive (such as myself) you can download the software from the Neat Company website. Installation takes a minute or two; once NeatWorks is initially run you will need to enter the product key to activate the software.
At this point a launch screen should appear at which time you can connect the Neat scanner to one's Mac.
From this launch screen you can register your software, customized application settings, calibrate your scanner and view a video demo among other things.
The main screen of NeatWorks is the Neat Library where all of your digital files reside, can be organized and digitally filed away. Neat uses a software paradigm that should look familiar to users of Apple Mail, iTunes and other Apple designed software.
The left side of the screen is similar to the Apple Mail pane layout but features Places, Folders and Smart Folders instead of mailboxes.
Places stores all initial scans that are loaded into a "catchall" In Box. Below it is contact information that syncs directly to the user's Mac Address Book.
"Folders" is where your digital file cabinet resides. Here you can file items into one of three main categories – Contacts, Documents, and Receipts. The user can create sub categories within these main categories. Additionally these folders can be synced to another location allowing for the back up of your important digital information.
At the bottom left corner is an information pane that shows the scanning status or the information about the PDF being viewed.
On the top is a navigation bar with a Scan button with an option pull down adjacent to it. Five additional buttons allow the importing of PDFs, new scan, deletion of a scan, editing of a scan and emailing a scan.
The main window information can be viewed three ways from the View icons also on the navigation bar.
The beauty of NeatWorks is its OCR (optical character recognition) engine, which scans and populates the data into the appropriate fields from the culled information. Of course this is dependent on the clarity and legibility of the source material but I found it to be pretty accurate for the most scans
If for some reason the information does not auto-populate or more information needs to be inserted, the Editor screen allows dragging of information from the document into specific fields. Besides the preset fields, you can customize these areas with other prefilled or user defined fields.
For those who need to use this scanned data in other formats NeatWorks allows information to be exported to Excel, Numbers, Quicken and TurboTax formats.
Overall the software is very robust with the ability to be tailored to the specific users needs. Without this excellent software you'd basically be purchasing an expensive portable scanner but the software alone is worth the price.
Additionally, the Neat Company is coming out with an update to NeatWorks earlier in the coming year – NeatWorks 5 that should add other features such as tagging and more "Mac" like integration. The Windows update is coming eve sooner.  The best news about this upgrade is that it is free to prior Neat product owners. Check out www.neat.com/neat5 for more information on the upgrade.
Conclusion:

NeatReceipts for Mac is the ideal solution for those who wish to slay the paper monster that envelops their workspace. It is perfect for both the business and home user for managing finances, important documents and contact information. The scanner is portable allowing the system to come on the road or reside out of the way on one's desk. The ability to export data to Excel, Numbers, Quicken and TurboTax helps avoid unnecessary data input by the end-user.
The imminent release of Neat Works 5 will hopefully make an outstanding digital filing system even more powerful. If you wish to go "digital" with your home or work office then NeatReceipts for Mac is the way to go.
Pros:
+Portable digital filing system
+Fast, portable scanner
+Robust well designed software
+Imminent free software upgrade
Cons:
-No tagging capability …yet
| | |
| --- | --- |
| Grades: | |
| Overall | |
| Design | |
| Performance | |
To learn more about our review policy please visit this page HERE.