Today for review I've got a very unique bag called the Duffle-Pak from a company called NuSport. I got an email from them about their new Duffle-Pak bag, asking me to review, it and I was going to say no, but then I visited their website and looked into it a bit more. I found it's  a very intriguing product as it's much more than just a bag, it's can also be used for your laptop, but much more than that it even has a built-in cooler so you can take food and beverages with you and keep them cool or warm. The Duffle-Pak resembles a gym bag of sorts, or a carry-on type bag with a shoulder strap and hand strap, but what's unique is that is can also turn into a backpack. The Duffle-Pak is nicely made and it's got room for you take everything and anything you need with you for either a day trip or even a flight really.
Specifications:
The first thing that you'll notice is the bag, being empty is heavy, it weighs 4lbs when empty. You can get it is several colors, but I got the red  version which also has black and gray mixed in. The construction seems to be very sturdy and the top is water resistant.
The bag has a nice padded shoulder strap on it.
The two side panels are actually flaps that have zippers on both sides of them, and they look the same on the outside. You can get the side panels embroidered for an extra cost.
The bottom of the bag is black and it has feet on it.
On one side is also a spring clip for keys for whatever.
Under one of the flaps you'll find another zip open pocket and beneath that you'll notice two more zipper, that's where the laptop compartment is.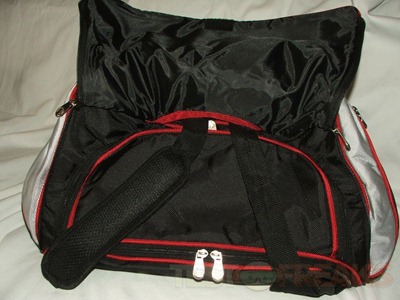 When you open up the compartment you'll find another key clasp, two small velcro pockets and a space for pens.
Opening the laptop space you'll find two compartments there, one with a velcro fastener and another just open.
The pocket is padded on the top but not on the bottom, which is odd. You could put your laptop above the pocket and then both the top and bottom would be padded and you could put your power supply etc in the pocket.
On the opposite side, beneath that flap is a mesh pocket.
On the sides of the bag are two more pockets, one has a rubberized opening on it to pass through earphones  and a sliding luggage tag.
When you open the pocket you'll see another smaller mesh pocket, two more little pockets and two elastic straps.
On the other side of the bag is actually a cooler, it's lined with insulating material to keep your food and beverages either hot or cold. The flap expands a bit actually so you can fit a lot in there, at least more than it looks like.
You can easily fit a couple bottles in there along with an ice pack and few other things.
There is also a center section that opens with two more zippers, it's a flap style covering. Inside you'll find a lot of room, a padded bottom and more pockets on both sides.
The side panels have large holes in them, it's made that way. The straps for the single hand handle are held together with a velcro closing thick piece of nylon.
The Duffle-Pak turns into a backpack, how you do this is pull the handle straps through to the bottom of the bag and you'll find padded sections there as well for your shoulders.
It's a backpack yes, but it's a very large backpack, but that can be good. It would be great for hiking really.  Now that's a bag.
Conclusion:
The NuSport Duffle-Pak is, dare I say it, the ultimate travel accessory?! The bag is very well made of heavy duty nylon that is water resistant. Inside the bag you'll find plenty of room, not only in the center main compartment but in the numerous pockets that are available to the traveler.  The Duffle-Pak is a very unique product there's no doubt about that, it's the only bag like it that I know of. It's rather stylish looking, so you could take it on business or pleasure trips. I like the built-in cooler, I like to take drinks with me, and I hate that they're usually warm by the time I get where I'm going, with the Duffle-Pak I don't have to worry about hat anymore.  I expected the cost to be a bit higher for a bag of this quality, I think it's worth a lot more really.
Pros:
+Lots of room inside
+Plenty of pockets for everything
Turns into a backpack
+Nicely made
+Built in cooler
Cons:
-Not a lot of padding on very bottom of bag for laptop
| | |
| --- | --- |
| Grades: |   |
| Overall | |
| Design | |
| Performance | |
To learn more about our review policy please visit this page HERE.