Up on the review block today I've got another set of ram from our friends at OCZ Technology. When it comes to your computer, at least in my opinion, it pays to have the best and OCZ is what you want in your system if you want to have the best performance from it. The ram I have today is a 4gb 1600Mhz kit that features a specialized cooling system called HPC or Heat Pipe Conduit to make sure the ram stays cool and performs well. This cooling system sure makes the ram look visually striking, but it makes it rather large in size. Anyway, let's get started with the review..

The ram comes packaged is an easy open plastic hang style box.
The Reaper HPC ram is certainly unique looking,  and rather large. The HPC in the name means Heat Pipe Conduit and that's what the ram uses to keep it cool a large heat pipe. The ram is heavy, the combination of the thick heat sink and heat pipes make it this way, well at heavier than you except ram to be.
Specifications:
OCZ DDR3 PC3-12800/ 1600MHz Reaper Edition Ultra Low Voltage CL7 4GB Dual Channel Memory Kit
Part Number:  4GB (2x2GB)D/C Kit PN – OCZ3RPR1600ULV4GK
OCZ DDR3 PC3-12800/ 1600MHz / 4GB Dual Channel / Reaper Edition / Ultra Low Voltage
OCZ Reaper Ultra Low Voltage (ULV) DDR3 kits are designed specifically to comply with that latest low-voltage CPUs including the Intel P55 Chipset and subsequent Intel Core i7, i5, and i3 (Socket 1156) processors, and AMD 7 Series / 8 Series Chipsets and X4/X6 CPUs. Configured for dual channel mode, these ultra-compatible kits ensure optimal performance with an ideal combination of improved lower power requirements and overclocking capabilities.
Developed for enthusiast platforms that are becoming increasingly more power-efficient, OCZ ULV Dual Channel solutions are the choice counterparts for leading-edge performance, allowing high-speed memory to function below the upper voltage thresholds at 1.5 Volts. OCZ ULV memory helps lower internal case temperatures along with your utility charges as less power is required for high-speed DDR3, offering incredible stability at stock speeds along with substantial overclocking potential.
The Reaper HPC Series makes use of an innovative cooling solution to more effectively dissipate heat produced by high-speed memory, and offers superior cooling technology to ensure superior stability and performance over the entire life of the memory. The thermo-conductive copper heat pipe conduit is ideal for overclocking where every degree matters, ensuring that your cutting-edge investment will maintain its integrity throughout the toughest gaming missions, overclocking, or intense program applications.
OCZ DDR3 ULV Dual Channel Kits are 100% hand-tested for quality assurance and feature propriety XTC (Xtreme Thermal Convection) heatspreaders for the most effective heat dissipation. Furthermore, each OCZ memory kit is backed by the industry-leading OCZ Lifetime Warranty and technical support for unparalleled peace of mind.
Specs:
* 1600MHz DDR3
* CL 7-8-8-24(CAS-TRCD-TRP-TRAS)
* Available in 4GB Dual Channel kits
* Reaper HPC Heatspreader
* Unbuffered
* Lifetime Warranty
* 1.5 Volts
* Qualified on P55/Core i3,i5, i7 CPUs
* Qualified on AMD 7 Series/8 Series and X4/X6 CPUs
* 240 Pin DIMM
Price: $101.99 (from Amazon at time of review)

For testing I'm comparing the Reaper HPC ram with OCZ Gold 1600MHZ 8gb kit and Kingston LoVo 1866Mhz 4gb Kit.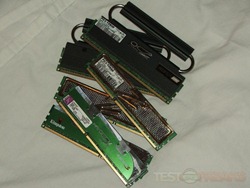 Here it is installed in my system which has a Corei5 750 CPU and an EVGA P55 motherboard model 132-LF-E655-KR.  The ram is very large so depending on your CPU cooler and where the ram sockets are located it might not fit.
Once I got it installed I ran some tests and tried a bit of overclocking as well, I only got to about 1700Mhz from the original 1600Mhz, so I didn't get too far. I did though include it in the testing just because not to waste the work.
First up how about calculating Pi to 1 million places, lower is better of course.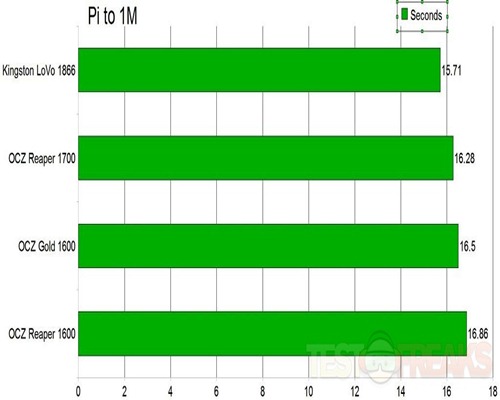 Obviously here the 1866 Kingston is a bit better, still we're talking about 1 sec.
Next would be 3dMark Vantage, no explanation is needed I think.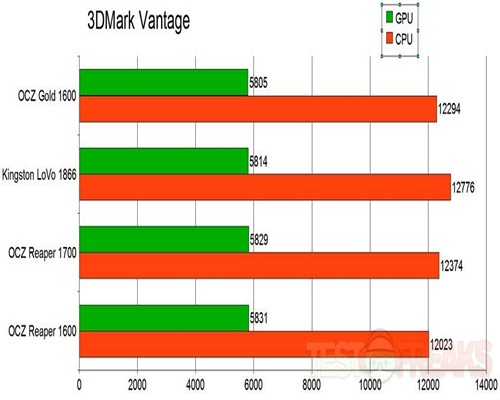 The ordering I did was according to CPU scores, lowest to highest. If we look at GPU scores though we see the Kingston does the best with the overclocked OCZ Reaper coming in second.
Next up is Cinebench 10 and 11.5.
Main Processor Performance (CPU)
The test scenario uses all of your system's processing power to render a photorealistic 3D scene (from the viral "No Keyframes" animation by AixSponza). This scene makes use of various different algorithms to stress all available processor cores.
In fact, CINEBENCH can measure systems with up to 64 processor threads. The test scene contains approximately 2,000 objects containing more than 300,000 total polygons and uses sharp and blurred reflections, area lights and shadows, procedural shaders, antialiasing, and much more. The result is given in points (pts). The higher the number, the faster your processor.
Graphics Card Performance (OpenGL)
This procedure uses a complex 3D scene depicting a car chase (by renderbaron) which measures the performance of your graphics card in OpenGL mode. The performance depends on various factors, such as the GPU processor on your hardware, but also on the drivers used. The graphics card has to display a huge amount of geometry (nearly 1 million polygons) and textures, as well as a variety of effects, such as environments, bump maps, transparency, lighting and more to evaluate the performance across different disciplines and give a good average overview of the capabilities of your graphics hardware. The result given is measured in frames per second (fps). The higher the number, the faster your graphics card.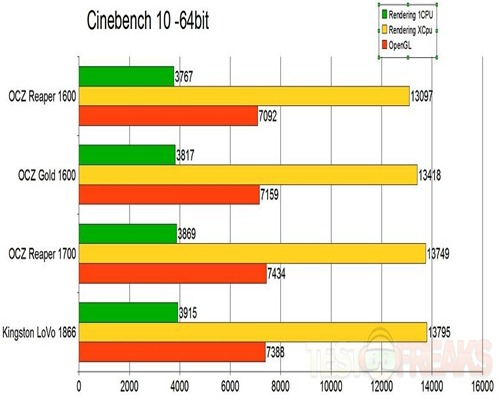 Here the ordering was according to the Rendering with 1 CPU, the overclocked OCZ Reaper came in second.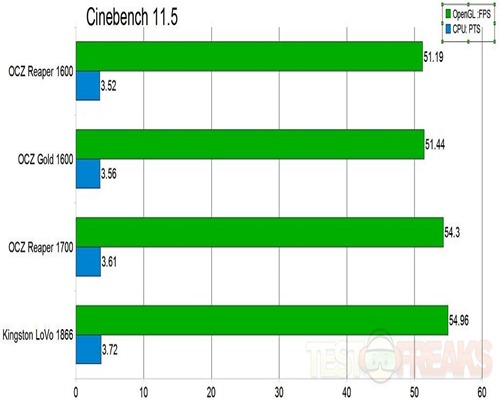 Ordering was done according to the average FPS score. There's about 3 FPS between them all.
CPU Arithmetic Test:
Results Interpretation : Higher index values are better.
Benchmarks the ALU and FPU processor units
Results Interpretation
Dhrystone (MIPS) – higher results are better, i.e. better integer performance.
Whetstone (MFLOPS) – higher results are better, i.e. better floating-point performance.
Higher is better and it appears the OCZ Gold actually came out the best, but the scores are all very close.
Cache and Memory Test:
Benchmark the processors' caches and memory access (transfer speed).
Results Interpretation
Cache/Memory Bandwidth (MB/s) – higher results are better, i.e. faster memory bandwidth.
Speed Factor (MB/s) – lower results are better, i.e. less difference between processor cache speed and memory speed.
Here again the OCZ Reaper has a decent performance, all of these tests are close really though.
CPU Multi-Media Benchmark.
Results Interpretation : Higher index values are better.
Benchmark the (W)MMX(2), SSE(2/3/4), AVX processor units.
Results Interpretation
Multi-Media Integer (Pixels/s) – higher results are better, i.e. better integer performance.
Multi-Media Single/Double Float (Pixels/s) – higher results are better, i.e. better floating-point performance.
The 1866 Kingston odes the best, but that should be expected, but there all nice and close.
Memory Bandwidth test:
Benchmark the memory bandwidth of your computer
Results Interpretation
Integer Memory Bandwidth (MB/s) – higher results are better, i.e. faster memory bandwidth.
Float Memory Bandwidth (MB/s) – higher results are better, i.e. faster memory bandwidth.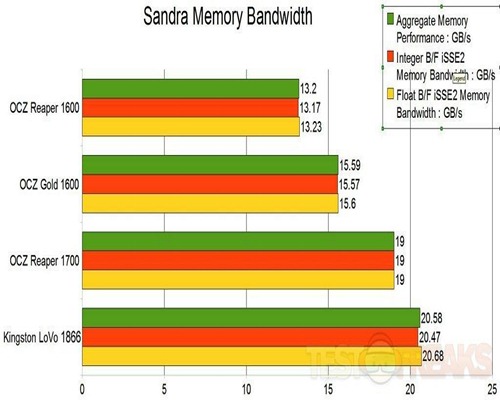 There's a big difference here though with the results with the OCZ Reaper at 1600MHZ.
Memory Latency Test:
Benchmark the latency (response time) of processors' caches and memory
The latency of caches is measured in processor clocks (i.e. how many clocks it takes for the data to be ready) as it is dependent on the processor clock speed.
The latency of memory is measured in nanoseconds as it is typically independent on processor clock speed.
Results Interpretation:
Latency: Lower is better
Speed Factor: Lower is better
With this final test, lower scores are better so the 1866Mhz Kingston is better but we're talking nanoseconds.
Seriously though, in all of these tests, the scores are very close, there's really not much of a difference in the grand scheme of things.
Conclusion:
The OCZ Reaper Edition ram performs well overall, but I did expect it to perform a bit better as it is considered enthusiast ram. Still though, it's a decent performer that I think anyone would be happy with really.
It looks as though it should be able to overclock, but it really doesn't, at least for me it didn't work well. This happens though with some ram, some overclocks more than others.
The heat pipes on the ram do make it large in size making it possibly not able to fit with some CPU coolers.
Pros:
+Decent performance
+Nicely made
+Looks great
Cons:
-Large sized
-Not the best for overclocking
| | |
| --- | --- |
| Grades: | |
| Overall | |
| Design | |
| Performance | |
To learn more about our review policy please visit this page HERE.